William Francis Nighy, detto Bill, nasce il 12 dicembre 1949 nel Surrey, in una famiglia composta da mamma Catherine, papà Alfred e un fratello e una sorella maggiori, Martin e Anna. Durante la scuola frequenta il gruppo teatrale, ma il suo sogno in realtà è diventare giornalista o scrittore. A causa di alcune difficoltà e della mancanza di ispirazione, torna poi sui suoi passi e si iscrive alla Guildford School of Dance and Drama di Londra.

Dopo un paio d'anni di lavoro teatrale a Liverpool, debutta nella capitale con Illuminatus!, nel 1977. Nel corso della sua lunga carriera d'attore prende parte a numerosi spettacoli, tra cui possiamo ricordare Arcadia (1993), Skylight (1995-1997), di cui è tornato a interpretare il protagonista nel 2014, e Blue/Orange (2000).

Tra i suoi numerosissimi film possiamo invece citare Still Crazy (1998), Love Actually (2003), per cui vince un BAFTA, la saga di Underworld (2003, 2006 e 2009), Shaun of the Dead (2004), The Hitchhiker's Guide to the Galaxy (2005), nel ruolo di Slartibartfast, Pirates of the Caribbean: Dead Man's Chest e At World's End (2006), nel ruolo di Davy Jones, Hot Fuzz (2007), The Boat That Rocked (2009), Wild Target (2010), Harry Potter and the Deathly Hallows – Part 1 (2010), nel ruolo del Ministro della Magia Rufus Scrimgeour, The Best Exotic Marigold Hotel (2012), The World's End (2013), About Time (2013), Pride (2014), Emma. (2020).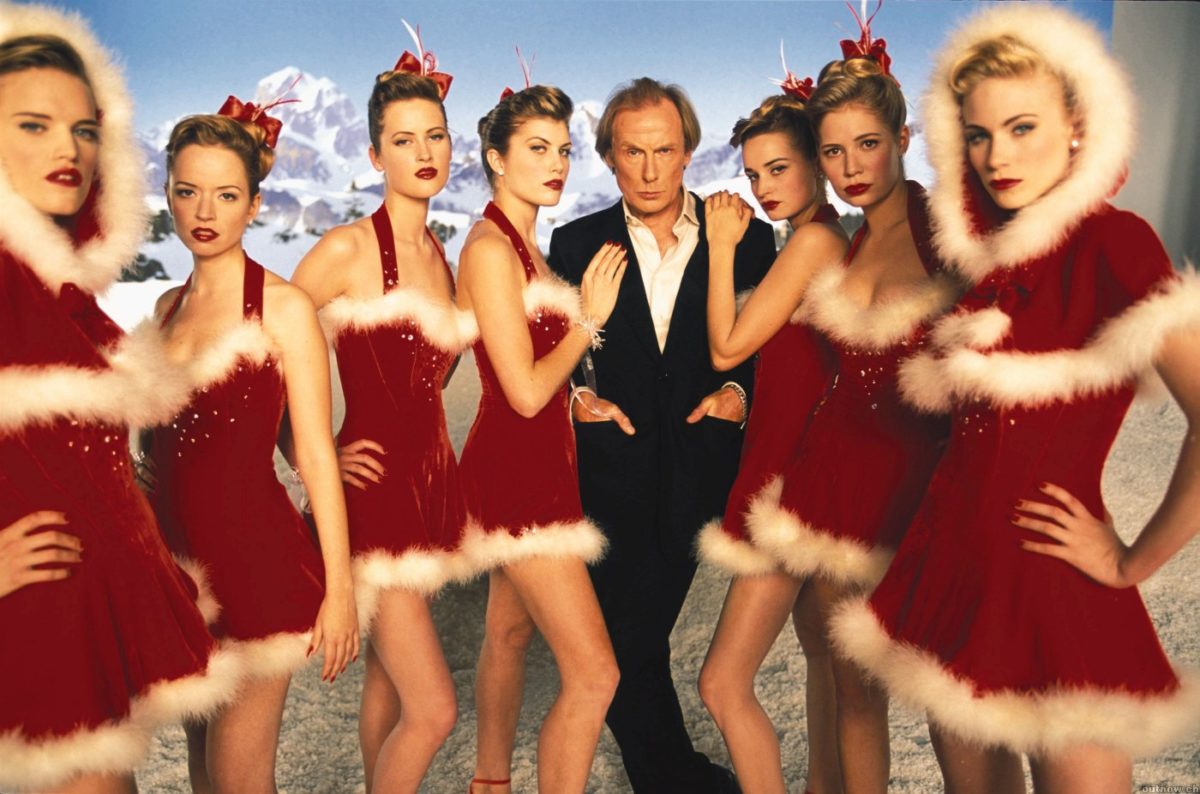 Per quanto riguarda la televisione, si ricordano la miniserie State of Play (2003), per cui vince un BAFTA, e il recente Ordeal by Innocence (2018), oltre ovviamente al ruolo (stranamente non accreditato) della guida del Musée d'Orsay nell'episodio Vincent and the Doctor, nella quinta stagione di Doctor Who (2010). In realtà, le strade di Nighy e del Dottore si sono già incrociate intorno al 2004, quando è tra gli attori "papabili" per il ruolo di Nine, ma decide di non accettare.

Bill Nighy soffre della malattia di Dupuytren, una condizione per cui l'anulare e il mignolo delle mani restano contratti.
La sua lunga relazione con la collega Diana Quick, mai sfociata nel matrimonio, è terminata nel 2008; i due hanno una figlia, Mary, che sta intraprendendo la medesima carriera.
Nighy è finanziatore di diverse organizzazioni a tutela dell'infanzia, come la Crystal Palace Children's Charity e la Scene & Heard, oltre che del centro artistico Milton Rooms; è inoltre un ferreo sostenitore della parità di genere e dei diritti per la comunità LGBT+.
-Dalek Oba-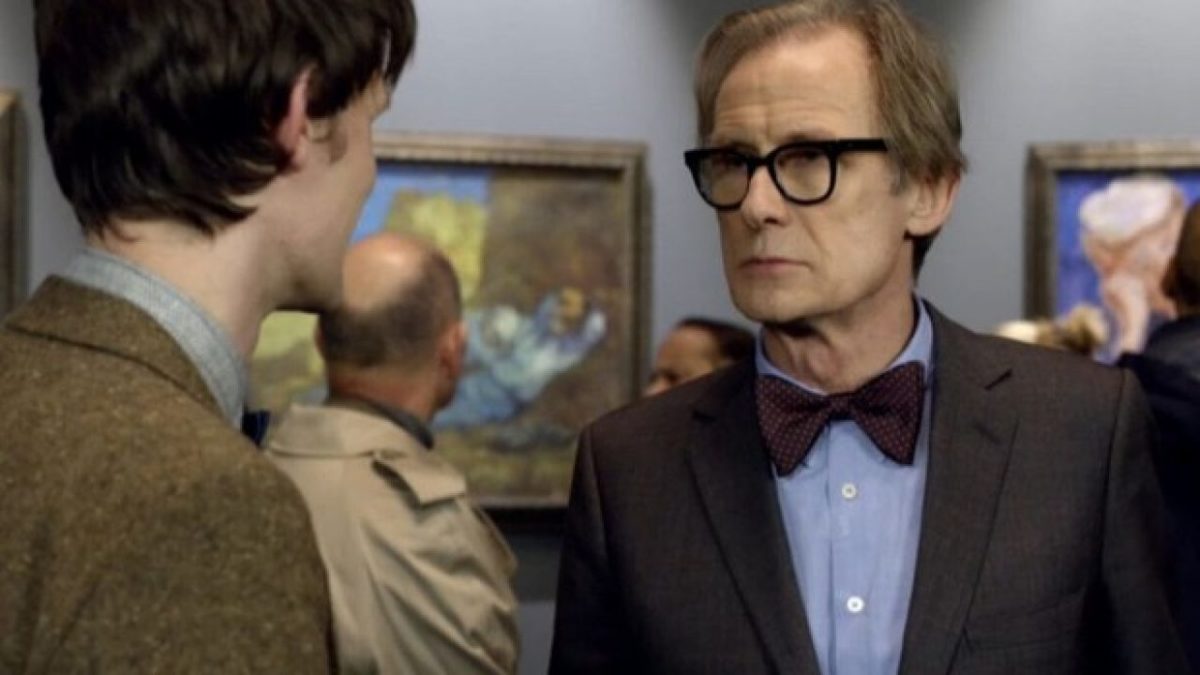 Data la sua immensa carriera, Bill Nighy è già apparso in TANTISSIMI film di cui abbiamo già parlato in riferimento ad altri attori. È perciò utile un piccolo riassunto:
Skylight: QUI, nella sezione dedicata a Carey Mulligan
Shaun of the Dead: QUI, nella sezione dedicata a Nick Frost
The Boat That Rocked: QUI, nella sezione dedicata a Talulah Riley
Pride: QUI, in riferimento a Faye Marsay
Emma.: QUI, in riferimento a Rupert Graves
State of Play: QUI, in riferimento a John Simm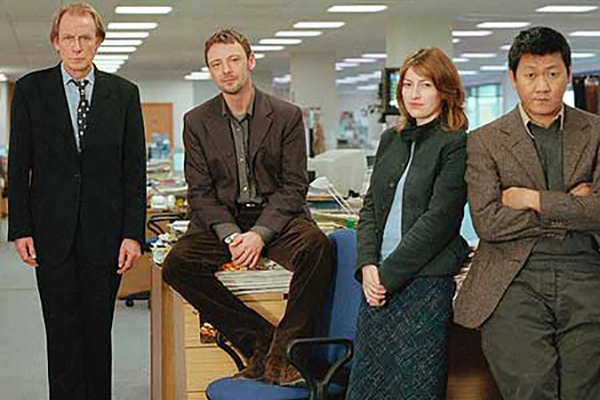 Una ragazza si innamora di un ragazzo, ma questo fa parte di un clan rivale e il loro amore è osteggiato da entrambe le famiglie. Sì, lo so, è la storia d'amore più classica di sempre. Ma se lei fosse un vampiro? E lui un lupo mannaro?
Mettete a tutti succinti vestiti in pelle e lunghi cappotti neri, fate sparare tonnellate di proiettili e anche un idiota ci potrebbe tirare fuori una storia.
LA SAGA DI UNDERWORLD
Il primo film è davvero solo Romeo e Giulietta con vampiri e licantropi. Di per sé non è neanche la peggiore delle idee, ma il film non la sa sfruttare appieno. Forte della bellezza di Kate Beckinsale, poco altro vi aggiunge. La regia è caciarona ma mai davvero divertente, gli effetti più che decenti ma non visivamente originali, la storia è piatta e prevedibile. Il protagonista maschile non doveva oscurare la Beckinsale, vera star del film, e quindi è un anonimo mascellone talmente insipido che neanche sono andato a rivedermi il nome.
Tuttavia il film risulta più godibile del previsto per due motivi specifici. Lucian e Viktor, i villain. Ce ne sarebbe un terzo, Kraven, ma è solo funzionale alla trama. Lucian è il leader dei lupi mannari ed è interpretato da Michael Sheen. È un personaggio fantastico, quasi (perdonatemi per usare questa parola nella recensione di Underworld) shakespeariano, un cattivo dalle motivazioni forti e simpatetiche. È praticamente un eroe tragico, ed è un peccato che non sia lui il protagonista del film. Sheen poi lo interpreta con ardore e una bella dose di divertimento, che traspare in ogni momento.
Viktor è interpretato da Bill Nighy, che si deve essere divertito come non mai. Provano a dargli spessore, all'inizio è presentato come buono, poi c'è il colpo di scena! Lui è il cattivo più cattivo. Non c'era arrivato nessuno… Ma di sicuro domina il film.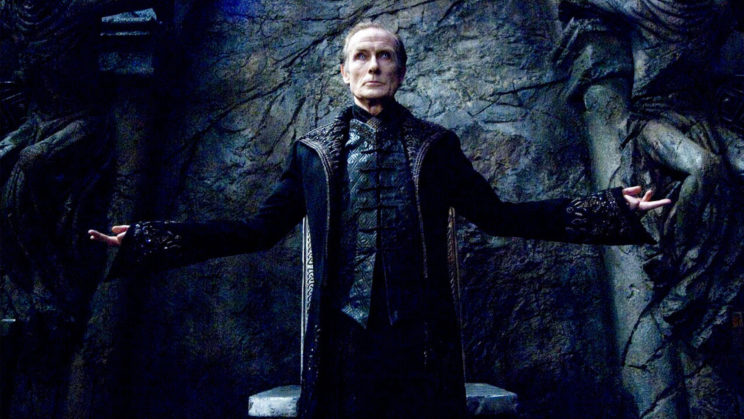 Il secondo film alza la posta in gioco tirando fuori il primo vampiro e il padre immortale. Viktor torna perché è l'unico che regga lo schermo, ma visto il finale del primo film è solo nei flashback. Da una parte è più godibile del primo, dall'altra è sempre blando. Abbiamo un film sui vampiri in cui non li si vede praticamente mai uccidere umani (altrimenti come potremmo vedere Selene come buona?), i colori variano tra il nero e il nero più scuro, l'azione però è più inventiva. Nel primo avevamo un vampiro con due fruste che affrontava un enorme lupo mannaro nelle fogne. Ecco quello che vogliamo vedere. Dura due secondi e la fine è off screen. Nel secondo almeno ci fanno vedere quello che ci aspettavamo da Underworld. Peccato la mancanza di Viktor e Lucian.
Ecco perché hanno girato il terzo. Un prequel sulla storia dei due personaggi migliori. C'è un pochino di retcon, ma con criterio. La figlia di Viktor è interpretata da Rhona Mitra che è molto diversa dall'attrice che avevamo visto nei flashback dei primi film, ma va bene. La Mitra è un'attrice di grande presenza scenica e ricorda vagamente la Beckinsale, giustificando così il legame che Viktor instaurerà con Selene. La storia questa volta è più interessante e coinvolgente, ma è penalizzata dal fatto che ne conosciamo già la fine. Ed è questo il problema più grande. Se si vedesse questo film per primo probabilmente sarebbe divertentissimo e appassionante. Ovviamente intendo relativamente al genere. Così invece sappiamo che tutti finiranno a fare Underworld.
Ci sono stati altri due o tre seguiti, ma non mi sono neanche preso la briga di contarli, figuratevi se meritano una recensione. La saga comunque non è sconsigliata, qualche risata si fa e ci si diverte. Il problema è che poteva e doveva essere molto di più. Cavoli, ci sono vampiri contro lupi mannari!
-Brig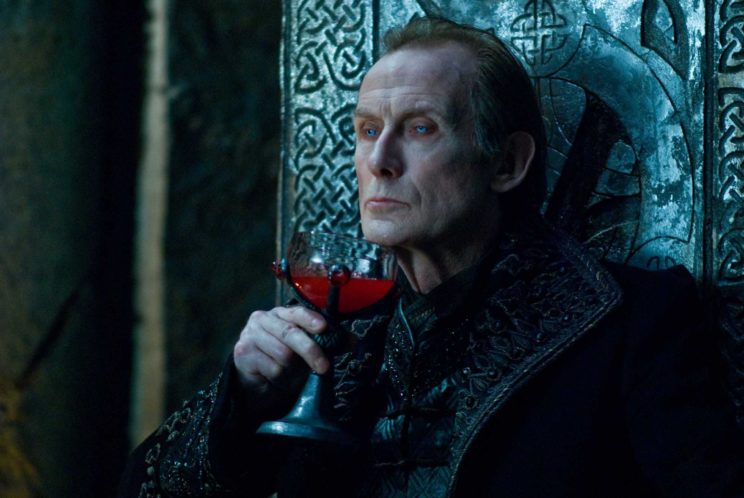 Gli uomini della famiglia Lake possono viaggiare nel tempo. Non per compiere grandi imprese o cambiare la storia, ma per modificare quelle piccole cose che possono andare storte nella vita: una figuraccia, un ritardo, una situazione che col senno di poi si sarebbe potuta evitare. Arrivato al suo ventunesimo anno di età, anche Tim (Domnhall Gleeson) eredita il dono, e tocca a suo padre (interpretato da Bill Nighy) istruirlo e metterlo in guardia sul fatto che, nemmeno con una piccola "marcia in più", la vita fila sempre tutta liscia.
About Time è un film decisamente adorabile; una commedia romantico/familiare assolutamente nella norma… se non fosse per quel tocco di sovrannaturale che scompiglia le carte in tavola e apre a nuove possibilità nel genere. È vero che da grandi poteri derivano grandi responsabilità, ma anche i "piccoli poteri", come quello di Tim e della sua famiglia, vanno gestiti con la giusta dose di saggezza.
-Dalek Oba-