In loving memory of Clara…
Una sera ho visualizzato un tag alla nostra pagina e riportava al profilo personale di questa ragazza: Francesca Murgioni. Sono rimasta immediatamente colpita dal suo face painting a tema Doctor Who, tanto che le ho subito scritto per avere un'intervista!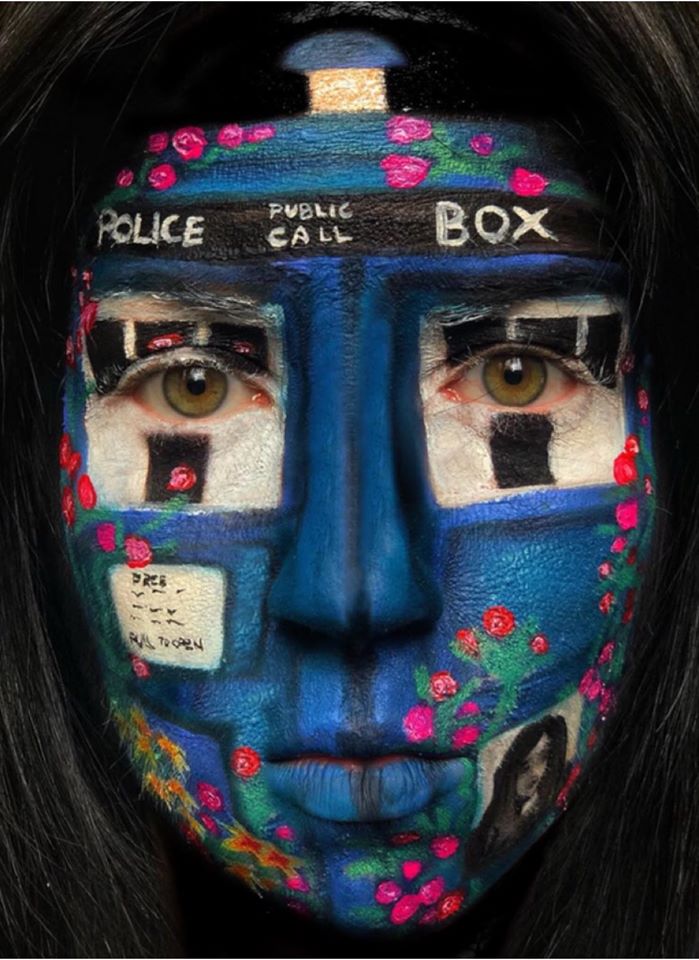 Ho deciso di fondere due mie passioni insieme, Doctor Who e make-up.
Parlando di Doctor Who, è una serie che cominciai per curiosità, me ne parlavano sempre dei cari amici, così lo cercai e ne guardai una puntata.
Era la prima puntata dove veniva presentato il grande Matt smith come Undicesimo Dottore.
E già solo con quella puntata, tra un una battuta e l'altra, il pesce fritto con la crema e la dolcezza di Amy, me ne innamorai subito.
Il Doctor Who, in qualsiasi forma, ha sempre avuto il potere di non essere solo il personaggio di una serie televisiva, ma una persona cara, un amico, direi, che durante il giorno andavo a trovare per vedere in quale nuovo guaio fosse.
E la cosa bella è che, ogni giorno, t'insegna sempre qualcosa sull'animo umano, sia del dottore, sia del proprio.
E per quanto riguarda la passione per il make up?
Io lavoro in una grande azienda di cosmetica e bellezza, dove fin dall'inizio mi hanno incoraggiata a sviluppare e coltivare questa mia passione, mettendola in pratica anche in negozio, nelle varie occasioni come il Lucca Comics and Games, o altre festività.
Durante la quarantena è cominciata per gioco, con altre mie colleghe truccatrici: ogni settimana sceglievamo un tema da realizzare con  make-up o face painting .
Avevo già in testa da molto tempo di realizzare un trucco ispirato alla serie, ma ogni volta ne ero spaventata, fino a quando non abbiamo deciso di riproporre, nel trucco, serie televisive.
A quel punto mi sono decisa e mi sono chiesta, come poter rappresentare al meglio questo mio amore per questi due mondi.
Nel face painting il tuo viso è… il Tardis, ma in una versione molto particolare!
Ho pensato moltissimo a cosa realizzare.
Volevo rappresentare un momento, una scena della serie, che mi avesse colpito particolarmente, così ho fatto ricerche e studiato il make-up
Ammetto che ho avuto paura a realizzare il trucco, era troppo importante per me come momento della serie, e rischiare di "rovinarla" con un make-up mal riuscito mi avrebbe fatto male.
Ho scelto il Tardis commemorativo di Clara, perché per me è stato il momento più duro e doloroso della serie.
Giuro, ho pianto davvero tanto quando Clara è morta, per non parlare di quando lei dice addio al dottore nel dinner, dove lui suona una canzone scritta per lei, ricordando solo il suo nome e che fosse una persona importante per lui.
Non nego che, solo a sentirla, quella canzone, mi fa piangere ogni volta.
Io amo Clara, ritrovo molto di me in lei, e ammetto che il dodicesimo dottore, il magnifico Peter Capaldi, è il mio dottore preferito.
Per realizzarlo ci sono volute 4 ore; man mano che mi truccavo sentivo, ad ogni sfumatura, ad ogni pennellata, la paura scomparire e l'emozione salire.
La cosa che più mi tocca il cuore, è che mi abbiano scritto successivamente persone, dicendomi che rivedendo il mio trucco, avevano riprovato la mia stessa emozione.
E questo è il complimento più bello che mi potessero fare, perché questo è il mio trucco, la manifestazione di un'emozione.
Vedo hai anche confezionato il tutto quasi a voler sembrare una locandina. Sei appassionata anche di Photo-Editing?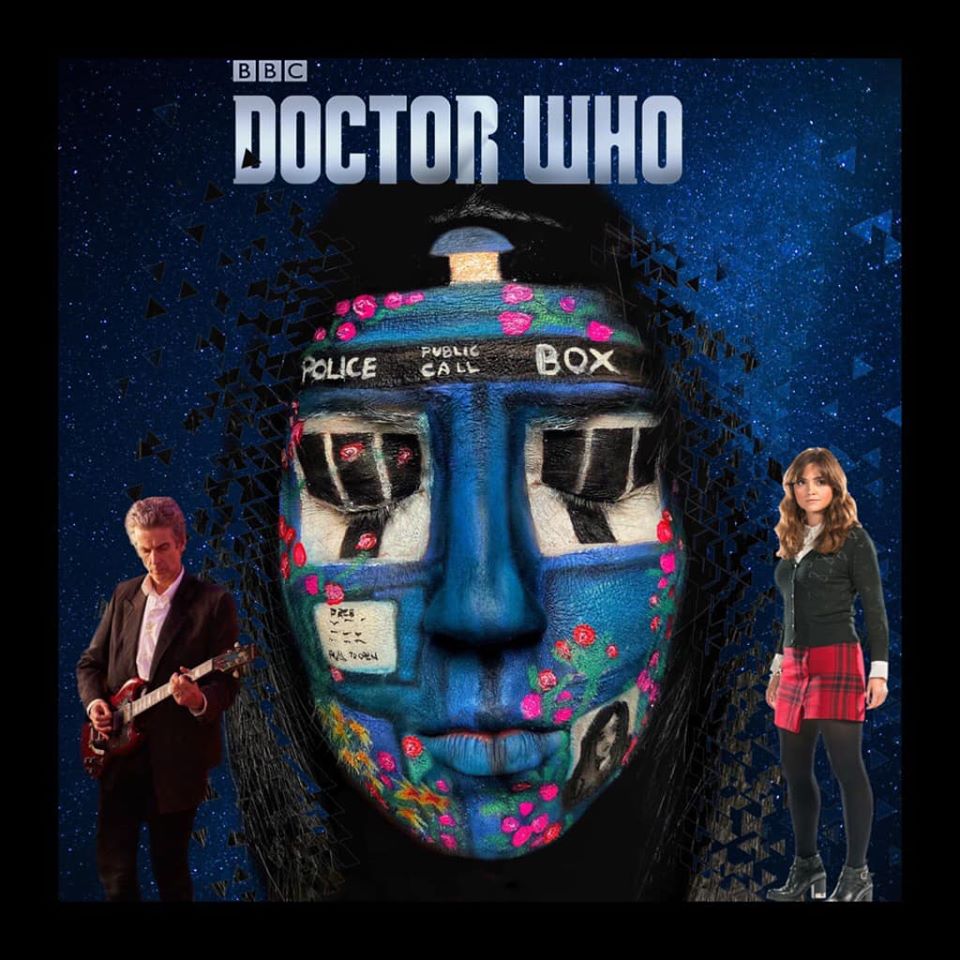 Mi piace molto il photo-editing, in questa quarantena mi sono sbizzarrita nel provare a realizzare vari lavori del genere, chiariamo, non sono una professionista, però mi sono divertita ad imparare e sperimentare, montando varie foto sia mie sia delle mie colleghe, così che il make-up risultasse ancora più coinvolgente.
Infatti, credo che per una persona che pratica il mio stesso lavoro, imparare ad editare le foto, sia un aiuto in più a far sì che chi le guardi non veda solo un bel trucco, ma  anche un'emozione, come un ricordo, una passione o un po' di stupore in più.
Passiamo alla pratica: come si realizza questa meraviglia?
Premetto che purtroppo non avevo a casa il mio kit di tempere, così mi sono dovuta arrangiare.
Allora, vi dico solo che questo trucco, è stato realizzato interamente con tinte labbra ed ombretti.
Prima di realizzarlo ho riportato l'immagine su una face chart, così da capire come, in base al mio viso, poter realizzare al meglio il make-up.
Ho applicato un primer opacizzante così da rendere la grana della pelle più omogenea e liscia, così che anche l'applicazione dei prodotti fosse facilitata.
Subito dopo sono andata a con una matita labbra nude, a disegnare le linee guida del tardis sul viso.
Fatto questo, ho utilizzato un ombretto liquido blu (Blu Tardis, lo definirei
) come base su tutto il viso.
Per gli ombretti e le sfumature ho utilizzato una palette professionale di ombretti, cercando di realizzare profondità e tridimensionalità.
I fiori, le finestre del tardis, e altre particolarità del trucco, le ho tutte realizzare minuziosamente con varie tinte labbra.
In più vorrei aggiungere, che mi hanno scritto persone dicendomi che spesso non ci provano a creare un face painting perché non sanno fare ed hanno paura a provare.
Vorrei dirvi che il make-up, come il face painting ed il body painting, sono un'arte, e come arte stessa, non può MAI ESSERE SBAGLIATA.
Non dovete aver paura, dovete provare, divertirvi e sbizzarrirvi.
E quando pensate di aver sbagliato tecnica, sappiate che non avete sbagliato, avete solo personalizzato un qualcosa di accademico.