DAY OF THE MOON – 10 ANNI DOPO
Seconda parte che segue all'episodio "The Impossible Astronaut", trama decisamente più contorta. Si riprende dalla fine dello scorso episodio, circa dopo 3 mesi, e troviamo Amy, Rory e River ognuno per conto suo e con degli strani segni sul corpo che, mentre cercano informazioni sulle creature che tutti dimenticano, scappano da Canton Everett Delaware III, che sembra li voglia uccidere. Intanto il Dottore è tenuto prigioniero nell'area 51, e viene costruita intorno a lui una prigione impenetrabile. In realtà è tutto un trucco, Canton porta Amy e Rory dentro la prigione come se fossero morti, così nessuno avrebbe sospettato nulla, ma lì ad aspettarli insieme al Dottore c'è il TARDIS, e tutti insieme, dopo aver raccattato anche River, fanno un recap di quel poco che ricordano sugli alieni che stanno affrontando. Il Dottore impianta nelle mani di ognuno un aggeggino, un nano-registratore, per poter registrare in caso di incontro con una di queste creature. Il punto fondamentale però è trovare la bambina nella tuta d'astronauta: facendo qualche ricerca risalgono a un orfanotrofio vicino alla sede della NASA nel 1969, quindi Canton e Amy vanno a controllare e scoprono che il posto è praticamente deserto, c'è solo il direttore ormai impazzito, scritte minacciose sui muri e tante, tantissime creature. Nel frattempo, il Dottore si è infiltrato alla NASA e ha "manomesso" l'Apollo 11, pronto a partire, per servirsene più tardi.
Vagando nell'orfanotrofio, Amy trova la stanzetta di una bimba, e tra le varie foto sul mobile ce n'è anche una di Amy stessa con in braccio una bimba appena nata, cosa impossibile perché lei in realtà non è incinta. Nella stanza è raggiunta dalla bambina nella tuta d'astronauta e da alcune delle creature, che la rapiscono, mentre la bambina riesce a uscire dalla tuta e scappare. Canton invece, nello studio del direttore dell'orfanotrofio, spara a una delle creature. Il Dottore, Rory e River si precipitano sul posto, ma di Amy trovano solo il nano-registratore; decidono di parlare con la creatura morente, e finalmente scopriamo il nome della specie aliena: il Silenzio. Canton porta con sé l'essere ferito nell'area 51, per curarlo e tenerlo in ostaggio per un po'; parlandoci riesce a registrare una sorta di confessione con un telefonino, video in cui l'alieno dice "dovreste ucciderci tutti a vista" e che l'agente Canton manda al Dottore. Nel mentre gli altri controllano la tuta da astronauta ormai vuota, e si chiedono che forza abbia la bambina per essere riuscita a uscirne, essendo la tuta particolarmente avanzata e automatizzata, creata dall'uomo sotto induzione dei Silenti.
Finalmente rivediamo Amy, legata a un lettino e circondata da creature. Il TARDIS la rintraccia e il gruppo arriva a salvarla. Il piano del Dottore è strano ma pare funzionare: grazie alla modifica fatta all'Apollo 11, nel momento in cui Armstrong poggia il piede sul suolo lunare viene mandato in onda il video registrato da Canton, fissando nella memoria degli umani l'immagine dei Silenti e il messaggio di ucciderli a vista. Tutti gli umani iniziano a notare le creature e a ucciderle, stessa cosa capita ai protagonisti, River inizia a sparare ai Silenti mentre gli altri rientrano tutti nel TARDIS, salvando Amy. Riportano Canton dal presidente Nixon e River in prigione; prima di ripartire River bacia il Dottore, che rimane particolarmente sorpreso dalla cosa, perché per lui è il loro primo bacio, per lei invece sarà l'ultimo.
Il finale di questa puntata è un trip mentale senza precedenti: il Dottore fa uno scan segretamente ad Amy, per capire se sia incinta o meno, ma il TARDIS continua a oscillare tra risultato positivo e negativo; alla fine, 6 mesi dopo questi avvenimenti, vediamo una bimba in un vicolo di New York, che avanza a fatica e dice a un uomo di passaggio che sta morendo ma che può risolvere la cosa, e inizia a rigenerarsi.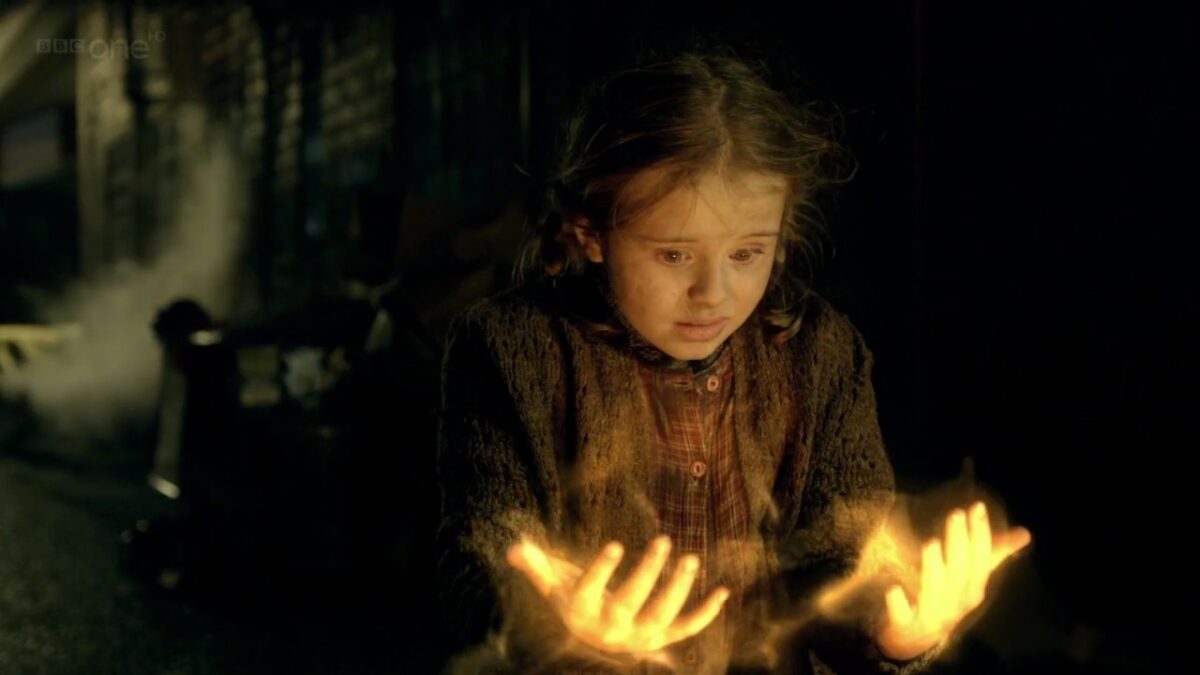 Steven Moffat decide di concludere queste due prime puntate molto dark della sesta stagione creando suspense, e pur avendo risposto ad alcune domande dalla scorsa puntata, ci apre tantissime nuove strade da percorrere e segreti da scoprire, primo fra tutti chi è questa bambina particolare.
In questo episodio esploriamo anche un po' le relazioni tra le coppie Amy e Rory e River e il Dottore. Amy e Rory hanno un legame che mi ha sempre affascinata molto, che va oltre ogni forza dell'universo, costantemente messo alla prova ma che in qualche modo si risolleva sempre. Nell'episodio in questione, lui crede che lei sia innamorata del Dottore, la sente parlare tramite il nano-registratore, e passata la gelosia iniziale, subito comunque si adopera per capire come salvare sua moglie. Nel TARDIS poi si chiariranno e Rory capirà che in realtà Amy stava parlando e pensando a lui per rimanere in vita e speranzosa.
River e il Dottore hanno invece un rapporto intenso, bello, ma triste, dato che le loro vite vanno al contrario, tutto ciò che per lui è nuovo, come un bacio, per lei è già avvenuto e probabilmente ma più si ripeterà, perché lei sta andando verso la sua morte nella Biblioteca, mentre il Dottore va avanti verso il momento in cui conoscerà River e per lei sarà il primo incontro. Parentesi del discorso, adoro ogni volta che flirtano, anche spesso in maniera molto piccante, davanti alle facce un po' sconvolte di tutti.
In conclusione, possiamo ribadire che Moffat è riuscito a costruire una delle trame più intricate e sbalorditive di sempre, che ogni volta colpisce come se fosse la prima, ogni volta si scoprono dettagli nuovi e interessanti che danno pieghe diverse alla storia.