Diana Rigg nasce il 20 luglio 1938 a Doncaster, nello Yorkshire, ma già a due mesi si trasferisce in India con la famiglia, dove rimane fino all'età di otto anni, imparando così l'Hindi oltre all'inglese. Torna nel Regno Unito per frequentare un collegio, la Fulneck Girls School, dove però per forza di cose si sente un pesce fuor d'acqua. Nel frattempo, nasce il suo amore per la recitazione, che la spinge a proseguire gli studi alla Royal Academy of Dramatic Art di Londra.
Nel 1957 debutta a teatro nello spettacolo Caucasian Chalk Circle, per poi entrare nella Royal Shakespeare Company nel 1959. Nel 1971 recita a Broadway in Abelard & Heloise, per poi entrare l'anno successivo nella National Theatre Company, con cui lavora in Jumpers (1972) e Night and Day (1975). Successivamente recita in Colette (1982), Follies (1987), Medea (1992), per cui vince il Tony Award, Who's Afraid of Virginia Woolf? (1996), Mother Courage (1996), Suddenly Last Summer (2004), Honour (2006), All About My Mother (2007), The Cherry Orchard (2008), Hay Fever (2009), Pygmalion (2011) e My Fair Lady (2018).
Al cinema interpreta la bond girl Tracy in On Her Majesty's Secret Service (1969), a cui seguono The Assassination Bureau (1969), Julius Caesar (1970), The Hospital (1971), Theatre of Blood (1973), In This House of Brede (1975), A Little Night Music (1977), The Great Muppet Caper (1981), Evil Under the Sun (1982) e Snow White (1987).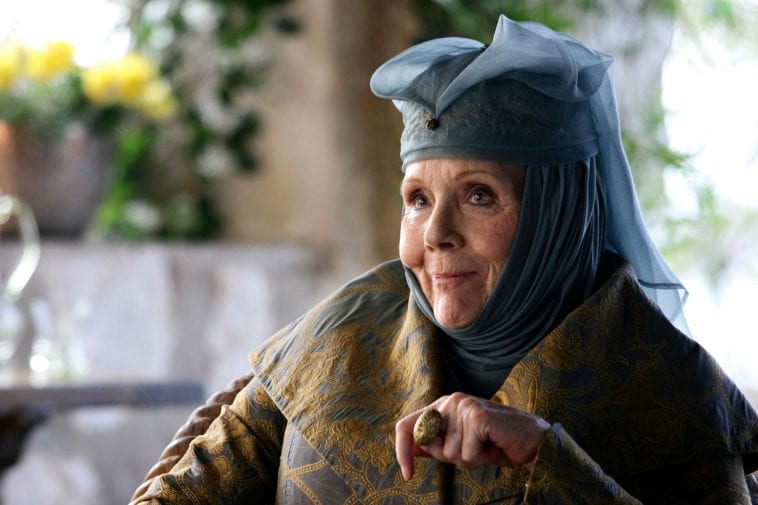 Diana lavora dal 1965 al 1968 in The Avengers, una serie televisiva di genere spionistico in cui interpreta appunto l'agente segreto Emma Peel. Nonostante l'enorme successo, decide di lasciare il ruolo a causa della mancanza di privacy e del suo stipendio, nettamente inferiore a quello della co-star John Steed.
La sua carriera televisiva prosegue con Diana (1973-1974), The Marquise (1980), Hedda Gabler (1981), King Lear con Laurence Olivier (1983), Bleak House (1985), Mother Love (1989), per cui si aggiudica il BAFTA, Moll Flanders (1996), Rebecca (1997), per cui vince un Emmy nel ruolo di Mrs Danvers, e The Mrs Bradley Mysteries (1998-2000). Negli ultimi anni, il suo ruolo più celebre è sicuramente quello di Olenna Tyrell, dalla terza alla settima stagione di Game of Thrones (2013-2017) …anche se l'attrice ha poi ammesso di non aver mai visto la serie.
Nel corso della serie classica di Doctor Who, Diana Rigg è stata considerata più volte come guest star, ma i vari progetti non si sono mai concretizzati. Nel 2013, finalmente, Mark Gatiss scrive un episodio apposta per lei e per sua figlia Rachael Stirling, anch'essa attrice: The Crimson Horror. Nel ruolo della cattivissima Mrs Gilliflower, Diana vince anche il premio Best Guest Actress of 2013 del Doctor Who Magazine.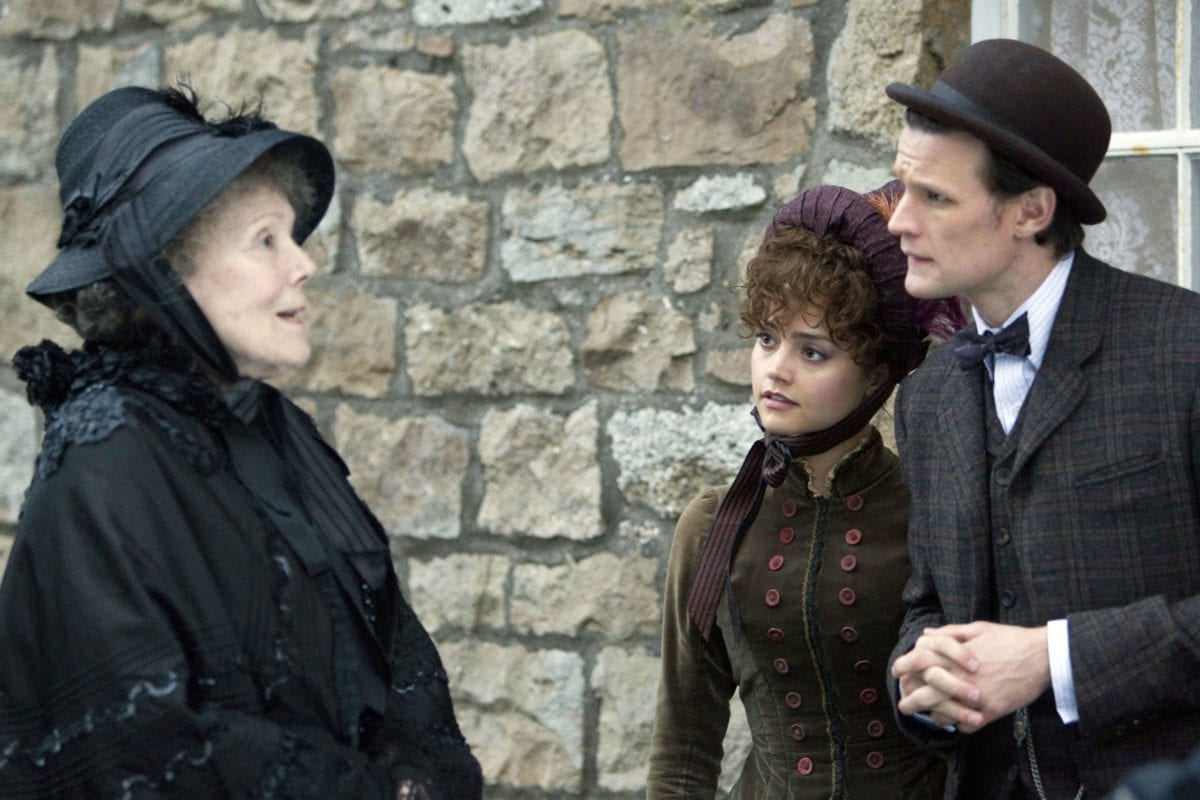 Nel 1988 è nominata Commander of the Order of the British Empire (CBE) e, nel 1994, Dame Commander of the Order of the British Empire (DBE), per il suo contributo al teatro e al cinema.
Per quanto riguarda la vita privata, Diana negli anni Sessanta convive con il regista Philip Saville, già sposato con un'altra donna, cose che crea un certo scandalo. Si sposa poi con il pittore israeliano Menachem Gueffen nel 1973, ma i due divorziano dopo tre anni. Comincia a frequentare il produttore Archibald Stirling, con cui ha la figlia Rachael nel 1977, e con cui si sposa nel 1982, per poi divorziare nel 1990.
Nel 2017 diventa nonna del piccolo Jack.
È il 1967. Dopo 5 film in 6 anni, Sean Connery è stufo di James Bond. Ok, poi cambierà idea e ne farà un sesto nel 1971 ma, nel mentre, la produzione trova un sostituto. Nel 1969 esce infatti On Her Majesty's Secret Service, unico film che vede nei panni della spia l'attore australiano George Lazenby.
Nei panni della bond girl Teresa Di Vicenzo, detta Tracy, troviamo la nostra Diana Rigg che, già molto celebre in patria, aveva accettato il ruolo per farsi conoscere anche oltre ai confini britannici.
In effetti, senza nulla togliere alla buona performance di Lazenby, il personaggio che spicca di più nel film è proprio quello di Tracy, grazie a una profondità e a un background ben costruiti, e all'ottima prova recitativa dell'attrice. Non solo, Tracy è anche l'unica donna che sia riuscita a portare Bond… all'altare!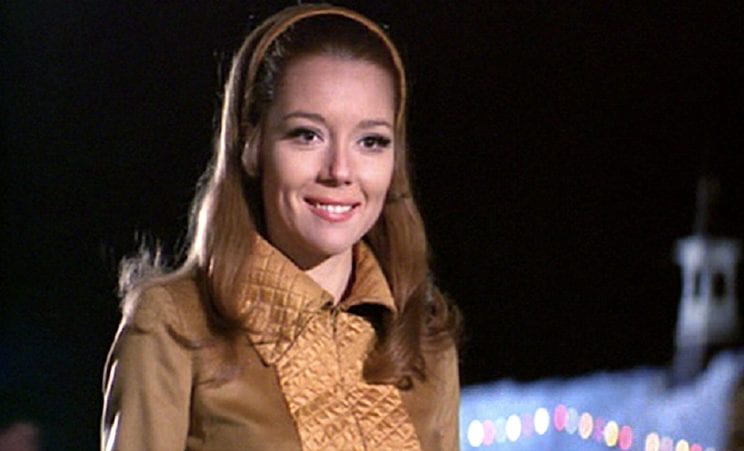 Edward Lionheart, un attore teatrale molto devoto a Shakespeare – interpretato da Vincent Price – si ritiene profondamente umiliato da un gruppo di critici che gli negano un importante riconoscimento, e commette suicidio.
Un paio di anni più tardi, proprio gli stessi critici cominciano a venir assassinati in circostanze che ricreano in modo orribile le morti di alcuni personaggi shakespeariani… che sia tutto un piano malefico di Lionheart, in realtà ancora vivo e assetato di vendetta?
In Theatre of Blood, Diana Rigg interpreta Edwina, la figlia di Edward Lionheart; l'attrice ha dichiarato che lo considera il suo film migliore.
Una curiosità: il titolo utilizzato in Italia è Oscar insanguinato… il che è decisamente inspiegabile, dato che il premio che viene negato a Lionheart decisamente NON era un Oscar, trofeo esclusivamente cinematografico.