Helen Elizabeth McCrory nasce nel quartiere di Paddington, a Londra, il 17 agosto 1968; sua madre Anne è gallese, suo padre Iain è scozzese. Alla famiglia si aggiungono poi altri due bambini.
Data la professione del padre, diplomatico, Helen viaggia moltissimo durante l'infanzia: dopo vari stati africani, l'Italia e Parigi, torna in Inghilterra per studiare. Frequenta la Queenswood School e poi il Drama Centre di Londra.
La sua carriera d'attrice comincia a teatro, dove recita in  The Importance of Being Earnest (1990), Pride and Prejudice (1991),  Blood Wedding (1991), Trelawny of the Wells' (1993), per cui riceve svariati premi, The Seagull (1994), Les Enfants Du Paradis (1995–1996), How I Learned to Drive (1998), The Triumph of Love (1999), Uncle Vanya (2002), Twelfth Night (2002), Five Gold Rings (2003–2004), As You Like It (2006), per cui viene nominata agli Olivier Award, The Last of the Haussmans (2012), Macbeth (2013) e Medea (2014).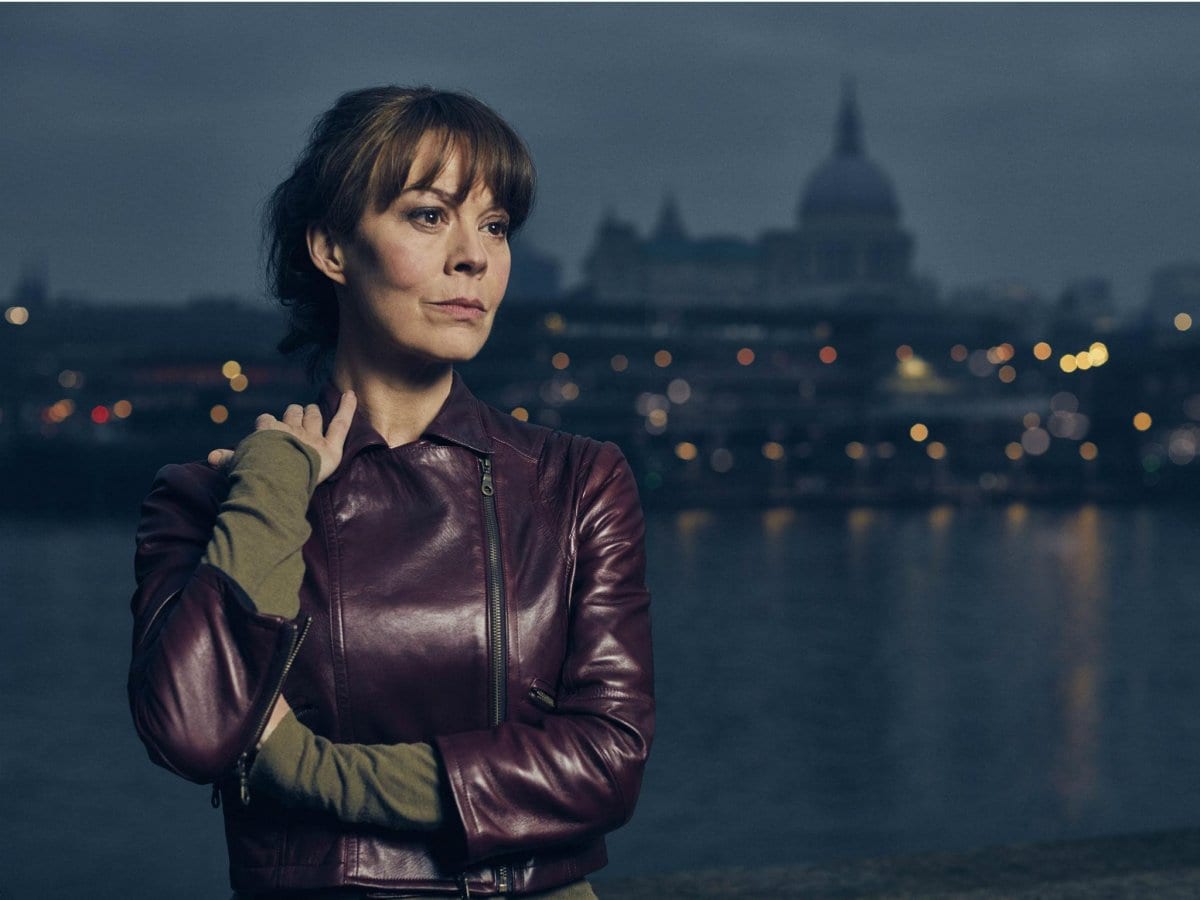 Al cinema appare in Interview with the Vampire (1994), Charlotte Gray (2001), The Count of Monte Cristo (2002), Enduring Love (2004), Casanova (2005), The Queen (2006), in cui interpreta Cherie Blair, ruolo che poi riprenderà anche in The Special Relationship (2010), e Becoming Jane (2007). Sempre nel 2007 avrebbe dovuto interpretare Bellatrix Lestrange in Harry Potter and the Order of the Phoenix, ma deve rinunciare per una gravidanza; il ruolo sarà affidato a Helena Bonham Carter, mentre lei interpreterà la sorella di Bellatrix, Narcissa Malfoy, negli ultimi tre film della serie. In seguito, recita in Fantastic Mr. Fox (2009), Hugo (2011), Skyfall (2012), A Little Chaos (2014) e Loving Vincent (2017).
Nel 2000 la sua interpretazione di Rose Fitzgerald nella serie North Square le fa vincere il Critics Circle Best Actress Award. Sempre in televisione, lavora in Anna Karenina (2000), The Jury (2002), Dickens (2002), Sherlock Holmes and the Case of the Silk Stocking (2004), Frankenstein (2007) e Life (2009). Nel 2010 interpreta Rosanna Calvierri, la villain dell'episodio The Vampires of Venice della quinta serie di Doctor Who; nel 2013 entra nel cast di Peaky Blinders, a cui seguono l'episodio The Harrowing di Inside No. 9 (2014), Penny Dreadful (2014–2015) e His Dark Materials (2019), in cui presta la voce al daimon Stelmaria.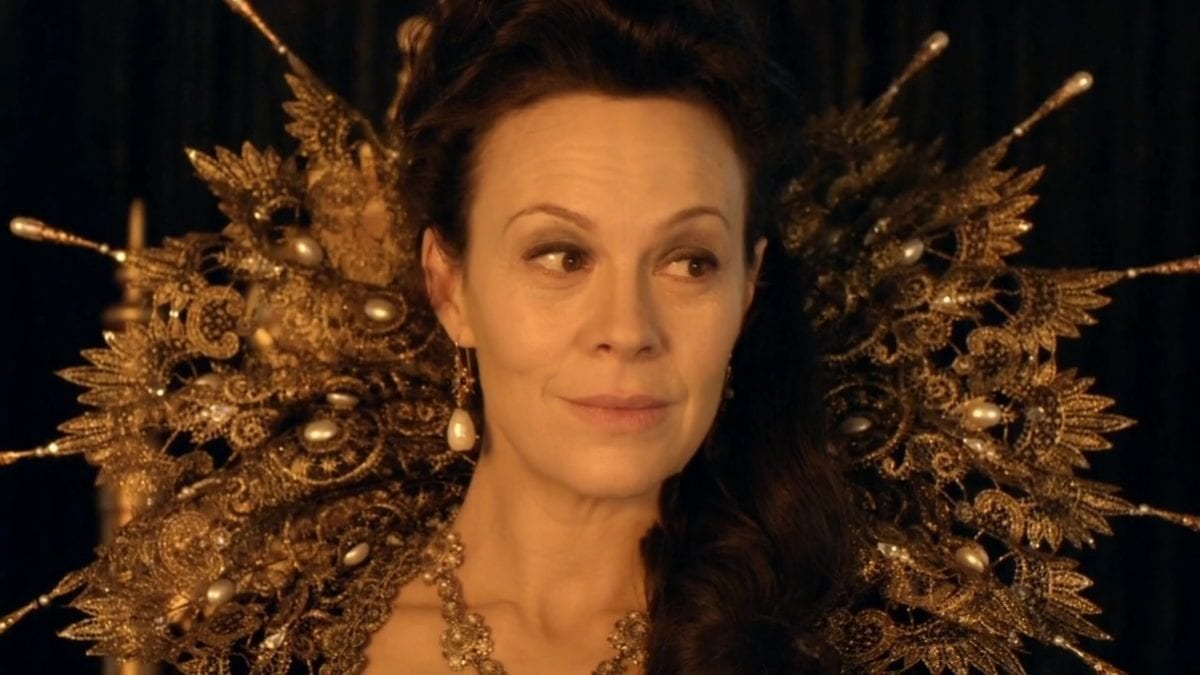 L'attrice gestisce anche una compagnia di produzione con il collega Michael Sheen, dal nome The Public. Nel 2013 partecipa alla creazione di The Love Book App, un'antologia interattiva di letteratura d'amore, per cui recita delle poesie.
Nel 2017 è nominata Officer of the Order of the British Empire (OBE) per i suoi meriti in ambito recitativo.
Helen è sposata con l'attore Damian Lewis e la coppia ha due figli, Manon e Gulliver.
Peaky Blinders è la serie tv migliore del momento. Stilisticamente, recitativamente, tematicamente… tutti i -mente che volete. Qualsiasi descrizione possa provare a formulare, sarebbe limitativa… per cui vi invito semplicemente a guardarla. Il resto della rubrica leggetelo dopo, può aspettare.
…ok, spero che siate tutti qui dopo aver visto il primo episodio… se siete riusciti a fermarvi dopo il primo, beninteso. Se invece per svariati motivi non vi è possibile al momento accedere a uno schermo, cerco di fornirvi una vaga idea.
La serie mescola storia e finzione, narrando le vicende di una banda criminale in una Birmingham di un centinaio di anni fa, i cui membri si facevano chiamare appunto Peaky Blinders. A fondarla sono stati gli Shelby, il cui capofamiglia Tommy – interpretato da Cillian Murphy – è tanto tormentato quanto ambizioso, e ha grandi sogni di gloria per la sua piccola banda.
La serie mostra quindi di uno spaccato storico e sociale a cavallo fra i due conflitti mondiali, e l'ascesa al potere della famiglia Shelby, fatta di azioni più o meno legali, improbabili alleanze, profondi legami e tantissimo sangue.
Al di là dell'indubbia solidità di trama e recitazione, ciò che colpisce di Peaky Blinders è soprattutto COME le vicende vengano mostrate, la sua estetica. La regia e la fotografia svolgono una parte fondamentale, a cui si aggiunge la colonna sonora, formata da pezzi rock incredibilmente anacronistici eppure perfetti. I dialoghi brillanti, con lo slang dell'epoca e gli accenti marcatissimi (è imprescindibile guardarla in lingua originale), sono solo la ciliegina sulla torta.
In tutto questo, Helen McCrory interpreta Polly Gray, o zia Polly, la matriarca della famiglia Shelby; è una donna brillante, orgogliosa e perfettamente a suo agio nel gestire i traffici più o meno legali della banda. È molto spesso la voce della ragione e la sua autorità è indiscussa.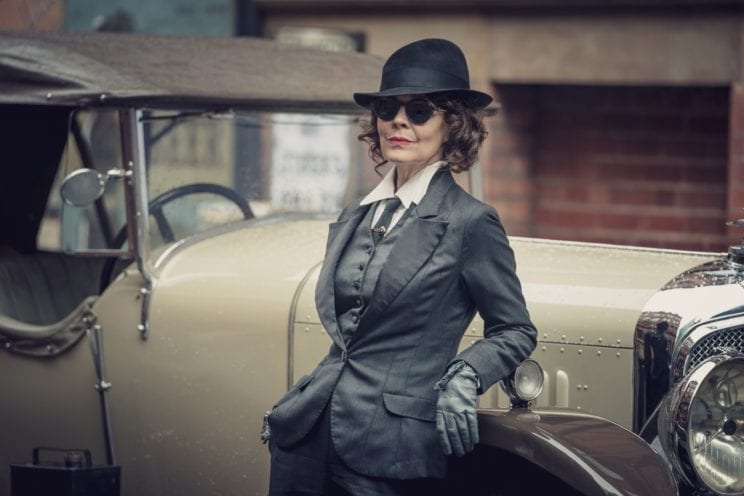 Parlare di questo film è per me un piacere, tanto più che tratta un argomento caro a molti di noi Whovians.
A un anno dalla morte di Van Gogh, il figlio del postino, che recapitava la corrispondenza tra il pittore e suo fratello Theo, torna nei luoghi da lui abitati per far luce sulla sua scomparsa. Parla con chi lo conosceva, amici e detrattori, per cercare di capire chi realmente Van Gogh fosse.
Il film si potrebbe definire un prodotto d'animazione, ma in realtà è unico nel suo genere: è stato realizzato con una tecnica sperimentale, rielaborando oltre mille dipinti realizzati apposta che riprendessero lo stile di Van Gogh. Gli attori sono stati prima ripresi davanti al green screen, e poi trasformati anch'essi in disegni. L'effetto visivo ed emozionale che si viene a creare è unico.
Il cast è d'eccezione, e conta tra gli altri Douglas Booth, Eleanor Tomlinson, Jerome Flynn, Saoirse Ronan, Chris O'Dowd, Aidan Turner e, ovviamente, Helen McCrory.