I have no desire to survive this. The Moment: Then that's your punishment. If you do this, if you kill them all, then that's the consequence.
Oggi parliamo del War Doctor! Come nasce l'idea d'interpretare un personaggio così particolare?
Volevo fare un nuovo cosplay in fiera, ma non avevo ancora idee precise. Un giorno, gironzolando in un mercatino dell'usato, ho visto una giacca perfetta per il war doctor ultrascontata. Non avevo intenzione di fare quel personaggio, ma la giacca era talmente perfetta e costava così poco che l'ho presa lo stesso. In caso qualcuno del fanclub avesse voluto farlo.
E come hai deciso, alla fine, di farlo proprio tu?
Arrivato a casa ho provato la giacca e mi sono ritrovato a pensare come fare il resto del costume. In più avevo appena finito un prop e avevo voglia di iniziarne un altro. Ho pensato che il Momento sarebbe stato grandioso e ho iniziato a progettarlo subito. Credo che a oggi sia ancora il prop che mi sono divertito di più a costruire. Per il resto del costume ho usato dei pantaloni marroni, una camicia beige e delle scarpe che già avevo. Per progettare il Momento mi sono serviti dei mesi, durante i quali ho cercato gli altri pezzi necessari.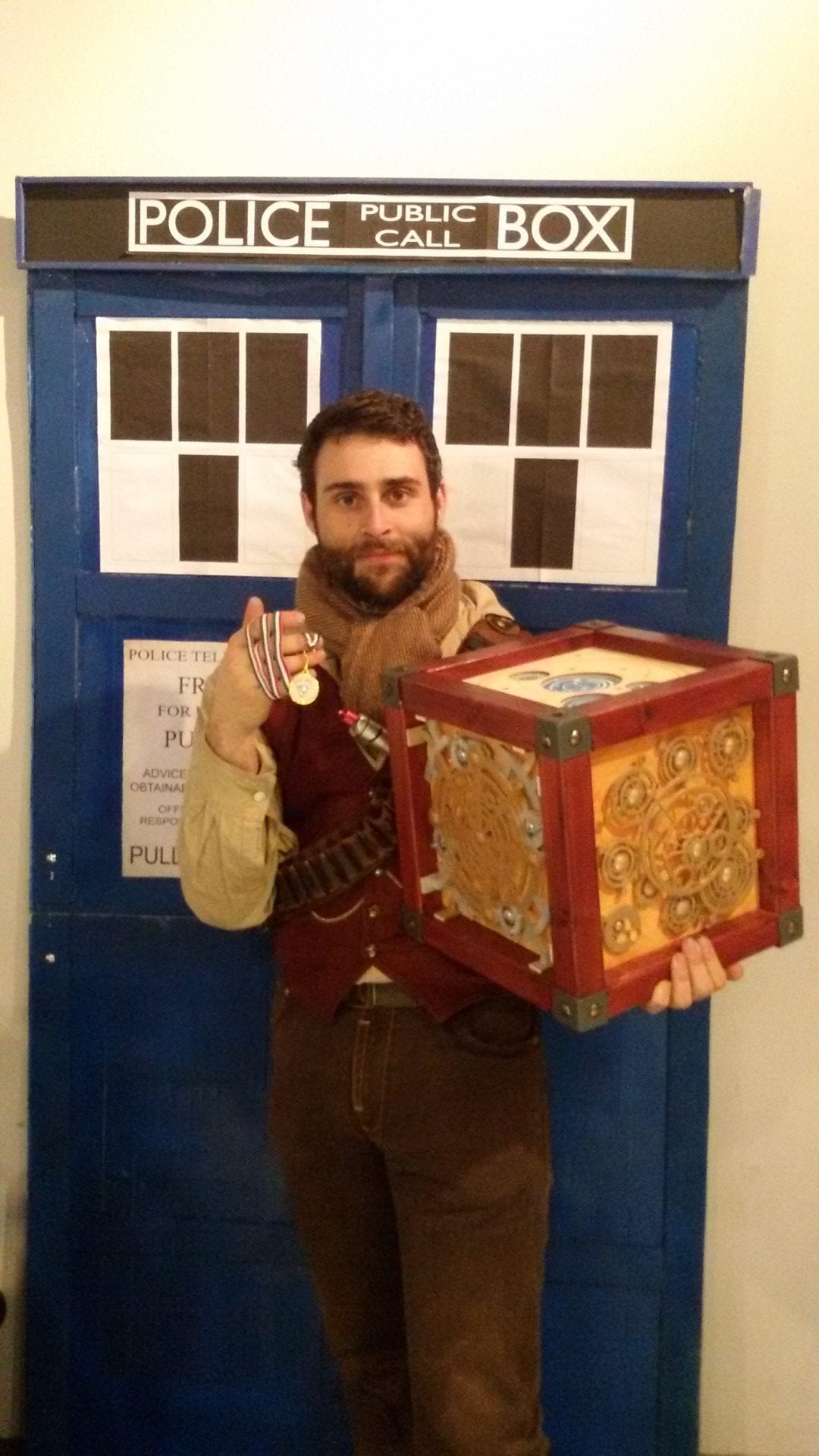 Ho comprato una sciarpa e un panciotto uguali a quelli del personaggio e ho trovato in un altro mercatino dell'usato una cartucciera bella rovinata che ho modificato per poterla mettere a tracolla e perché si adattasse al cacciavite sonico da infilarci.
Quindi, a parte la realizzazione del Momento... un cosplay semplice?
La parte più difficile, incredibilmente, sono state le ghette. Volevo farle il più simili possibile a quelle del war doctor, ma in commercio non si trovano. Stranamente le ghette non sono un capo di vestiario molto diffuso, lo avreste creduto? Le poche che ho trovato costavano molto ed erano davvero troppo diverse. Quindi andavano fatte da zero. Mi è tornato in aiuto il solito mercatino dell'usato. Ho comprato un paio di stivali alti in cuoio da donna (se ne trovano a pochissimo) e ho tagliato via il piede (in cui comunque non entravo) ottenendo così direttamente delle ghette alte con già una cerniera sul retro in modo che fossero facili da indossare. Ho cucito dei finti bottoni sul lato e ho aggiunto una striscia di cuoio che passa sotto il piede ottenendo un risultato che mi ha lasciato davvero soddisfatto. Ovviamente non parlo del Momento perché richiederebbe un discorso davvero lungo.
Come ti "invecchi" per somigliare al personaggio?
Il war doctor è un personaggio molto più anziano di me, ma in fiera avere troppo makeup è fastidioso, soprattutto quando non si è abituati a portarlo. Quindi mi limito a sbiancare un po' i capelli e la barba. L'effetto è comunque notevole. La cosa migliore è che è uno dei pochi cosplay di Doctor Who per il quale non mi devo radere completamente!
Il war doctor è un personaggio particolare...
Il cosplay da war doctor piace sempre molto ai fan. Certo, non è un personaggio che viene riconosciuto da tutti, ma stando per lo più allo stand del Doctor Who Italian Fan Club non è un gran problema. Bisogna inoltre considerare che questo cosplay è davvero una scusa per stare vicino al Momento ed è questo a raccogliere il grosso dei complimenti.
Cosa consigli a chi vuol realizzare questo cosplay?
Come costume non è difficile, ha l'unico problema di avere alcuni dettagli davvero peculiari. Quindi consiglio di non avere fretta di finirlo. Si può trovare o costruire tutto quello che serve, ma potrebbe volerci un po' di tempo. Io, per esempio, ho trovato subito una cartucciera adatta, ma è stata fortuna.