Ciao a tutti e bentornati a DWOT, ossia Damned Wicked and Obnoxious Troubles, perché stavolta, per quanto voglia sinceramente fare un frame by frame di Tesla, voglio cambiare completamente argomento: parliamo di cose reali.
Occasionalmente ci scrivono usando il "tu" tipo "a te è piaciuto l'episodio nuovo?", "sai quando esce la stagione in italiano?" oppure "mi porti mezzo chilo di noci?" e credo che non a tutti sia molto chiaro che, no, non portiamo frutta secca a domicilio e, no, questa pagina (o meglio quella dove c'è il link che hai presumibilmente cliccato per arrivare su questo sito) non è gestita da una sola persona: Doctor Who Italian Fan Club è un Fan Club. Di Doctor Who. Italiano. Ma pensa tre! Che cosa vuol dire? Essenzialmente nulla, non esiste la figura del Fan Club secondo la burocrazia italiana, quindi siamo un'Associazione Culturale, regolarmente registrata, del genere senza partita IVA, quindi non possiamo registrare più di 5'000 e rotti euro all'anno, però abbiamo un nostro codice fiscale e tutto. La pagina è forse l'attività per cui ci conosce più gente, ma semplicemente perché ti basta fare un paio di click per arrivarci, invece di dover venire a una fiera o un evento. Questo non per dire che non sia significativa, anzi, vediamola un po' meglio:
la pagina viene portata avanti dallo sforzo congiunto di membri dello staff che, tendenzialmente, firmano con uno pseudonimo. Per esempio, io mi firmo con "Six", facendo riferimento al sesto dottore, mentre, per esemplificare la costanza meccanica e la fredda determinazione di responsabile social, "Dalek Oba" si rappresenta come macchina mortale di Skaro. La pagina dà modo a tutti di esprimersi e mettersi alla prova, per esempio avrete potuto notare le nuove rubriche di "Amy Res", che è da poco entrata nello staff e vuole fare articoli sul cosplay, mentre "Saki" (che non rispetta la tradizione di usare nomi della serie per firmarsi, ma pazienza) continua imperterrita a riassumere la classica e merita il vostro supporto, anche perché è impelagata nelle stagioni del quarto dottore che sono tante e tutte uguali. Oppure conoscete Brig, che attualmente sta facendo rubriche del tipo 5 cose che, ma lo sfrutta per fare recensioni in cinque punti. E io mi sono preso praticamente l'editoriale, o meglio, una scusa per parlare di quello che mi frulla per la testa. Poi c'è "Martha" che pubblica il funny friday e ancora altre rubriche e rubricanti, che trovate qui sul sito
Questa però è solo la pagina Facebook. Il team social si occupa anche di Instagram e Twitter, prevalentemente grazie a Oba e "Amelia Pond" e, per essere onesti, il grosso della gente ci conoscerà ormai da lì, non da Facebook che si aggira a cercare della fanghiglia potabile in quella scena di Fantasia dove si estinguevano i dinosauri. Tuttavia, finché Reddit non avrà la popolarità che merita, Facebook resterà il centro del nostro social, almeno in modo ideale. C'è poi la parte video che cura Elisa, che forse avete conosciuto con me nelle live… non siamo troppo attivi, per eufemizzare!
Ok, questo è il team social. Se specifico che sia un team, potrete dedurre che faccia parte di un concetto più esteso, cioè lo staff. Per farvi capire meglio, facciamo un esempio concreto: vi presento Mauro Scavalavespa, simpatico diciannovenne con persistenti problemi di acne. Lui è un grande fan di Doctor Who e gli piacerebbe poterne parlare con qualcuno, visto che i suoi amici si ostinano a parlare della Casa di Carta o di altre serie TV senza TARDIS. Ci incontra a un evento e vorrebbe entrare nel gruppo, così si iscrive e paga la tessera annuale e, semplicemente così, diventa socio a tutti gli effetti. Come socio può lasciare il numero di telefono e venire inserito in un alquanto dispersivo gruppo Whatsapp e sicuramente riceverà la newsletter via mail (che è appena stata rinnovata ed è fichissima), ma tutto questo non gli basta: lui vuole collaborare al fan club in modo attivo e chiede di entrare nello Staff. Chiunque sia socio e faccia richiesta ha diritto a un periodo di prova che può sembrare tipo una selezione da confraternita, ma in realtà è più del tipo "ehi, in sei mesi il tuo contributo è stato prenderti il pass per entrare a Torino Comics e poi sei sparito per tutta la fiera, sei sicuro di voler far parte dello Staff?" ed è insomma un processo molto automatico. I responsabili dei vari lavori hanno un gruppo più interno, chiamato Direttivo Operativo, al cui interno a sua volta, ci sono i quattro membri eletti ogni due anni da tutti i soci, ossia il Consiglio Direttivo, formato da presidente, vice, segretario e tesoriere. Per candidarsi, Mauro deve prima fare Staff per sei mesi, dopodiché può diventare membro di Consiglio Direttivo, ma non presidente, per quello dovrebbe prima aver fatto sei mesi in Direttivo Operativo.
Vabbé, mi sono un po' perso nella questione burocratica, torniamo alle cose pratiche: che cosa fa tutta questa gente? Beh, principalmente partecipa a fiere del fumetto, comicon e simili. Portiamo avanti una collezione di prop, i cui pezzi forti sono TARDIS, un dalek e la console di 12, ma anche tanti costumi e altri oggettini da collezione. Ovviamente realizzare prop costa e costa parecchio e chiedono manutenzione annuale, ma anche un posto dove conservarli: in questo momento la nostra collezione è esposta al MuFant che la tiene in cambio del valore che dà alla loro esposizione e a qualche evento che organizziamo insieme.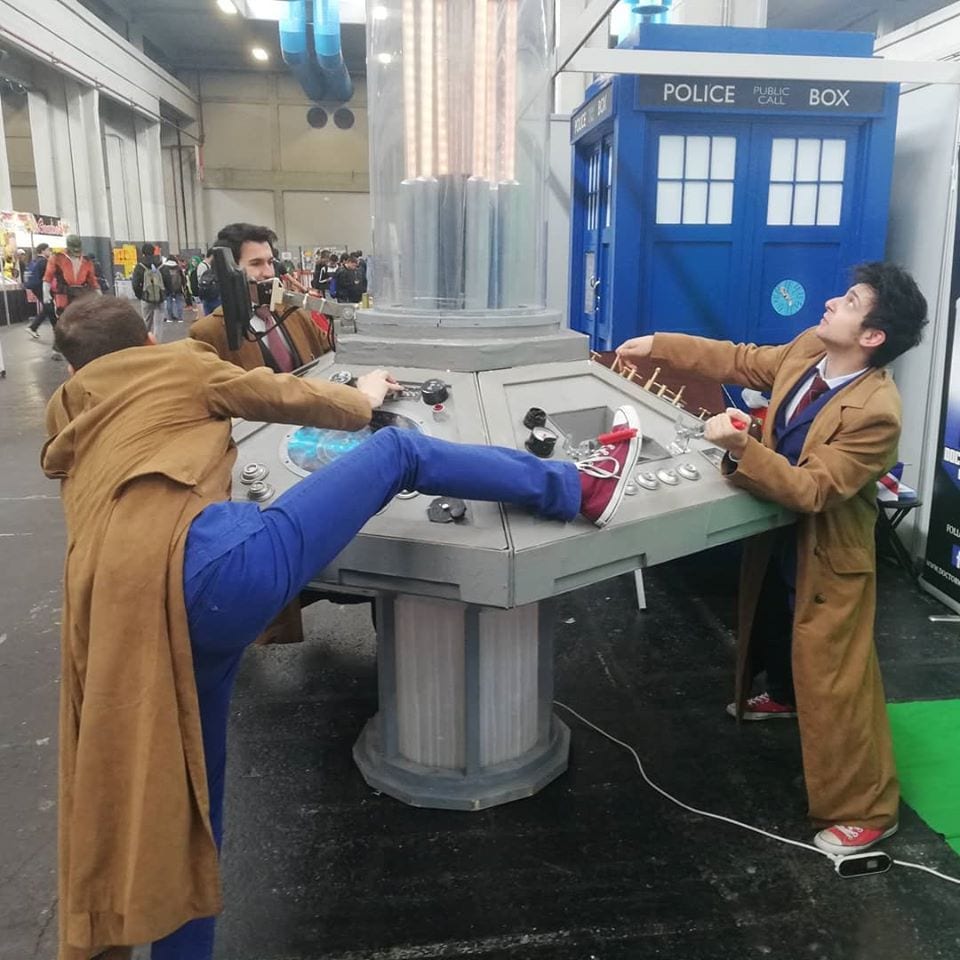 Ci troviamo però in una condizione difficile. Vedete, il piano base è: porti i prop a una fiera del fumetto, la fiera ti paga il trasporto e ti fa una donazione, con parte delle donazioni raccolte fai il restauro, ampli la collezione e li tieni da parte per nuovi prop. Il piano base dipende quindi dal fatto che le fiere ti diano una donazione. Invece ci troviamo spesso nella condizione di dover portare la roba pagandoci i trasporti, che è il motivo per cui è difficile portarla a Cartoomics di Rho, per esempio. Le fiere più grandi non danno donazioni, quelle più piccole qualcosa fanno, ma dipendiamo sempre di più dalle donazioni dei fan e da poco altro. Questo è incredibilmente frustrante, perché quello che veramente dà vita a un'associazione è fare cose nuove e noi abbiamo in mente molti modi per migliorare l'esposizione. Per esempio vorremmo completare la console con il… rotore sopra, quello con le scritte in gallifreyano, lì e una specie di tendone per rendere l'idea dell'interno del TARDIS, vorremmo motorizzare il dalek, magari renderlo pilotabile (e metterci un microfono che distorca la voce, duh!). Oppure avere un K9 pilotato via Twitch con la go pro in testa e diventa questa specie di drone su ruote (cioè, tecnicamente un ROV), così chi non può venire a questa o quella fiera partecipa lo stesso e dal vivo vedi sto cane robot pazzoide che se ne va in giro pilotato da otto persone contemporaneamente! Il punto è che ci sono tante cose che vogliamo fare, ma muoversi è sempre difficile.
Il prossimo progetto concreto che vogliamo portare avanti è attivare un'escape room. In questo modo, in fiera, potremmo raccogliere donazioni per fare il gioco e tornare almeno in parte delle spese dei trasporti, sperando che questo ci basti per emanciparci dai contributi che danno le fiere, spingendo magari per avere un'area più grande, tanto modi per riempirla ce ne sono sempre, discutiamo spesso anche di avere un'area relax con i cuscini, così uno può riposarsi dieci minuti durante i tour de force che sono notoriamente i comicon.
In ogni caso spero che questa immersione in quella che è la realtà della nostra associazione ti sia piaciuta. Come dicevo prima, la porta è sempre aperta, se vuoi collaborare con noi puoi farlo fin da subito. Una cosa ti prometto: scoprirai che non è unicamente una prerogativa dei TARDIS, essere più grandi all'interno!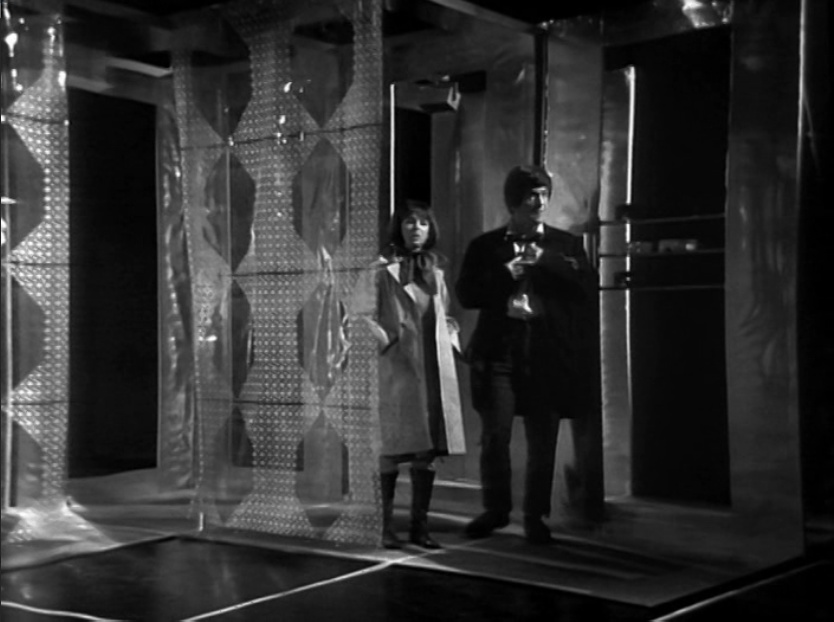 Ciò detto giovedì ci risentiamo che mi spetta la recensione con spoiler di Fugitive of The Judoon dove sarò costretto a scegliere se si dice "il Judoon" o "lo Judoon", ma fino ad allora…
~Six
PS: un piccolo modo per aiutare, se vuoi, è anche mettere mi piace alla pagina Facebook e lasciare una recensione! Aiuta tanto l'algoritmo che ci mette in bacheca di chi scorre!