THE TSURANGA CONUNDRUM, recensione di Dalek Oba
Il fatto è che questo episodio mi è piaciuto. Le avventure in un luogo circoscritto, senza possibilità di uscire o allontanarsi, hanno sempre il loro fascino, da Alien a Dieci Piccoli Indiani.
Le interazioni tra i protagonisti hanno portato alla luce alcuni interessanti approfondimenti nei loro caratteri, specialmente nel caso di Ryan. Allo stesso tempo, anche le guest star hanno modo di risplendere, confermando che il punto di forza di Chibnall sono proprio i personaggi. Spiace quasi doverli lasciare dopo nemmeno un'ora, senza poter sapere se Mabli abbia superato i suoi timori, o come stiano Yoss e il piccolo Avocado. A tal proposito, trovo interessante la tendenza di questa stagione di mostrare alieni con aspetto fisico equivalente a quello terrestre, ma con culture e usanze – e organi interni, in questo caso – profondamente diverse. La gravidanza maschile è un argomento che in passato è stato appena sfiorato nel Whoniverse (sempre riferito a Jack Harkness), e ho trovato molto tenero il modo in cui è stato affrontato, permettendo a Ryan di compiere ulteriori riflessioni sul suo rapporto con il padre.
Il Generale Cicero e Astos sono probabilmente pensati per essere due controparti del Dottore, tanto che ne simboleggiano la duplice natura di Guaritore e Guerriero.
Il "mostro della settimana" è… beh, è adorabile! Lo Pting è una specie di Stitch meno disneyano e con l'appetito tipico di un qualsiasi gatto domestico… inoltre la sua faccia dopo che gli è esplosa la bomba nello stomaco è terribilmente simile alla mia quando esco da un all you can eat.
Infine la conclusione dell'episodio, per quanto abbastanza prevedibile, è valorizzata da quella bellissima preghiera corale.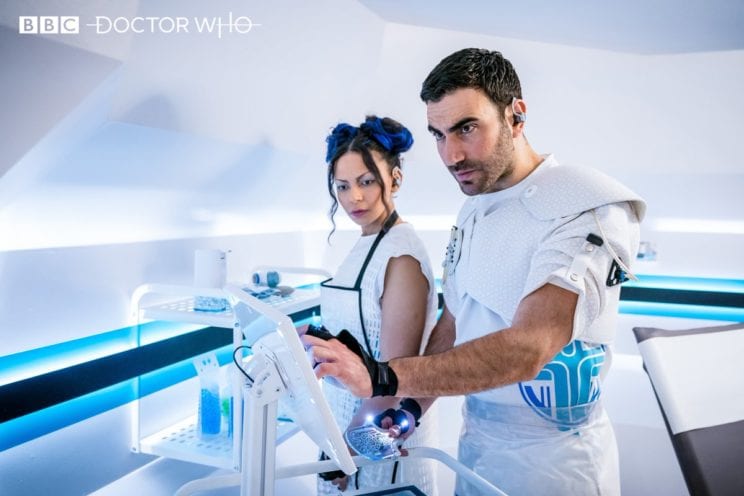 …quindi? Tutto bene??? No, per niente. Ora che ho finito con lo zucchero, direi di cominciare ad approfondire un paio di questioni meno simpatiche.
Nel 2007 Chibnall esordisce in Doctor Who con l'episodio 42, in cui il Dottore e Martha finiscono su un'astronave e hanno i minuti contati per salvare l'equipaggio e loro stessi.
Nel 2012 sempre Chibnall propone Dinosaurs on a Spaceship, in cui il Dottore e i Pond finiscono su un'astronave e hanno i minuti contati per salvare l'equipaggio e loro stessi.
In The Tsuranga Conundrum il Dottore il Team Tardis finiscono su un'astronave e… insomma, avete capito dove voglio andare a parare.
Non dico che ognuno di questi episodi sia la copia esatta degli altri due, perché ci sono parecchie differenze pur partendo dalla stessa base; tuttavia, al terzo utilizzo del medesimo intreccio, la sensazione di già visto diventa fortissima. Non solo, un Dottore ferito, senza cacciavite e Tardis e intrappolato su un'astronave era già stato materia di Oxygen, puntata della scorsa stagione.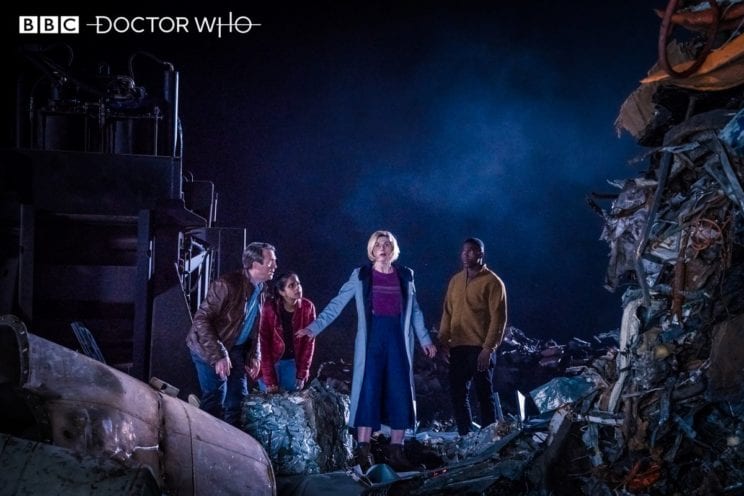 Ma i problemi non sono finiti qui. Siamo ufficialmente a metà della stagione e finora tutti gli episodi sono stati scritti da Chibnall. TUTTI. E purtroppo bisogna ammettere che il troppo utilizzo di una stessa mano si sente perché, se proprio bisogna assegnare a questa season 11 un solo difetto, è la monotonia. Non a caso, l'unico episodio che primeggia sugli altri è Rosa, cosceneggiato con Malorie Blackman.
È consuetudine di Chibnall un lavoro capillare su tanti personaggi, posizionati in un intreccio piuttosto lineare, perfetto per una serie con trama orizzontale (tipo Broadchurch). Tuttavia lo stesso metodo, riutilizzato per episodi autoconclusivi e compresso in 50 minuti scarsi, comporta grandi quantità di figure secondarie che vengono sviluppate andando spesso a discapito della trama, che risulta abbozzata e risolta in modo spesso frettoloso. Dov'è il wibbly wobbly? La filosofia sui viaggi nel tempo, i paradossi? Dove sono i cattivi? Dov'è la trama orizzontale? E perché in ogni singolo episodio si parla di famiglia? Chris, non siamo più a Broadchurch, basta parlare di famiglia!!! Seriamente, spero che sia una sorta di contorta trama orizzontale e non semplicemente un'ossessione dello showrunner.
Una nota di speranza mi viene data dagli attori, che trovo sempre in forma smagliante. Jodie Whittaker è dottoresca e brillante e vederla recitare è sempre una gioia. Appunto per questo ha bisogno di trame che la valorizzino.
Questa serie alla fine non è brutta… ma dovrebbe e potrebbe essere qualcosa di meglio.