ARACHNIDS IN THE UK, recensione di Dalek Oba
I'm not afraid of the big black spider, big black spider, big black spider.
Alla scuola elementare, in occasione di Halloween, la maestra ci aveva insegnato questa canzoncina… che aveva anche qualche strofa in più, solo che non le ricordo. Non è che io abbia proprio paura dei ragni… è che non mi piacciono. Di solito li tollero o li ignoro, ma certe volte mi fanno senso. Anche un po' schifo. E mi pare di non essere la sola.
Perché i ragni non ci piacciono??? E perché proprio i ragni? Voi avete visto Ant Man? C'erano formiche giganti, o formiche standard ma viste da umani rimpiccioliti… ma erano ADORABILI. E non erano stilizzate o rese più carine… niente trattamento tipo A Bug's Life. Eppure. Le formiche sì, i ragni no. Saranno le due zampe in più che ci mettono a disagio.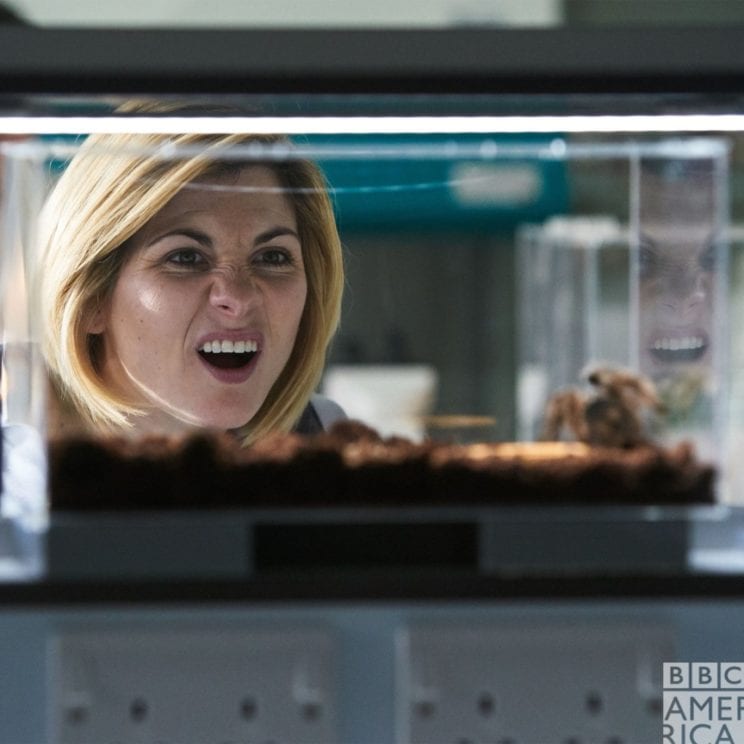 Quindi, mi sono approcciata a questo episodio non con terrore, però con un po' di pregiudizi sugli aracnidi in questione. E in effetti un paio di scene mi hanno lasciata leggermente inquietata e schifata… ma va benissimo così! Se la puntata non mi avesse fatto questo effetto, sarei rimasta delusa; invece devo dire di essermi profondamente divertita. Lontano anni luce dallo scorso episodio, Arachnids in the UK punta principalmente sull'intrattenimento, con una virata leggermente horror dovuta alla vicinanza con Halloween, e senza comunque escludere temi più seri. Tutto ciò, più la presenza di un gruppo insolitamente ampio a seguito del Dottore, fa pensare a Dinosaurs on a Spaceship (sempre scritto da Chibnall), solo con qualche zampa in più. Lo showrunner non è comunque nuovo a sceneggiature con tratti horror (per gli standard di Doctor Who, si intende), basti pensare al sole che bruciava le persone dall'interno in 42, alle buche che risucchiavano la gente in The Hungry Earth… e ovviamente al demoniaco cubo che trasmetteva a ripetizione il Ballo del Qua Qua in The Power of Three.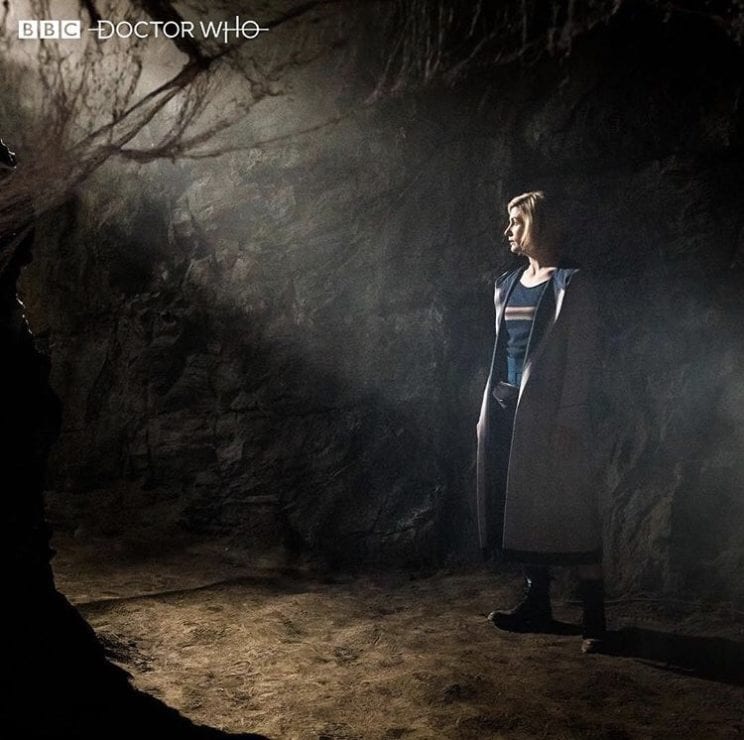 Ragni a parte, il focus dell'episodio era sull'indagine per capire cosa avesse trasformato animali tendenzialmente piccoli in… qualcosa di gigantesco. Indagine a parte, quello che rimane di più della storia sono le interazioni tra i vari personaggi, e la differenza decisamente comica tra chi sa già che, insieme al Dottore, si vivono un certo tipo di situazioni, e chi rimane totalmente spiazzato dalla piega presa degli eventi. Come ho detto, ho trovato il tutto decisamente divertente e piacevole, però… però. Siamo al quarto episodio della stagione… e al quarto scritto da Chibnall. Escluso Rosa, in cui la mano dell'altra sceneggiatrice si è decisamente sentita, i tre restanti si assomigliano molto nella scelta di privilegiare la costruzione dei personaggi rispetto alla trama stessa, tendenza che, a mio parere, alla lunga stanca.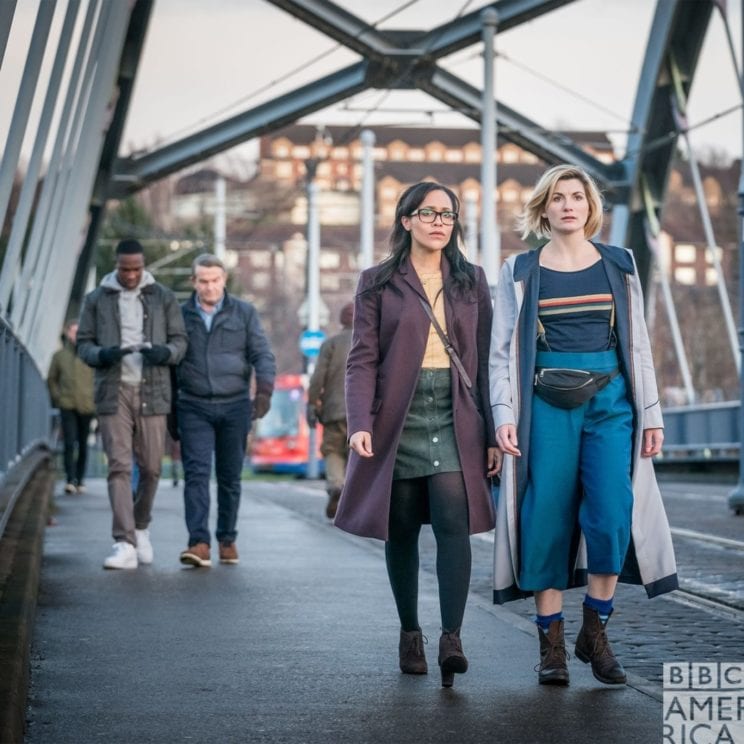 Parlando invece dei punti di forza di Chibnall, uno è di sicuro il modo in cui descrive i rapporti famigliari, non solo tra Yaz, i genitori e la sorella, ma anche tra Graham e Ryan, la cui parentela "obbligata" si sta lentamente modificando in un legame più sentito da entrambi. I companion e il Dottore, invece, non sono tra loro una famiglia (non ancora, perlomeno), bensì un "team".
È interessante come questa volta siano loro a decidere di viaggiare con lei, ognuno con diverse motivazioni, e glielo chiedano prima ancora di venire invitati… senza sapere in effetti se il Dottore glielo avrebbe mai proposto. Mentre per noi è trascorso ben più di un anno dagli eventi di World Enough and Time/The Doctor Falls, il Dottore ha subito la perdita dei suoi amici – Bill e Nardole, ma anche Missy – da appena pochi giorni, e non è un caso che sia particolarmente insistente sui rischi che si corrono viaggiando nel Tardis. Niente giochi con il tempo e la cravatta, niente corse eccitate intorno alla console, o filosofie sul senso della vita. Questo però non significa che non accetti con entusiasmo la presenza dei suoi nuovi compagni d'avventura. Sarà interessante capire se il viaggiare insieme volontariamente, anziché per forza o per caso, cambierà in qualche modo le dinamiche del gruppo.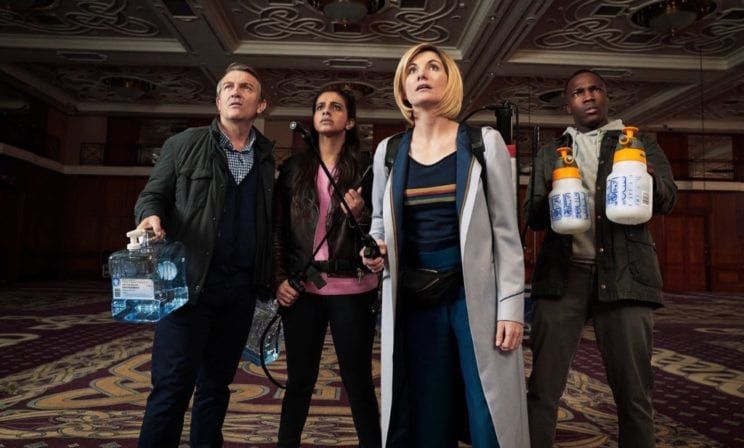 CONSIGLI SPARSI
– Se vedete in giro qualcuno di famoso, ma non sapete chi sia, potrebbe in effetti essere Ed Sheeran.
– Bambini, fate la raccolta differenziata, o vi ritroverete un ragno gigante in camera.
– Se volete bene ai vostri amici, ricordate di dire alle loro mamme "you made a very awesome human".