The Shakespeare Code – 15 anni dopo
Quanto mi era mancato guardare una puntata delle prime stagioni!
The Shakespeare Code, in italiano Il codice shakespeariano, è il secondo episodio della terza stagione del NewWho.
Il Decimo Dottore e Martha Jones si ritrovano a Londra, circa nell'anno 1599, dove al Globe Theatre incontrano niente meno che William Shakespeare in persona. Superati i convenevoli si capisce che qualcosa non va: una strana morte convince il Dottore che ci sia qualcuno che trama nell'ombra, qualcuno che pratica la stregoneria. Il Dottore e Martha decidono di investigare insieme a Shakespeare, perché alcuni dettagli non tornano, ad esempio: perché il teatro ha 14 lati? Una forma così precisa potrebbe servire a qualcosa? Dopo una visita al Bethlem Hospital per incontrare l'architetto che ha ideato il Globe, si scopre che a tessere le fila di tutto sono alcune Carrioniti, streghe antiche che progettano di liberare la propria specie dalla prigionia. Per fare ciò, hanno fatto costruire il teatro in un certo modo e vogliono sfruttare il nuovo pezzo teatrale di Shakespeare, per questo motivo lo hanno stregato per indurlo a scrivere alcuni versi specifici che serviranno a rompere il sigillo che tiene rinchiuse le Carrioniti. Le streghe riescono ad aprire il portale, ma il nostro trio trova una soluzione: Shakespeare improvvisa dei versi così intensi, sentiti e potenti che riescono a chiudere il portale. Le sue parole sono "magiche" per davvero, perché per creare la rima finale tutti insieme urlano "Expelliarmus!", un incantesimo di Harry Potter, rendendo questo episodio uno dei miei preferiti della terza stagione. Alla fine dell'episodio Shakespeare saluta il Dottore e Martha, dicendo che ha capito che loro viaggiano nel tempo, che non fanno parte di quell'epoca. Loro sono però costretti a correre via, a causa dell'arrivo della regina Elisabetta I, con il quale il Dottore ha un trascorso non piacevole, ma di cui lui ancora non sa nulla.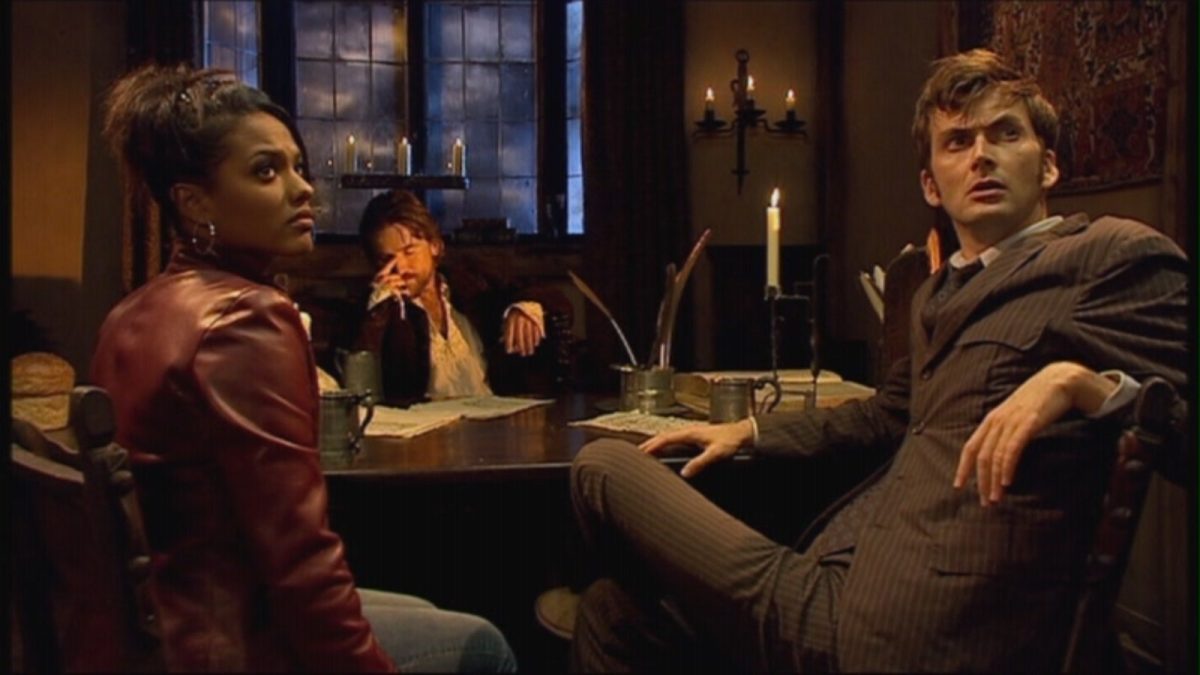 La puntata contiene molti momenti divertenti, ad esempio il Dottore che ogni tanto cita opere di Shakespeare ancora non uscite, e lo scrittore sottolinea quanto quelle frasi siano "utilizzabili" e che potrebbe usarle nelle sue opere, oppure menzionano per sbaglio sue opere future (Macbeth e Hamlet, che contengono riferimenti alle streghe e al soprannaturale), che lo Shakespeare di quell'anno non aveva ancora scritto. Alla fine si fa persino intendere che lo scrittore si ispiri a Martha per i sonetti alla "Dark Lady". Ci sono poi ricorrenti riferimenti a Harry Potter: Martha che puntualizza che quella situazione "è molto alla Harry Potter, con le streghe", e il Dottore che si lascia sfuggire di aver già letto il settimo libro, uscito proprio nel 2007 in Inghilterra, oltre alla menzione di expelliarmus nel momento clou della puntata.
Questo episodio è interessante sotto diversi aspetti, in particolare nel mostrare il genio e la sensibilità da scrittore di Shakespeare. Pur essendo un uomo del suo tempo, un po' rozzo nel mostrare interesse per una donna (ad esempio Martha), Shakespeare dimostra una sensibilità al di sopra del normale, capisce subito che i due ospiti non fanno parte del suo tempo, e soprattutto nel Dottore vede qualcosa che neanche appartiene al suo stesso mondo, quasi come se capisse che si tratta di un alieno, infatti alla fine dell'avventura glielo fa notare; ma da uomo intelligente quale è si fida del Dottore, senza mettere in dubbio le sue azioni. Un altro aspetto, forse un po' triste, sono i continui riferimenti a Rose fatti dal Dottore, che ancora disperato per la sua scomparsa si ripete "Rose saprebbe cosa dire, Rose saprebbe cosa fare", ferendo i sentimenti di Martha, che si sente messa da parte e quasi rifiutata da quel comportamento così diretto e noncurante.
In conclusione, è una puntata che non perde il suo fascino e dopo 15 anni ancora intrattiene senza perdere colpi, in cui ci si immerge in un mondo di magia e mistero che sempre affascinano lo spettatore, in ogni epoca, se poi il tutto si mescola alla figura di Shakespeare il successo è assicurato.