The Wedding of River Song – 10 anni dopo
The Wedding of River Song è un titolo fintamente misterioso, che ci presenta la sposa ma in realtà non ci fa dubitare nemmeno per un secondo su chi sia lo sposo… insomma, dopo tre stagioni di flirt selvaggio, era abbastanza ovvio per tutti.
Tuttavia, Moffat trova lo stesso il modo di spiazzarci, dato che questo matrimonio finisce per essere una parentesi romantica ma in realtà per nulla necessaria ai fini della vicenda. Aspetto che in realtà lo rende ancora più romantico e fa palpitare perfino i cuori più neri (tipo il mio).
River e il Dottore, alla fin fine, non si sposano perché devono salvare l'Universo, ma semplicemente perché… vogliono! Anni di incontri in ordine sparso con paradossi di predeterminazione e tutti quei wibbly wobbly hanno finito per farli innamorare per davvero, come la più standard delle coppie.
Il fulcro dell'episodio invece è… tutto. Nel senso più letterale del termine: la non morte del Dottore ha accartocciato il tempo su se stesso e sta accadendo TUTTO INSIEME. Il che porta a cose bellissime come incontrare i dinosauri al parco, e cose meno belle come… INCONTRARE DEI FOTTUTI DINOSAURI AL PARCO.
Ok, ok.
Mi calmo e vado a riguardare l'episodio.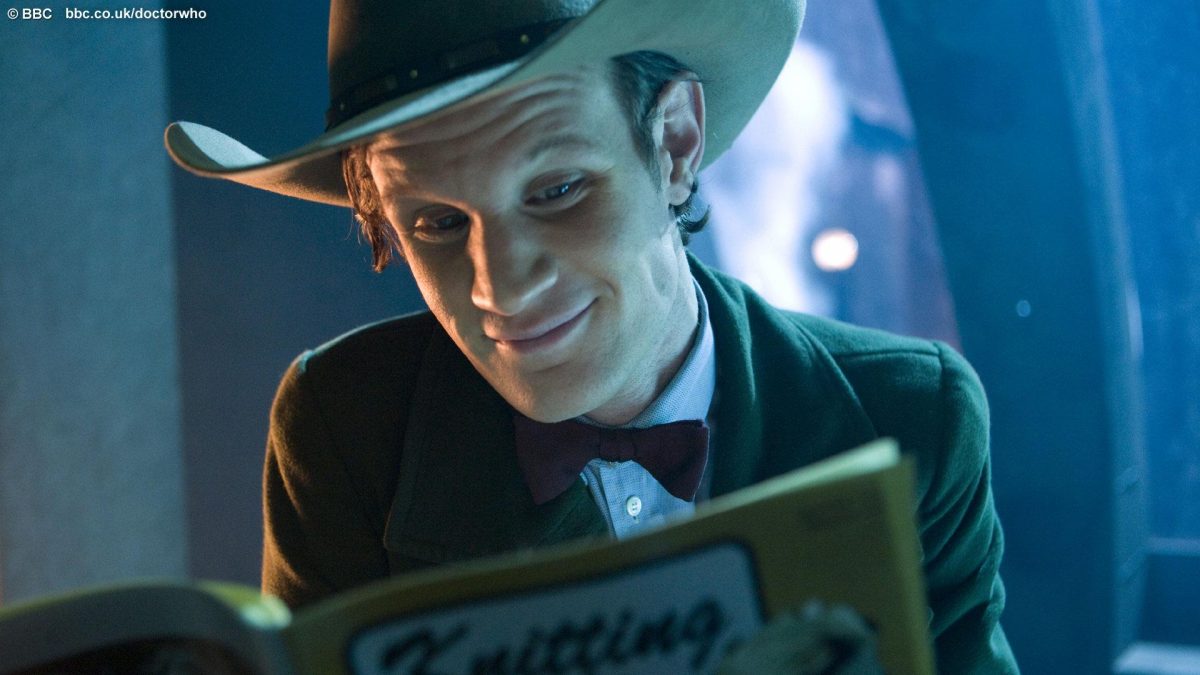 40 MINUTI DOPO
Ero assolutamente certa di conoscere la trama praticamente a menadito.
Infatti non ricordavo quasi nulla.
Tipo, per un qualche effetto Mandela, ero convinta che la parte nella piramide occupasse praticamente tutto l'episodio, e invece dura circa 10 minuti. Ma andiamo con ordine.
È sempre la stessa ora dello stesso giorno e l'imperatore romano Churchill convoca a Buckingham Palace uno strano indovino (ovviamente il Dottore) affinché gli spieghi perché gli orologi non fanno tick tock.
Segue lungo flashback intervallato dalle opinioni del caro Winston che vorrebbe meno chiacchiere in generale e più parole spese a parlare di River, e come dargli torto.
Nonostante il tono dimesso alla fine di Closing Time, il Dottore che vediamo qui non ha assolutamente accettato di morire per mano del Silenzio, e sta anzi indagando per conto suo su come sconfiggerlo. Deciso a continuare a scappare per il resto della sua (lunga) vita, e sempre più frenetico, torna in sé solo all'annuncio (straziante pure per noi) di un'altra dipartita, quella del Brigadiere. I suoi amici sono da sempre il suo compasso morale, e il Brig è stato un amico importantissimo. Certo, poi trova lo stratagemma del Teselecta, ma quello lo scopriamo dopo.
Chi non ha decisamente accettato il destino è invece River che, in questo modo, ci fa finalmente scoprire cosa succede se si altera un punto fisso nel tempo. E qui torniamo ai sopraccitati dinosauri al parco.
Ma nemmeno la Professoressa Song può barattare la salvezza del Dottore con il collasso della realtà stessa, neppure se il suo stesso dolore dovesse superare quello di tutti gli altri. E allora non le resta che fargli un ultimo regalo. Se proprio deve morire, morirà sapendo di essere amato.
La reazione di lui è sposarla, quindi direi che la mossa era giusta.
Arriva il finale, si scoprono i sotterfugi, si scopre che la domanda a cui non si deve dare risposta è EFFETTIVAMENTE sempre stata in bella vista. Doctor Who?
Steven Moffat ci porta alla fine di questa incredibile stagione con un episodio in cui gli elementi già comparsi – Silenzio, Monaci Senza Testa, Teselecta, complessi giochi di parole – tornano tutti in una sorta di commiato: se è vero che arriveremo a Trenzalore e alla soluzione dell'enigma ben due anni dopo, è altrettanto ovvio che qui si conclude una parte importante della storia, e che il futuro avrà altre avventure e altri ritmi.