Lindsay Duncan nasce a Edinburgo il 7 novembre 1950, per poi trasferirsi ancora bambina con la famiglia a Leeds e, in seguito, a Birmingham. Essendo cresciuta sia in Scozia che in Inghilterra, può recitare facilmente con entrambi gli accenti.
Comincia ad appassionarsi al teatro durante la scuola, per poi iscriversi alla London's Central School of Speech and Drama a 21 anni. Ai suoi primi lavori teatrali si affiancano piccole parti televisive come in Up Pompeii! (1975) e in The New Avengers (1977). Nel 1985 si unisce alla Royal Shakespeare Company per Troilus and Cressida; invece, nel settembre dello stesso anno, recita in Les Liaisons Dangereuses, per il quale vince il suo primo Olivier Award. Nel 1988 riceve altri riconoscimenti per la sua interpretazione in Cat on a Hot Tin Roof, mentre nel 1994 torna alla RSC per A Midsummer Night's Dream.
Nel frattempo si sposa con il collega Hilton McRae e nel 1991 ha un figlio, Cal. Proprio per renderlo felice, decide di fare il provino per il ruolo di Shmi Skywalker in Star Wars Episode I (1999): non viene ingaggiata, ma ha comunque la possibilità di prestare la sua voce al droide TC-14.
Nel 2001 torna a teatro in Private Lives, per cui vince sia l'Olivier che il Tony Award. Nel mentre continuano le sue apparizioni televisive e cinematografiche, in Rome (2005), Starter for Ten (2005) e Margaret (2009). Sempre nel 2009 viene insignita dell'onorificenza Commander of the Order of the British Empire, per poi apparire nello Speciale di Doctor Who The Waters of Mars; nell'episodio, interpreta l'intrepida Adelaide Brooke, a capo della prima missione terrestre su Marte che, come sappiamo, non va esattamente bene.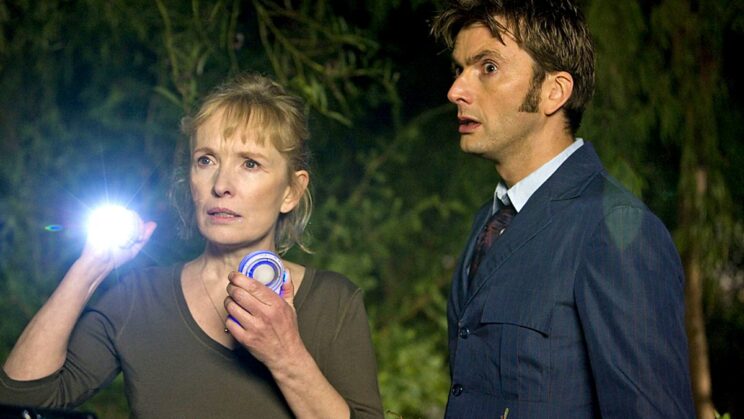 Al cinema la rivediamo in Alice in Wonderland (2010) e nel suo seguito Alice Through the Looking Glass (2016), in About Time (2013), Birdman (2014), Gifted (2017) e Little Joe (2019). In tv invece recita in Christopher and His Kind (2011) insieme a Matt Smith, Merlin (2011-2012), nel primo memorabile episodio di Black Mirror (2011), nel Richard II della serie The Hollow Crown (2012), in Sherlock nel ruolo di Lady Smallwood (2014-2017), in A Discovery of Witches (2018) e in His Dark Material (2020), in cui presta la voce a un daemon.
Riggan Thompson è un attore divenuto famoso in gioventù per aver interpretato il supereroe Birdman; ora però è un uomo di mezza età, con una carriera in declino, che ha deciso di giocarsi il tutto e per tutto con uno spettacolo di Broadway da lui scritto e
interpretato.
Nei giorni delle prime messe in scena (tre anteprime e il debutto con il pubblico), si ritrova a destreggiarsi tra i problemi con il cast, con i critici e con la famiglia, ma soprattutto con il suo ego, che gli appare sottoforma del supereroe tanto amato/odiato.
Birdman, che ha vinto l'Oscar come Miglior Film nel 2015, vuole essere una riflessione tragicomica sul ruolo dell'attore, sul cinema e, soprattutto, sui film a tema supereroistico. Non a caso, molti membri del cast (Michael Keaton, Edward Norton ed Emma Stone, ad esempio), hanno recitato anche nei cinecomics.
Negli ultimi anni, da quando insomma il cinema si è accorto che i supereroi erano effettivamente lì per restare, si è parlato molto di questo genere, di come esaminarlo e dove collocarlo, tuttavia fare un discorso del genere già nel 2014 era tutto meno che scontato, e proprio a questo Birdman deve la sua originalità.
Mary (Mckenna Grace) è una bimba di 7 anni che vive in Florida con lo zio Frank (Chris Evans), tra giri in barca, attività scolastiche, giochi con il gatto Fred e… la matematica. Sì, perché Mary è un genio, proprio com'era sua madre Diane, tuttavia lo zio sta cercando di farle vivere un'infanzia il più possibile normale, come aveva promesso alla sorella in punto di morte.
La vicenda si complica quando li raggiunge Evelyn (interpretata da Lindsay Duncan), nonna di Mary e madre di Frank e Diane, che vorrebbe la custodia della nipote per darle un'istruzione più consona alle sue capacità straordinarie.