Andrew Garfield nasce il 20 agosto 1983 a Los Angeles, ma già a 3 anni si trasferisce con la famiglia in Inghilterra, a Epsom. La madre è infatti britannica, e il padre è californiano, ma con i genitori europei (ebrei polacchi trasferitisi a Londra). Comincia ad appassionarsi alla recitazione a scuola, a nove anni, per poi studiarla alle superiori e frequentare dopo il diploma la Central School of Speech and Drama.
Come di consueto nel Regno Unito, comincia a lavorare principalmente a teatro, recitando in Mercy (2004), Kes (2004), The Laramie Project (2005), Romeo & Juliet (2005). Debutta in TV nel teen drama Sugar Rush (2005), in cui interpreta il vicino di casa della protagonista, per poi apparire anche in Doctor Who, nel doppio Daleks in Manhattan/ Evolution of the Daleks (2007); in seguito viene anche considerato per il ruolo del Dottore, ma la sua carriera ha preso nel frattempo una strada diversa, per cui la sua avventura nella serie termina (momentaneamente?) lì.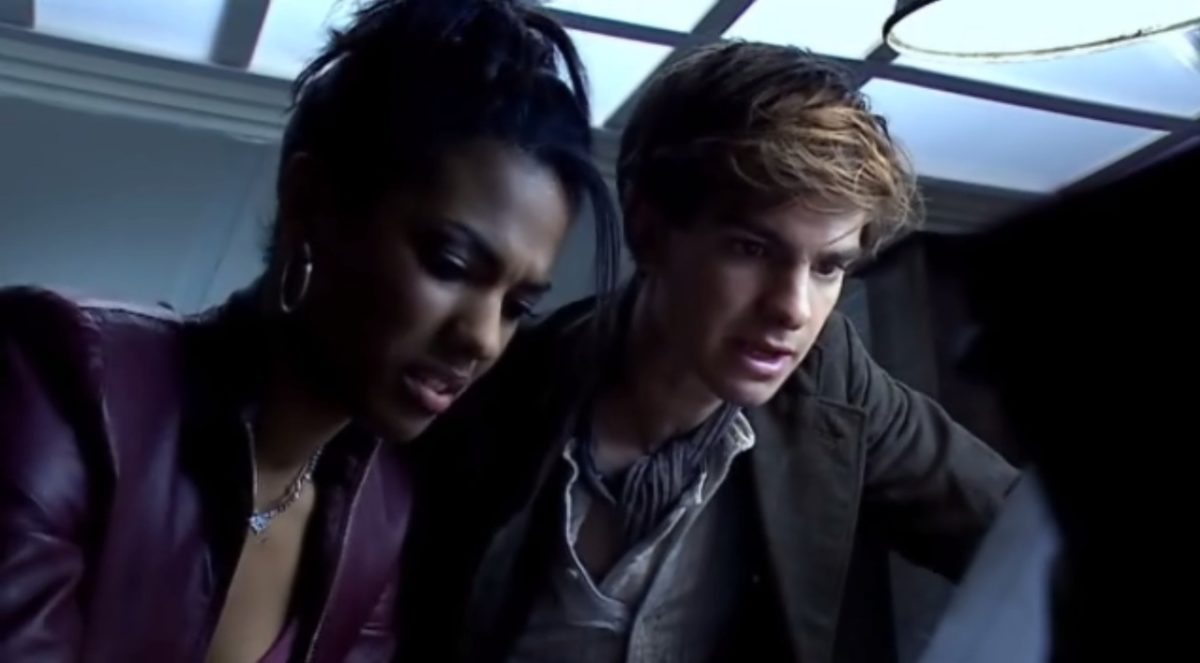 Nel 2007 debutta anche al cinema nel ruolo di uno studente americano in Lions for Lambs, dove lavora con attori del calibro di Tom Cruise, Meryl Streep e Robert Redford. I suoi film successive sono The Other Boleyn Girl (2008) e The Imaginarium of Doctor Parnassus (2009). Nel mentre arrivano anche i primi riconoscimenti, con un British Academy Television Award per la sua interpretazione di un assassino che cerca di ricominciare dopo la prigione in Boy A (2007).
Nel 2010 lavora con Carey Mulligan e Keira Knightley nel distopico Never Let Me Go – per cui vince un Saturn Award come attore non protagonista – e appare in The Social Network. Il successo globale arriva però con il ruolo di Spider-Man in The Amazing Spider-Man (2012) e The Amazing Spider-Man 2 (2014); sono film a cui Andrew è particolarmente legato anche per la sua passione per il personaggio, di cui è fan dall'infanzia. Non solo, sul set conosce Emma Stone (che interpreta Gwen Stacy), con cui ha una relazione dal 2011 al 2015.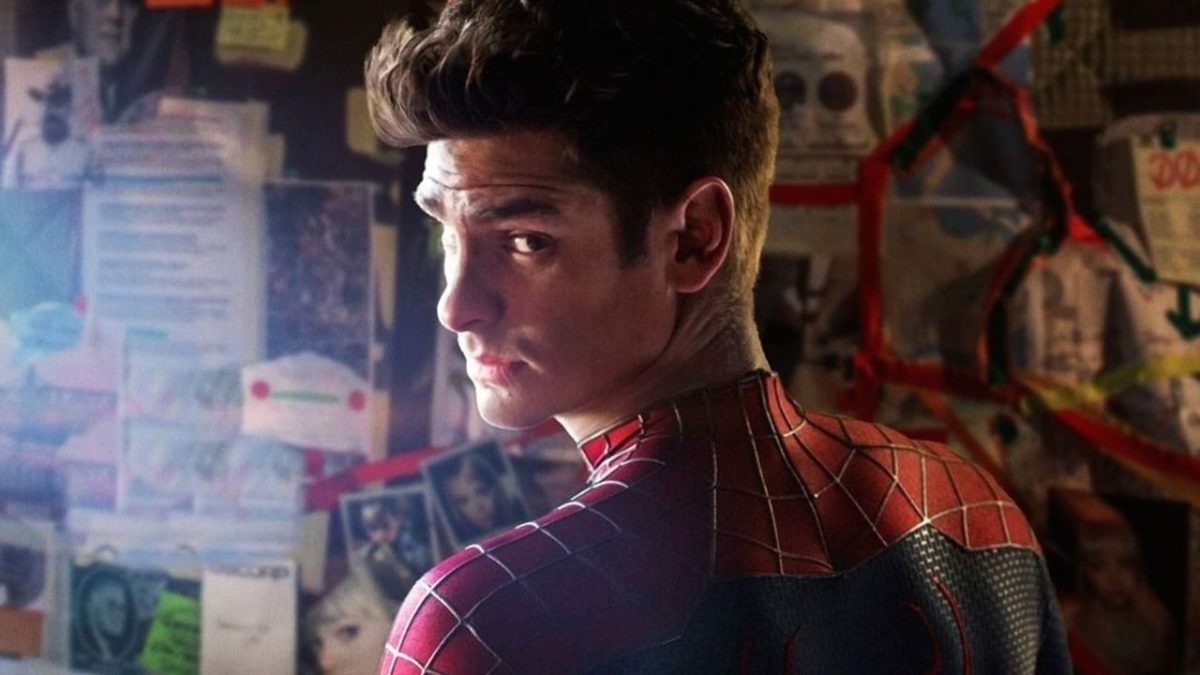 Dopo Spider-Man, recita in 99 Homes (2014), Silence (2016) e Hacksaw Ridge (2016), sulla vera storia di Desmond Doss, obiettore di coscienza che si arruola comunque durante la Seconda Guerra Mondiale per prestare servizio come medico, rifiutandosi però perfino di toccare un'arma. Il film ha un grande successo, e gli vale la sua prima nomination agli oscar. Nel frattempo, riprende l'attività teatrale sia a Londra che a Broadway, con Death of a Salesman e con Angels in America, in cui interpreta il ruolo di Prior, che gli vale un Tony Award. I suoi ultimi film sono il biopic Breathe (2017) e Under The Silver Lake (2018), ma sono previste numerose uscite per questo e il prossimo anno.
Andrew parla molto del suo lavoro nelle interviste, ma preferisce mantenere la riservatezza sulla sua vita privata; di lui sappiamo che ha la doppia cittadinanza americana e britannica, e che si sente di appartenere a entrambi gli stati. È amico di Robert Pattinson e di Matt Smith, che conosce dagli inizi della sua carriera recitativa.
-Dalek Oba-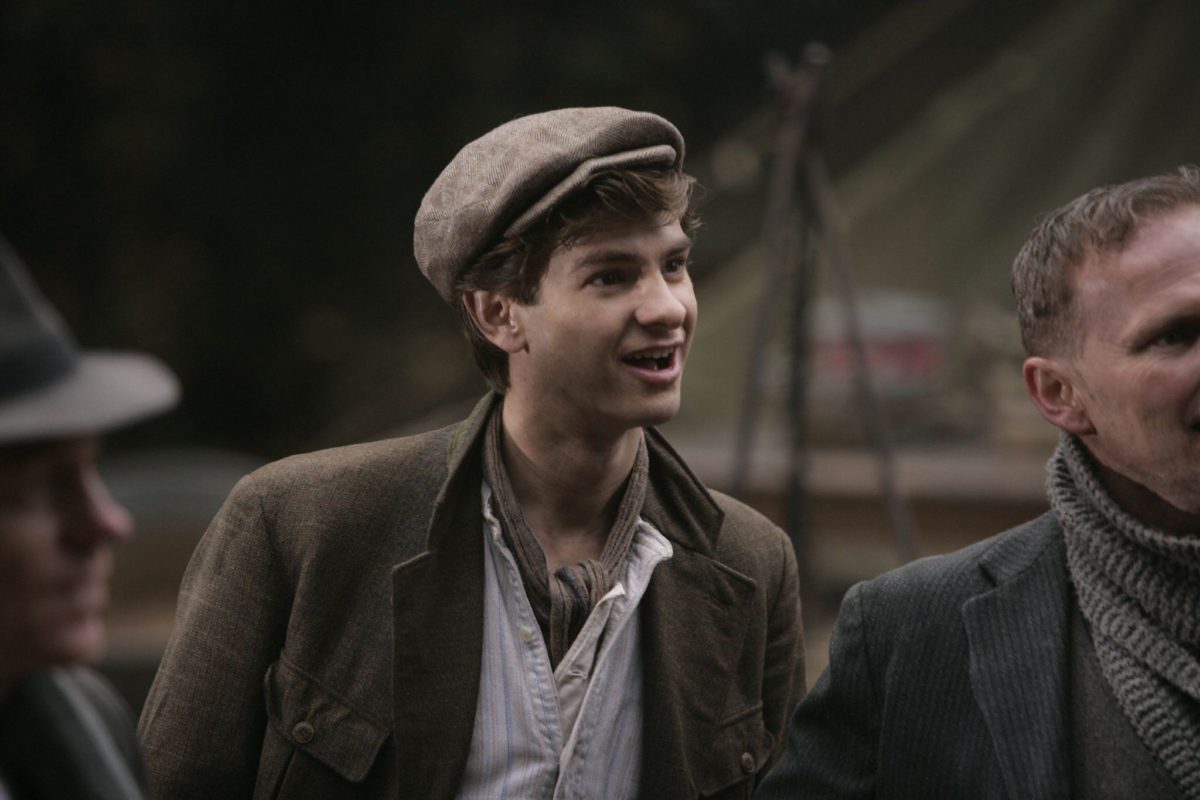 Ci sono registi sfortunati. Ce ne sono tanti. Ma credo che il vincitore sia Terry Gilliam. Se volete un esempio andate a leggervi la storia della produzione di L'Uomo che Uccise Don Chisciotte, ci sono anche i disastri naturali. Sì, al plurale.
Ma anche Parnassus non scherza. È uno dei suoi film più ad alto budget e aveva un asso nella manica: nel cast, come protagonista, c'era Heath Ledger, ormai sulla bocca di tutti dopo Il Cavaliere Oscuro. Doveva essere il film della svolta. Ledger morì durante le riprese, dopo aver girato circa metà delle sue scene. Dopo questa tragedia sembrò che il film fosse destinato a restare incompiuto. Ma tre grandi amici di Ledger e di Gilliam si proposero per girare le scene mancanti. Non parliamo di attori di piccolo calibro, tra l'altro, anzi, tutto il contrario. Si tratta di Jude Law. Colin Farrel e nientepopodimeno che Johnny Depp. Il film fu quindi fortunosamente completato.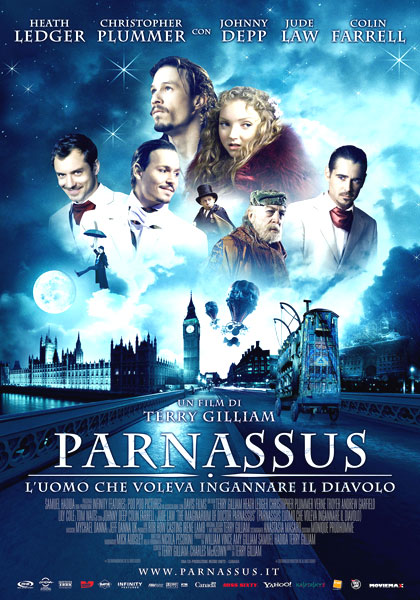 Il risultato finale è un film… ecco, ammettiamo pure che sia raffazzonato. Ma il bello di Gilliam è proprio questo. I suoi film sono splendidi nelle loro imperfezioni. È un uomo che ha fatto dei difetti un'arte. Non ci posso fare niente, sono di parte.
Raccontare la trama è difficile, non voglio neanche rovinarvi la sorpresa. Posso dire che il cambio di volto del protagonista è (abbastanza) giustificato dalla trama e viene usato per caratterizzare un personaggio sfaccettato e dalla moralità dubbia. Ed è di morale che si parla, del gioco tra Parnassus e il Diavolo per decidere se l'umanità sia buona o no.
Ma spendiamo due parole sul personaggio migliore, il Diavolo. Abbiamo il più sornione, affascinante, gentiluomo e, sì, simpatico principe delle tenebre di sempre. Complice quella faccia da schiaffi di Tom Waits (solo amore per questo uomo) e la sua voce inconfondibile, vediamo che il suo rapporto con Parnassus è molto diverso da quello che potremmo immaginare.
Visivamente poi, è una festa per gli occhi. Immagini fantastiche con colori inimmaginabili, ma sono formate da triste e ammuffita materia di scarto.
Parnassus è un film da recuperare e da amare. E questo vale per ogni film di Terry Gilliam.
-Brig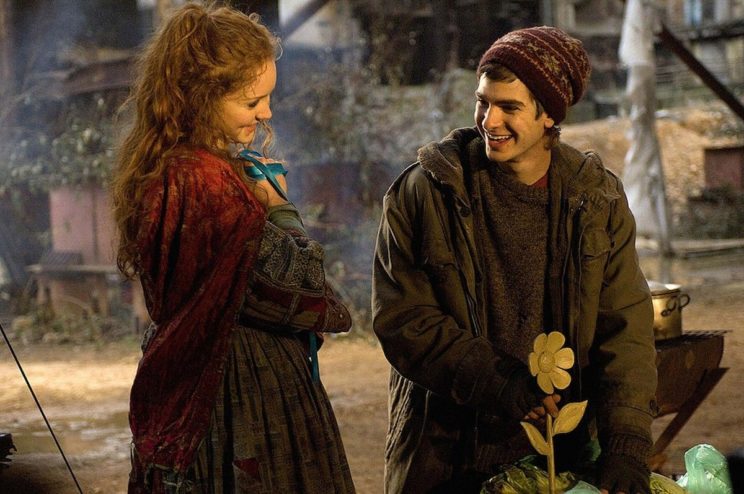 Never Let Me Go è un film particolare. Leggete la trama e vi aspettate una cosa, ne vedrete un'altra. In un prossimo futuro distopico (o forse un presente alternativo), delle persone vengono fatte nascere e crescere per fornire organi ai cittadini normali. Tutti sono consapevoli di questa cosa, ma è una realtà accettata che non viene mai davvero messa in discussione.
Diventa subito chiaro come questo sia in realtà una metafora della caducità della vita umana. Siamo mortali e il nostro tempo è limitato, tuttavia sprechiamo questo tempo in futili meschinità.
I ragazzi protagonisti hanno un'aspettativa di vita molto breve, sanno che non possono sopravvivere a più di due o tre trapianti, ma non sfruttano questo tempo. La ragione principale della vita, ci dice il film, è l'amore. Il personaggio di Keira Knightley è quella che per egoismo condanna i tre protagonisti all'infelicità. Persino per se stessa. La sua stessa redenzione finale è sterile e ammantata di tristezza.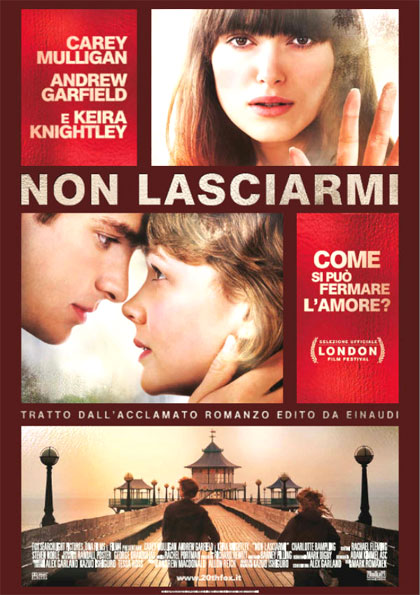 Non voglio dire di più, il film è fatto per lo più di silenzi, solitudini e suggerimenti di emozioni. I toni grigi della fotografia assecondano questa pacata tristezza. Non è un film di estremi.
Voglio però spendere due parole sul cast. La Knightley era sicuramente il nome di punta e dà vita a un personaggio complesso, freddo nella ricerca della passione, non certo facile. Se pensate che non sia una grande attrice guardate questo film e ricredetevi. Tuttavia si tratta del personaggio più facile da apprezzare, se vogliamo. Andrew Garfield è il ragazzo conteso dalle due protagoniste. Ai tempi non era ancora un nome famoso, ma iniziava a farsi notare. Interpretando quello che sulla carta è un personaggio banale e che è semplicemente il terzo in un triangolo amoroso, si trova invece a donare uno spessore inaspettato a un personaggio fragile e amabile. Ma è Carey Mulligan a fare la parte del leone. Kathy è un personaggio che non potrete dimenticare mai. Il suo monologo finale è la ragione per cui esiste il cinema. Guardatelo e rabbrividite!
-Brig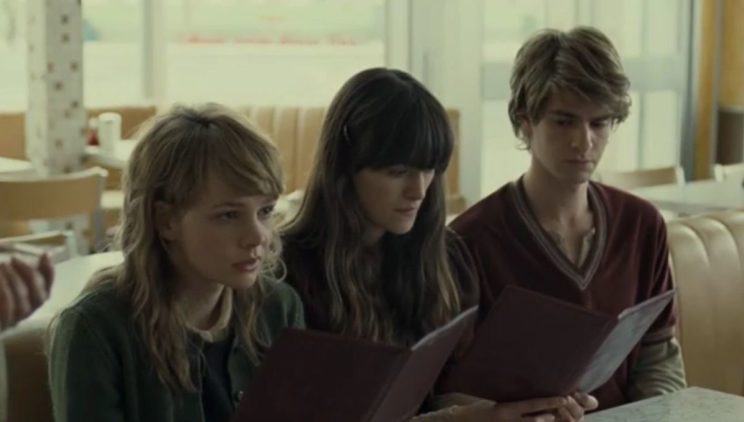 La cosa strana è che, se ripenso a questo film, mi vengono in mente tantissime critiche. Però mi è piaciuto! Il fatto è che temo di essere in minoranza, perché molti si sono fermati per lo più allo step delle critiche, e il film ha incassato circa la metà del suo budget. Silence è scritto e diretto da Martin Scorsese, e interpretato da Andrew Garfield, Adam Driver e Liam Neeson… che però si vede pochissimo, non fatevi ingannare dalle sue dimensioni sulla locandina. Eppure tutto il film è proprio basato sulla sua assenza, e sulla sua continua ricerca.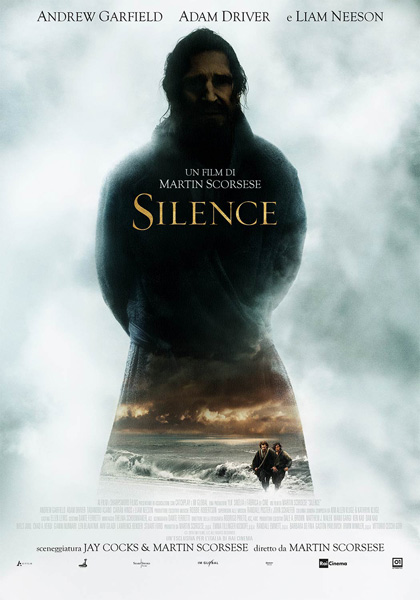 Siamo nel 1633, quando due gesuiti (Garfield e Driver) vengono a sapere che il loro padre spirituale (Neeson), in Giappone per diffondere la fede, ha in realtà abiurato. Decidono così di andare a cercarlo in segreto, dato che in quei luoghi il Cristianesimo viene attivamente perseguitato.
Silence è un film lunghissimo, aspro, violento e sofferto… per cui non va guardato a cuor leggero. Mostra una realtà ancora poco conosciuta o studiata, e lo fa da molteplici punti di vista, ammettendo di non riconoscere una verità assoluta; pone tantissime domande ma non fornisce risposte, anche se dà molto da riflettere.
-Dalek Oba-