Detailing the Wonders of Our Tale
Doctor Who nasce nel 1963, tenendo William Hartnell come primo protagonista di quella destinata a diventare l'epopea fantascientifica più longeva della storia. Paradossale come la storia dello studio e della produzione sia forse più nota ai fan oggi delle puntate stesse, grazie al film scritto da Mark Gatiss An Adventure in Space and Time, ma le cose sono profondamente collegate. I Dalek non sarebbero sopravvissuti fino a oggi se non avessero fatto un successo nazionale con la loro comparsa nel secondo serial e, anzi, la serie sarebbe stata interrotta. Se non fosse stato per la malattia di Hartnell, non ci sarebbe stato bisogno di sostituirlo e di inventare la rigenerazione, altro fondamento dell'intera serie. Se la produzione non avesse dovuto adottare limitazioni legate al proprio tempo, come dover filmare il tutto di fila con due ingombranti telecamere, dover montare tutto mentre veniva girato e si fosse potuta permettere di rifare alcune scene, la battuta per cui il Dottore sbaglia sempre il nome di Ian, poi ripresa con Mickey Smith nella nuova serie, e forse l'intera impronta umoristica che persiste quasi 40 stagioni dopo, avrebbero potuto essere molto diverse.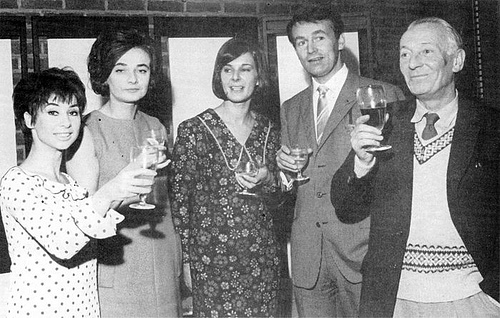 Il primo Dottore non è il primo personaggio che vediamo sullo schermo. Se volessimo considerare An Unearthly Child come una narrativa a sé stante -che considero fallace come principio, preferisco considerarla come la prima parte di The Tribe of Gum, com'è stato intitolato il serial quando è stato pubblicato per home video-, il Dottore sarebbe addirittura l'antagonista della vicenda. Ian e Barbara, insegnanti della nipote del Dottore, Susan, investigano su comportamenti particolari della ragazza, fino a seguirla alla sua abitazione, una discarica che include una certa cabina della polizia, nella quale la vedono entrare. Qui incontrano il Dottore, che li dissuade inizialmente da entrare con una retorica disarmante. Quando Susan esce dalla cabina, nella quale i due avevano giustamente creduto che il Dottore l'avesse intrappolata, i due vi entrano e scoprono che è più grande all'interno. Il Dottore valuta addirittura di ucciderli, ma alla fine raggiunge il compromesso di ripartire con loro. Nell'avventura che segue, il quartetto sarà alle prese con cavernicoli, il capo dei quale vede il Dottore accendere la pipa, e cerca quindi di recuperare da lui il segreto del fuoco. Per farla breve, seguono inseguimenti, intrighi politici e un'altra scena fondamentalmente importante per definire chi fosse il Dottore all'epoca: quando uno dei loro inseguitori perde i sensi, il Dottore afferra una roccia per finirlo, fermato solo da Ian Chesterton, che era l'eroe morale della storia all'epoca.
Il secondo serial stabilisce la formula più usata nelle puntate: il TARDIS -che il Dottore non era assolutamente in grado di controllare- atterra in un posto e tempo ignoto e il gruppo non può ripartire, solitamente per un guasto tecnico. Questo li coinvolge loro malgrado in un'avventura alla fine della quale sono in grado di riprendere il viaggio e stabilire casualmente una nuova destinazione. Ian e Barbara vogliono tornare al loro tempo, ma non è possibile, né realistico, che un viaggio a caso li riporti dove sono partiti. Sarà grazie ai Dalek e alle loro macchine del tempo, che a quanto pare il Dottore è capace di riprogrammare, che la coppia farà ritorno alla propria epoca… con un po' di ritardo, ma cosa sono un paio d'anni, tra amici?!
La serie era estremamente illuminata per la propria epoca e il Dottore non ha mai mostrato sessismo verso le proprie companion, facendomi alzare un sopracciglio nella caratterizzazione che Steven Moffat gli ha dato in Twice Upon a Time. Da un punto di vista di produzione, lo considero un ammiccamento a quanto i tempi siano cambiati, mostrandoci il primo Dottore come un elemento del passato, ma in realtà non mi stupisce che si comporti seguendo quelle che presume essere le relazioni tra esseri umani. Nonostante questo, i personaggi racchiudono al loro interno alcuni stereotipi: c'è Susan con il suo animo innocente, Ian che è il braccio del gruppo e si trova spesso a dover fare a cazzotti, e Barbara, spesso donzella in pericolo. Questi tratti vengono ereditati dai companion successivi, come Vicky che rimpiazza Susan, seguita da Katarina e Dodo, Steven e Ben che rimpiazzano Ian e Polly, che vedo ereditare sia Barbara che Susan. Si noti però che ho detto che "racchiudono" gli stereotipi, perché ogni personaggio è ben caratterizzato e distinto dai propri predecessori. Il conflitto etico tra Ian e il Dottore è molto meno accennato che con Steven, il Dottore non accenna le paternali che faceva a Susan con Vicky e Barbara aveva un ruolo proattivo più estraneo a Polly. Per quanto le puntate pecchino di dover costantemente ricapitolare quanto accaduto precedentemente tramite dialoghi a cui potremmo storcere il naso oggi, e alle volte debbano semplicemente prendere tempo e prolungare la storia in modo che il set per la successiva venga costruito, questa dilazione ci permette di conoscere bene i personaggi.
Una scena celeberrima è l'addio del Dottore a Susan, che culmina in una promessa non ancora mantenuta -one day, I shall come back-, almeno non sugli schermi, ma il momento non arriva fuori dal nulla. Susan, all'inizio quasi completamente obbediente al Dottore, si ribella sempre di più, finché nel serial non manifesta il desiderio di avere un posto che chiama proprio. Sia per propria debolezza che per aver riconosciuto questo fatto, ma essere consapevole che la nipote si sarebbe sacrificata per accudirlo, il Dottore la abbandona letteralmente, forzandola a cercare una propria strada. L'addio a Ian e Barbara è sentito in modo proporzionale, seguito dal Dottore che sorride nostaglico, guardando i suoi amici umani dagli schermi.
Se dovessi individuare l'archetipo di riferimento per il Dottore, direi che è il personaggio di Ulisse, dal mito greco. A differenza di altri eroi, Ulisse vince il nemico non con la forza, ma con l'astuzia. Lo show mostra anche come questa sia una scelta cogitata del Dottore, non che non abbia i mezzi per difendersi, forse accennando a come sia vecchio solo nell'aspetto: lo vediamo infatti tirare di scherma con il bastone con un clone di se stesso e percuotere un assassino inviato a ucciderlo con ilari mosse che non sarebbero estranee a Terence Hills. Il Primo è stato il Dottore con più attori ad averne interpretato il ruolo sullo schermo: William Hartnell, Brian Proudfoot che ne ha interpretato il clone, Richard Hurndall che lo intrepreterà in The Five Doctors e il recente David Bradley, ma la lista potrebbe continuare.
The Tenth Planet è l'ultima avventura del primo Dottore, mostrando la sua rigenerazione alla fine, in sincronia con il TARDIS che riparte. Il pubblico non ha idea di cosa stia succedendo, ma forse per questo avviene durante una stagione, non alla fine, in modo da seguire la settimana dopo con i companion altrettanto confusi, ma anche noi riprenderemo la cosa la prossima settimana. Che sia stato per aver avuto a che fare con tanti esseri umani, per aver perso alcuni di loro, nello specifico Katarina e Sara Kingdom -una vera e propria eroina spaziale, non dissimile da Ellen Ripley, ma quindici anni prima-, per i confronti avuti con Steven e anche per aver avuto a che fare con i Dalek, per cui uccidere è il modo più pratico per prosperare, il Dottore è completamente cambiato dalla prima avventura, al punto da fare la predica ai Cybermen sulla loro mancanza di emozioni.
C'è una teoria dei fan estremamente popolare che vede ogni Dottore che segue ispirarsi a qualcuno che ha visto in passato. Per quanto probabilmente non è mai stato fatto intenzionalmente, dal mio punto di vista, il primo Dottore rigenera pensando a quanto non interferire sia una politica stupida, quando così tante vite vengono sprecate, assumendo un atteggiamento e un aspetto più vicino a quello del primo altro Signore del Tempo della serie, il Monaco. O, sapete, sarà stato per i Beatles…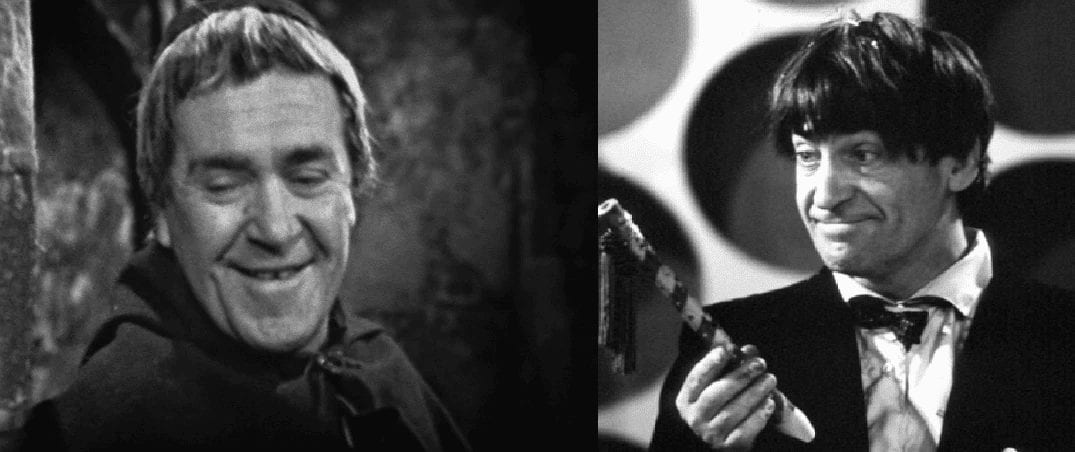 Prossima settimana, secondo Dottore. Fino ad allora, stay Tuned, stay TARDIS, ciao dal vostro Sesto!
~Six