Jo Martin è nata a Londra in una famiglia di origini giamaicane. È principalmente nota per i suoi ruoli televisivi, in particolare Natalie Crouch nella sitcom BBC The Crouches, che è andata in onda dal 2003 al 2005, e per il neurochirurgo Max McGerry in Holby City, interpretato da Martin dal 2019. Ovviamente, per noi Whovians è soprattutto Ruth Clayton, una guida turistica umana al 100%… che però si scopre essere una versione del Dottore che non avevamo mai visto prima! Per il momento Jo è apparsa in due episodi della dodicesima serie… però chissà, magari la vedremo ancora!
L'attrice ha lavorato in tv a partire da fine anni Ottanta, recitando in Birds of a Feather (1990), The Brittas Empire (1991), Chef! (1996), Casualty (2002), Doctors (2002–2006), Black Out (2005), The Prodigals (2007), Wizards vs Aliens (2013), EastEnders (2014), Hollyoaks (2014), Together (2015), Jonathan Creek (2016), NW (2016), Back to Life (2019) e Fleabag (2019).
Per il cinema è invece apparsa in For Queen and Country (1988), The Murder of Stephen Lawrence (1999), The Jolly Boys' Last Stand (2000), Cheeky (2003), Tunnel of Love (2004), Batman Begins (2005), Deadmeat (2007), The Prodigals (2007), 4.3.2.1. (2010), Devil's Playground (2010), Chalet Girl (2011), Dragonfly (2015), 100 Streets (2016), Been So Long (2018), Nine Nights (2019) e Blue Story (2019).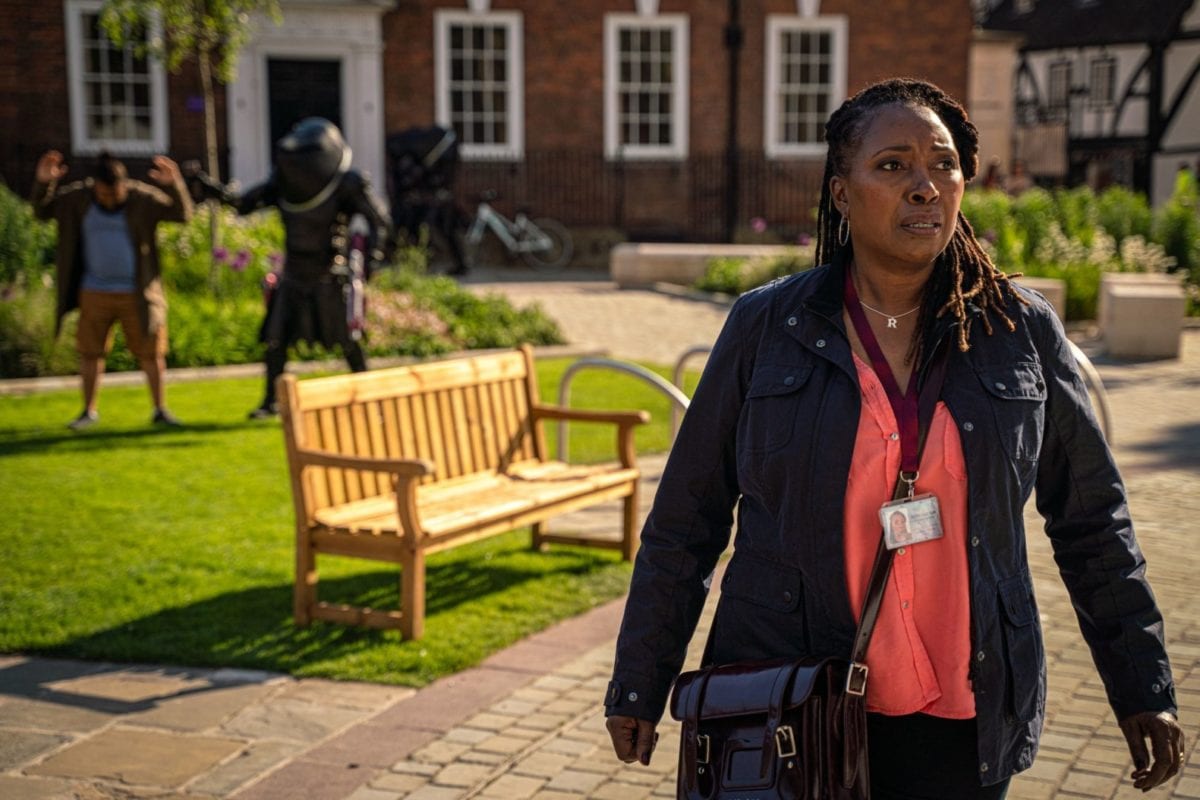 Consigli di visione: 100 Streets (2016).
Max è un ex giocatore di rugby che non si è ancora adattato alla fine della sua carriera ed è in crisi con la moglie Emily.
George è un tranquillo tassista che spera di adottare un bambino insieme alla moglie Kathy, ma il suo passato da teppista potrebbe creargli dei problemi.
Kingsley vive in un palazzone degradato e il suo unico futuro possibile sembra essere il crimine, tuttavia di nascosto scrive e recita monologhi sulla sua vita.
Tre persone che non potrebbero essere più diverse – per età, ceto, situazioni – che però vivono tutte a Londra, a non più di cento strade di distanza tra loro. Le loro storie saranno destinate a sfiorarsi, intrecciarsi e a influenzarsi inevitabilmente.
In 100 Streets, Jo Martin interpreta Marie, la madre di Kinsgley, che a modo suo cerca di tenere il figlio fuori dai guai.