SPYFALL – Recensione SPOILER di Dalek Oba
"Let the Spyfall, when it crumbles…" dai, ditemi che non l'ho cantata solo io. Nella mia famiglia 007 è una passione intergenerazionale, cominciata con i nonni, per cui assistere a un omaggio a James Bond da parte di Doctor Who è stato… PAZZESCO!!!
Ma andiamo con ordine.
La stagione 12 reintroduce un paio di vecchie consuetudini che io personalmente amo molto: La scena pre-credits e gli episodi doppi. Li amo, dicevo, tuttavia sono piuttosto felice che l'attesa della seconda parte sia di soli quattro giorni perché… eh, c'è un bel cliffhanger alla fine!
Spyfall – part one è il Chibnall che mi piace, quello delle situazioni famigliari alla The Power of Three, degli indimenticabili personaggi secondari alla Broadchurch, dei mostri inquietanti ma un po' camp alla Torchwood. L'episodio dura un'ora piena e non ha paura di mettere TANTISSIMA carne al fuoco, in favore di una trama orizzontale che dovrebbe risolversi nel prossimo episodio… ma che spero lasci qualche strascico anche nel futuro.
Tornando a James Bond, è bene ricordare che lui e Doctor Who sono praticamente coetanei; la saga cinematografica dell'agente segreto è infatti cominciata nel 1962, appena un anno prima del Dottore, e questo episodio è un chiaro omaggio allo 007 di quel decennio, con le mille location glamour, il casino e gli assurdi gadget di spionaggio. Ci sono perfino il vero edificio del MI6 e Stephen Fry che interpreta il capo dell'organizzazione – che qui però si chiama C e non M, con un riferimento più ai romanzi di John Le Carrè che a quelli di Ian Fleming. Thirteen per l'occasione sfoggia bowtie (cool!) e frac, e non rinuncia nemmeno all'iconica one-liner "Doctor. The Doctor".
A tal proposito, tutto il cast – protagonisti e comprimari – mi è parso ben tirato a lucido non solo dal punto di vista dell'abbigliamento elegante, ma anche e soprattutto nelle interpretazioni. Ognuno si trova a suo agio nel proprio ruolo, e di conseguenza i personaggi acquistano tridimensionalità.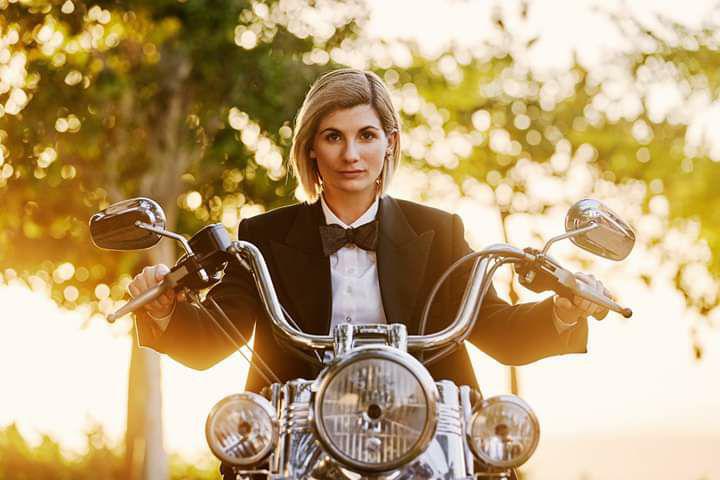 …dite che devo tagliare corto e parlare di "quello"? Mi pare giusto.
In effetti un plot twist del genere non era prevedibile ma, col senno di poi, ho ritrovato almeno quattro o cinque mini-riferimenti nel corso dell'episodio. O magari ho solo un'immaginazione troppo vivida. Oltre a ciò, mi era parso subito evidente il profondo rapporto che il Dottore aveva instaurato con O: non è un suo companion, però dopo un solo incontro gli scrive regolarmente su WhatsApp, ammira le sue capacità, lo aiuta, si fida al punto da invitarlo a bordo del Tardis… insomma, se c'è una sola persona con cui il Dottore può avere un rapporto del genere… quella persona non può essere che lei. Ops, lui.
Il finale è repentino e lascia troppe domande e poco tempo per metabolizzare. In testa mi sono già fatta mille film e ho elaborato mille teorie… ma per ora preferisco tenerle per me, e vedere domani cosa succederà e quanto avrò avuto ragione.
Dopo aver monopolizzato questo episodio con ben DUE recensioni (potete trovare su Facebook quella senza spoiler), lascio i prossimi ai miei colleghi Six e Saki, e torno per il quarto.
Vi saluto con una sigla di chiusura.
-Dalek Oba-