THE WATERS OF MARS, 10 ANNI DOPO
Togliamoci subito il sassolino dalla scarpa: questo episodio non mi è mai piaciuto. So che tra gli speciali del 2009 è probabilmente quello preferito dalla critica, che molti dei fan lo apprezzano per l'inizio della parabola discendente del Decimo Dottore, che gli umani contaminati dall'acqua hanno terrorizzato grandi e piccini… eppure no. Per me c'è qualcosa che non funziona. La storia mi coinvolge poco, i personaggi ancora meno, i "mostri" non mi fanno paura… sono brutti e basta. Come se non bastasse, il delirio di onnipotenza del Dottore mi pare fin troppo repentino, un cambio netto di atteggiamento che viene immediatamente condannato, rinunciando ad esplorarlo come si deve. Come se, arrivati a metà del "lungo addio" di Tennant, ci si fosse resi conto che bisognava velocizzare il processo, che alla rigenerazione mancavano appena un mese e mezzo e due episodi.
Forse il problema è anche che The Waters of Mars non riesce a rimanermi impresso… l'ho guardato pochi mesi fa per scrivere un'altra rubrica, e già lo ricordo a malapena. Per cui, ora lo riguarderò, per poi scrivere a caldo le mie impressioni.
Chissà, forse i miei ricordi sono troppo negativi.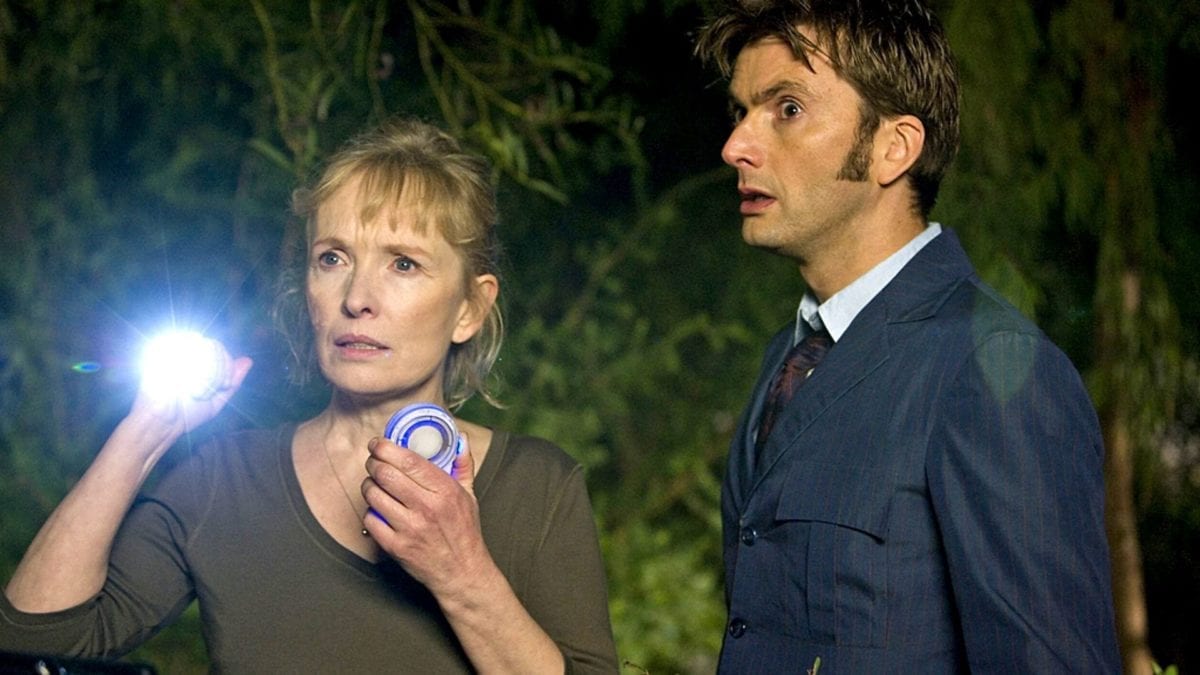 UN'ORA CIRCA DOPO…
Con l'episodio ancora ben impresso nella mente, devo purtroppo confermare quanto detto sopra, anche se ho trovato delle note positive, e non poche.
È bello l'incipit fuorviante, durante cui non capiamo esattamente quale sia la minaccia da affrontare (perché non si è ancora palesata); sappiamo solo che ci deve essere per forza, o non sarebbe un episodio di Doctor Who!
Il Dottore giunge alla Bowie Base One – prima colonia umana su Marte – proprio quando i guai cominciano, come un novello Jessico Fletcher. Per quanto si renda conto in fretta della situazione, è interessante come sappia solo una parte della storia, come non possa effettivamente conoscere i nemici da affrontare perché, prima del suo arrivo, l'annientamento della base non aveva testimoni sopravvissuti.
Suo malgrado, deve rimanere a investigare sulla sparizione di due membri dell'equipaggio, situazione che ci permette di conoscere meglio la coprotagonista.
Adelaide Brooke, se si guardano i credits, dovrebbe essere la companion dell'episodio, ma in realtà fatica a spiccare a causa dell'elevato numero di personaggi e di come viene rappresentata; è palese il suo ruolo di capo saggio ma inflessibile, tuttavia il suo modo di fare la rende più che altro antipatica, e nemmeno il cambio finale di atteggiamento riesce a salvarla del tutto, poiché appare forzato.
In generale, durante tutto l'episodio mi è stato difficile provare empatia per un qualsiasi personaggio che non fosse il Dottore.
Adelaide è però protagonista di una delle scene a mio parere più azzeccate: il flashback che mostra i Dalek invadere la Terra, con uno di loro che la trova ma, comprendendo la sua importanza per il Tempo, la lascia vivere, di fatto spingendola ad andare tra le stelle.
Da lì parte il momento coinvolgente dell'episodio, che noi vediamo dal punto di vista del Dottore, che cerca di tornare al Tardis come se niente fosse, mentre è ancora in collegamento audio con gli astronauti, e li sente morire uno a uno. È straziante, è insopportabile… insomma, voi al suo posto sareste riusciti a restare impassibili? Il problema però è che le sue reazioni, da disperate, diventano presto maniacali, tanto che i tre sopravvissuti sono più terrorizzati che grati.
Il sacrificio finale di Adelaide Brooke pone fine in fretta all'era del Time Lord Victorious, ma ormai il danno è fatto. E non si torna indietro.
A posteriori, mi spiace che questo "peccato di hybris" non abbia avuto posto prima nella vita del Decimo Dottore. Avrei voluto vedere questa versione più dark, non tanto cattiva quanto incattivita, almeno per un episodio intero.