Stagione 11, recensione completa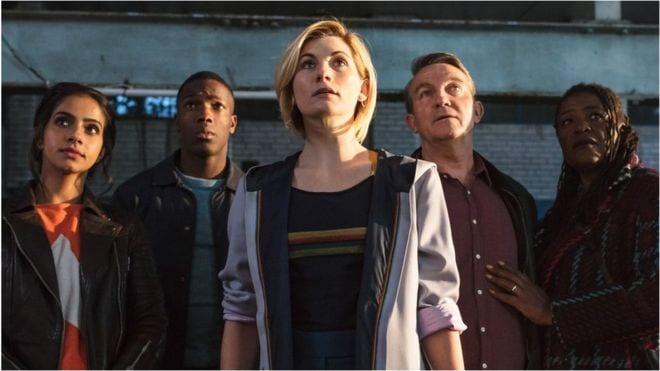 È giunto il momento di parlare dell'undicesima stagione nella sua totalità.
Innanzitutto analizziamone la struttura.
Si dice che qualsiasi storia possa essere salvata da un finale entusiasmante. Si può avere un inizio fiacco, una parte centrale noiosa, ma è il finale che rimane addosso al pubblico a storia finita. D'altra parte alcune storie sono invece salvate da un inizio talmente bello da conquistare il loro pubblico al punto da fargli accettare poi tutto il resto, anche se di minore impatto. Non sto neanche a fare esempi, non sono l'argomento di oggi, ma so che tutti avete pensato a qualcosa per entrambi i casi. Tranne rarissimi casi, non è mai la parte centrale a salvare la narrazione. Basta che non sia orripilante o che non faccia perdere allo spettatore interesse per la storia.
A prima vista potrà sembrare strano, ma questo vale anche per una stagione o per una serie intera. Quante serie avrete visto che avevano una stagione piatta, ma che ricordate come una delle migliori solo per via di quel primo episodio o, ancora meglio, di quel finale! Se poi entrambi sono fantastici, allora la stagione sarà percepita come un capolavoro. Ricapitolando e rimanendo nell'ambito della serialità televisiva, una puntata per essere perfetta deve avere un bell'inizio e un ottimo finale; una stagione deve avere una buona prima puntata e un season finale al cardiopalma; una serie deve avere una buona prima stagione e un'ottima ultima stagione (la maggior parte delle serie fallisce proprio in questo, di solito). Se tutto quello che sta in mezzo è altrettanto buono, tanto meglio. Vale anche per serie con scarsa trama orizzontale, sia chiaro.
Arriviamo quindi a parlare dell'undicesima stagione.
Il primo episodio è buono, ma niente di speciale. Fa il suo, ci chiede di pazientare per arrivare alla ciccia. Il secondo episodio è legato a doppio filo al primo, creano insieme "il primo atto" della stagione. Il Dottore dopo la rigenerazione ritrova il suo Tardis e può iniziare di nuovo a viaggiare. Peccato che in mezzo ci sia una gara di velocità tra due sconosciuti la cui storia prende poco. Il secondo episodio può essere guardato distrattamente mentre si stira, per poi alzare gli occhi solo per gli ultimi 5 minuti. Ancora ci viene chiesto di aspettare, ma cosa stiamo aspettando?
Arriva "Rosa", salutato da molti come il primo episodio davvero bello della stagione. Lo è davvero? Bello è bello, concediamoglielo, ma il merito è soprattutto della vera Rosa Parks, un personaggio che è difficile sbagliare. Ha una delle storie più ispiranti e importanti di sempre. La parte di fantascienza, però, è deludente. Vi ricordate il nome del cattivo? Le sue motivazioni? Vi sfido a ricordare come viene sconfitto.
"Arachnids in the UK" è, secondo me, il peggior episodio mai fatto di Doctor Who. Non ha senso, non inquieta, non ha una vera trama, ha parecchi spunti interessanti che non vengono sviluppati e neanche concretizzati, a un certo punto finisce. Dimentichiamocelo.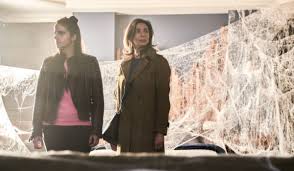 "The Tsuranga Conundrum" mi era piaciuto abbastanza quando lo vidi, ma sono dovuto andare su Wikipedia a controllare quale fosse il quinto episodio, è tutto dire.
Per tre settimane, dopo, abbiamo avuto "Demons of the Punjab", "Kerblam!" e "The Witchfinders". Un buon trio, oserei dire un ottimo trio. Demons ha poca trama, ma non punta a quello. Vuole essere una puntata emotiva e ci riesce per la maggior parte. È il meno bello dei tre, ma ce ne fossero. Gli altri due episodi sono Doctor Who in grande spolvero. Forse la parte aliena di Witchfinders è deludente sia graficamente sia come motivazioni, ma conta poco nella trama (avrei voluto contasse anche meno, ma poco male).
Il nono episodio, "It Takes You Away", è il migliore della stagione. Fa tutto quello che deve fare e anche di più. Sembra scritto da Douglas Adams con una punta del miglior Moffat. Ma è fine a se stesso e aggiunge molto meno di quel che sembra al Dottore, ai personaggi che seguiamo e alla stagione.
Il finale di stagione è una puntata come un'altra. Torna un cattivo già visto (e mica memorabile) e c'è una minaccia più grande del solito, ma assolutamente non è questo a creare un finale. La puntata in se è anche gradevole e se fosse stata in mezzo ad altre sarebbe stato meglio.
Ricordate tutto il discorso di prima sulla struttura di una stagione per spiccare? Inizio intrigante e finale scoppiettante. La parte centrale serve a poco per la sensazione che lascia la stagione una volta finita. L'undicesima stagione ha un inizio lento e poco interessante, che si protrae per troppe puntate. Se non fosse stato per "Rosa" forse in molti avrebbero mollato. A poco servono quattro puntate di fila buone nella seconda parte di stagione se poi si arriva ad un finale sottotono.
Aggiungiamo pure lo speciale di Capodanno, in fondo è andato in onda due settimane dopo la fine della stagione. Finalmente i Dalek! E una puntata piuttosto buona, diciamocelo. È sempre stato pensato come vero finale o è una pezza messa in extremis? Poco importa, per quel che mi riguarda, non ha il sapore di un vero finale, nonostante tutto.
Immaginatevi la stessa stagione con un primo episodio migliore (ma quello che c'è, in fin dei conti va abbastanza bene) e gli episodi belli ben distribuiti al suo interno. Sono talmente autoconclusivi che l'ordine in cui trasmetteli, per la maggior parte, non conta. Scambiamo di posto il nono e il decimo, facendo sì che l'universo Rana abbia un vero effetto sul Dottore e che questo sia il finale. E rimettiamo i Dalek all'interno della stagione, non alla fine, nello speciale. Non sarebbe stato meglio? Non sono (solo) le singole puntate a non andare bene, è il modo in cui, una di fila all'altra, costruiscono la stagione a non funzionare.
Note sparse:
l'ho detto e lo ripeto, la relazione tra Graham e Ryan è la cosa migliore della stagione, ma si sviluppa in modo troppo lineare e senza intoppi. Aaron, il padre del ragazzo, doveva essere introdotto prima.
mi piace come nonna Grace sia sempre presente all'interno del Team Tardis, è a tutti gli effetti un quarto companion. Ma alcune volte (Arachnids, di nuovo tu!) è troppo palese.
Yaz? Ok, lei e il Dottore ora sono amiche… se questo vi basta come evoluzione…
puntare su trame verticali invece che su quella orizzontale va benissimo, ma non vuol dire che finito un episodio tutto quello che è successo prima scompaia. I personaggi possono tornare. Krasko, Mr. Robertson, lo Pting, i testimoni alieni, sono tutti personaggi che avrebbero potuto tornare per avere un peso negli avvenimenti successivi. Nessuno di essi ha una vera conclusione e sono la parte debole dell'episodio in cui compaiono. Se Robertson fosse tornato e avesse avuto una conclusione forse sarei anche meno critico verso Arachnids.
non ho parlato del Dottore. Promossa la Whittaker, certo, ma non sento di conoscerla ancora come Dottore. Credo (e spero) che ci sia altro da costruire per lei. Vederla finalmente contro i Dalek è stato il primo passo.
Brig