Peter Dougan Capaldi nasce il 14 aprile 1958 a Glasgow ed è di origini italiane (da parte del nonno paterno), scozzesi e irlandesi. I genitori Nancy e Gerald John Capaldi possiedono una gelateria. Peter frequenta la St Teresa's Primary School, la St Matthew's Primary School e la St Ninian's High School. Fin da piccolo dimostra talento per le arti performative: organizza uno spettacolo di marionette alle elementari, fa parte del gruppo teatrale Antonine Players alle superiori ed è il cantante e chitarrista di una band punk rock, The Dreamboys. A ciò si aggiunge la sua incredibile passione per Doctor Who fin dall'infanzia, che lo spinge a voler diventare un attore, nella speranza di poter partecipare un giorno alla serie. Viene purtroppo rifiutato dalla RADA, ma frequenta la Glasgow School of Art.
I suoi primi ruoli sono nel film Local Hero (1983), in John and Yoko: A Love Story (1985), in cui interpreta George Harrison, in un episodio della serie Minder (1985). Seguono The Lair of the White Worm (1988), Dangerous Liaisons (1988), la serie Mr Wakefield's Crusade (1992), Prime Suspect 3 (1993), la sitcom The Vicar of Dibley (1994-1996), l'adattamento dell'opera di Neil Gaiman Neverwhere (1996, in cui ricopre il ruolo dell'angelo Islington) la serie Psychos (1999) e Fortysomething (2003), insieme a Hugh Laurie e a un allora giovanissimo Benedict Cumberbatch.
La sua carriera però non riesce a decollare, tanto che nel 2005 l'attore pensa seriamente di cambiare mestiere. Di lì a breve viene però scelto per interpretare quello che diventerà uno dei suoi ruoli più celebri: Malcolm Tucker nella serie The Thick Of It (2005-2012). Per il suo lavoro riceve quattro nomination ai BAFTA, vincendo nel 2010. Vince anche il British Comedy Award come Best TV Comedy Actor nel 2010 e nel 2012. Altri premi arrivano anche per il film spinoff della serie, In the Loop (2009).
Nel frattempo recita in Waking the Dead (2007), Skins (2007-2008), Fallen Angel (2007), nel film Magicians (2007), in The Devil's Whore (2008) e The Nativity (2010). Nel 2011 e 2012 recita a teatro in The Ladykillers; torna poi in TV per The Field of Blood (2011), The Hour (2012), il documentario Inside the Mind of Leonardo (2013) e The Three Musketeers (2014). Al cinema appare in World War Z (2013, e il suo personaggio curiosamente è accreditato come W.H.O. Doctor), The Fifth Estate (2013), Paddington (2014, e tornerà nel sequel).
Capaldi è anche un regista e sceneggiatore: nel 1992 scrive e interpreta Soft Top, Hard Shoulder, che vince il premio del pubblico al London Film Festival. Nel 1995 invece vince l'Oscar per il Best Live Action Short Film per la sua opera Franz Kafka's It's a Wonderful Life. Nel 2001 scrive e dirige Strictly Sinatra, nel 2009 dirige vari episodi della sitcom Getting On. I suoi lavori più recenti sono The Cricklewood Greats (2012) e Born to be King (2013).
La sua prima apparizione in Doctor Who risale al 2008, quando interpreta Caecilius in The Fires of Pompeii e incontra il Decimo Dottore e Donna Noble. Ricopre in seguito il ruolo di John Frobisher in Torchwood: Children of Earth (2009). Infine, il 4 agosto del 2013, la BBC manda in onda un programma speciale per annunciare al pubblico chi sarà il dodicesimo, e attuale, Dottore. E da dietro le quinte esce proprio lui, Peter Capaldi, che corona finalmente il sogno di quando era bambino. La prima apparizione del Dodicesimo Dottore nella serie, a sorpresa, è una brevissima inquadratura del suo viso (più che altro, delle sopracciglia) durante lo speciale The Day of the Doctor, preceduta dall'ormai iconica frase "No, sir, all thirteen!". Il suo ingresso "ufficiale" è invece quello post rigenerazione in The Time of the Doctor, a Natale 2013. Protagonista di ottava e nona stagione, tornerà anche nella decima, nel 2017.
Capaldi è l'unico attore ad aver vinto un Oscar (anche se non per la recitazione) a interpretare il Dottore, è il terzo scozzese (dopo Sylvester McCoy e David Tennant), e condivide con il Primo Dottore William Hartnell l'eta in cui sono stati presi per la parte: 55 anni.
L'attore ha rivelato che già nel 1995 era stato contattato per fare un'audizione per il ruolo dell'Ottavo Dottore ma, convito che non avrebbe vinto la parte, non si era presentato.
Peter è sposato con l'attrice e scrittrice Elaine Collins dal 1991, e la coppia ha una figlia. Anche sul set l'attore non toglie mai la fede nuziale, tanto che in alcuni casi gli vengono fatti indossare altri anelli creati apposta per nasconderla. Capaldi sostiene la Worldwide Cancer Research e l'Aberlour Child Care Trust, è un grande fan di Game of Thrones e di David Bowie.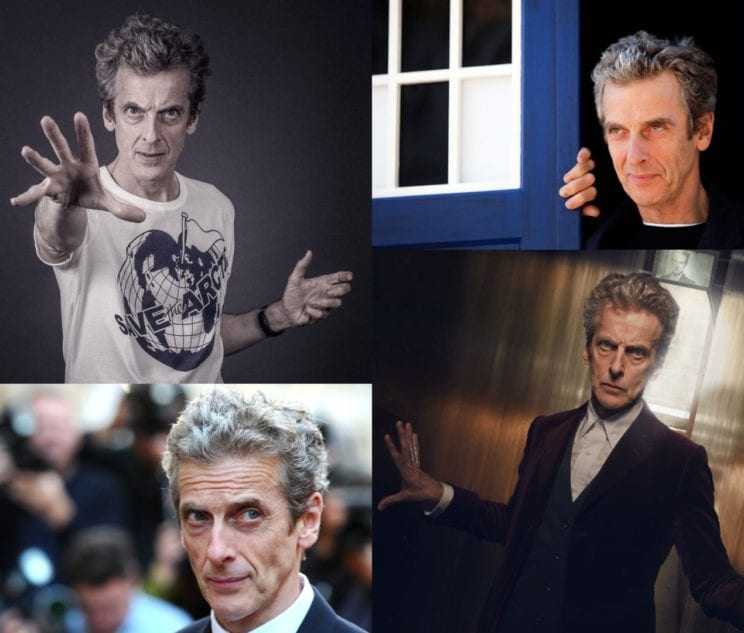 Consigli di visione: The Hour (2011-2012).
Ok, devo fare una confessione. Quando è stato deciso che mi sarei occupata della rubrica sugli attori, uno dei miei primi pensieri è stato: "Perfetto, quando scriverò l'articolo su Capaldi, potrò parlare di The Hour". E ci ho messo letteralmente un anno. Ma eccomi qui.
The Hour è, a mio parere, una delle serie britanniche più belle e interessanti degli ultimi anni, che però sfortunatamente ha avuto vita breve. Ambientata a Londra tra il 1956 e il 1958, racconta della nascita del fittizio – ma molto realistico – "The Hour", primo programma di informazione trasmesso in diretta televisiva dalla BBC, una specie di antenato del telegiornale.
La serie affronta le vicende delle persone che lavorano al programma, al cui vertice possiamo trovare la produttrice Bel Rowley (Romola Garai), il presentatore Hector Madden (Dominic West) e, soprattutto, il giornalista Freddie Lyon, interpretato da un fantastico Ben Whishaw. A essi si aggiunge un cast sostanzioso e con grandi nomi, come Anne Chancellor, Oona Chaplin, Tom Burke, Andrew Scott, Burn Gorman (Owen Harper in Torchwood), Vanessa Kirby, Peter Sullivan, Tim Pigott-Smith (che ha recitato in alcuni serial di Doctor Who negli anni Settanta) e, ovviamente, Peter Capaldi.
Creata da Abi Morgan – sceneggiatrice nota per opere come Shame e Suffragette, oltre alla recente serie River – the Hour mescola con sapienza la storia dei suoi personaggi con la Storia di fine anni Cinquanta, trattando temi come i Servizi Segreti, la Guerra Fredda, l'immigrazione – con esempi di integrazione ma anche di razzismo – la mafia.
Peter Capaldi entra nel cast nella seconda stagione, nel ruolo Randall Brown, il nuovo direttore di The Hour. Integerrimo, devoto al giornalismo e alla notizia, Brown è anche un uomo eccentrico, talvolta ossessivo compulsivo, e deciso in più occasioni a rischiare e mettersi in gioco, mandando in onda servizi magari poco "politically correct", ma genuini e importanti per il pubblico. La performance dell'attore è come sempre ottima e dà vita a un personaggio interessante e sfaccettato.
Nonostante una terza stagione fosse già in previsione, purtroppo The Hour è stata cancellata alla fine della seconda, e quindi non ha una vera e propria conclusione. Ciononostante, credo che sia in ogni caso un validissimo prodotto, e invito tutti a vederlo… o rivederlo.