Paul John McGann nasce il 14 novembre 1959 a Liverpool, secondo di cinque figli (quattro maschi e una femmina). I genitori li incoraggiano a sviluppare i loro interessi e i loro talenti artistici fin da quando sono piccoli, tanto che sia Paul che i suoi tre fratelli Joseph, Mark e Stephen diventeranno attori. Paul in particolare comincia a recitare mentre frequenta la Cardinal Allen Grammar School, spronato dai suoi insegnanti, per poi entrare alla Royal Academy of Dramatic Art. I quattro fratelli recitano insieme nel 1995 nel serial The Hanging Gale e poi, escluso Joseph, nel film per la TV Catherine the Great.
Il ruolo che fa conoscere McGann al grande pubblico è quello di Mo Morris nella serie del 1983 Give us a Break. In seguito interpreta il disertore britannico Percy Toplis nel serial BBC The Monocled Mutineer (1986), che però non è mai più stato ritrasmesso in televisione, poiché condannato dal governo per aver trasposto eventi storici anche sensibili in modo inaccurato (in effetti i documenti ufficiali sulla vicenda sono ancora secretati). In ogni caso la performance di McGann è piaciuta, e il serial è stato rilasciato prima in VHS e poi in DVD.
Tra gli anni Ottanta e Novanta recita in vari film: Withnail and I, The Rainbow, The Monk, Dealers, Tree of Hands, Empire of the Sun, The Three Musketeers e Alien³. In questo periodo McGann fa parte di un gruppo di giovani attori britannici, denominati il "Brit Pack", che sta ottenendo successo anche su scala mondiale, come Tim Roth, Gary Oldman e Colin Firth. Nel 1993 viene assunto per interpretare Richard Sharpe, protagonista di una serie di film TV basati sui romanzi di Bernard Cornwell. Purtroppo però ha un infortunio al ginocchio pochi giorni prima di cominciare le riprese e il suo ruolo va a Sean Bean, che raggiunge così la notorietà. Paul ha tuttavia narrato diversi audiolibri della serie.
Nel 1996 McGann interpreta l'Ottavo Dottore nel film TV Doctor Who, primo tentativo di riportare in onda la serie, sospesa dal 1989. L'inizio della storia vede proprio l'uscita di scena del Settimo Dottore, sempre Sylvester McCoy, nella sua ultima apparizione nel ruolo, e la rigenerazione nell'Ottavo. McGann ha già firmato un contratto per una possibile serie TV americana sul Dottore, tuttavia la Fox reputa che gli ascolti negli Stati Uniti siano troppo bassi, e non sviluppa ulteriormente il progetto. Al contrario, nel Regno Unito il film ha un buon successo, anche se la BBC deve aspettare che le tornino tutti i diritti sulla serie, prima di cominciare a progettarne il reboot. McGann riprende il ruolo del Dottore solo un'altra volta, nel minisodio del 2013 The Night of the Doctor, un vero e proprio prequel dello speciale per il cinquantenario The Day of the Doctor. Nel corto, l'Ottavo Dottore si rigenera nel War Doctor, interpretato da John Hurt. Sempre in occasione dei festeggiamenti per i cinquant'anni della serie, l'attore appare brevemente in The Five(ish) Doctors Reboot. Le avventure dell'Ottavo però non sono finite qui! McGann infatti recita in moltissimi audiodrama della Big Finish e dà il permesso di utilizzare il suo aspetto sia per i fumetti, che per le copertine dei romanzi sul suo Dottore.
Nel corso degli anni Duemila Paul ha recitato in svariati film, come My Kingdom (2001), Listening (2003), Gypo (2005) e Queen of the Damned (2002), adattamento di un romanzo di Anne Rice della serie The Vampire Chronicles, in cui McGann interpreta David Talbot. Tra il 2001 e il 2003 recita nella serie Hornblower, nel 2007 in True Dare Kiss, nel 2010 in Jonathan Creek e in Luther e, nel 2011, in Waking the Dead.
McGann ha narrato diversi audiolibri, tra cui le opere di Pat Barker e il romanzo cyberpunk Vurt di Jeff Noon. Ha anche prestato la sua voce al videogioco Ceremony of Innocence, nel 1997.
Nel 1991 ha sposato Anne Marie Milner (da cui ora è separato), con cui ha avuto due figli: Joe e Jake.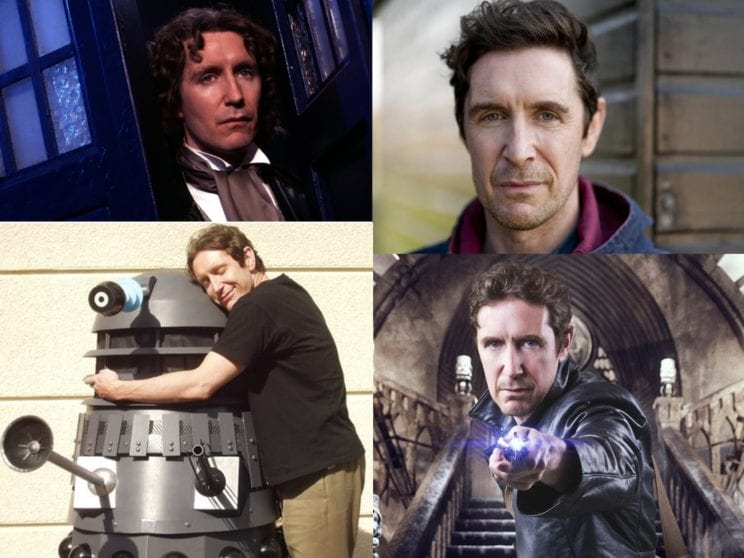 Consigli di visione: Luther (2010-2015).
Ambientato in una Londra grigia e periferica, in cui i mostri esistono e sono tutti umani, questo crime drama è probabilmente uno dei simboli dell'eccellenza della televisione britannica degli ultimi anni. Il protagonista John Luther, interpretato magistralmente da Idris Elba, è un detective insofferente alle regole e con un suo personale e profondo senso di giustizia… che non sempre però equivale alla legge. Paul McGann, che appare solo nelle prime due stagioni, interpreta Mark North, nuovo compagno della ex moglie di Luther, Zoe (Indira Varma, la Suzie Costello di Torchwood). Pur essendo un personaggio secondario, Mark riserverà col tempo sorprese inaspettate.
Cupo, violento, ma allo stesso tempo poetico, Luther è assolutamente consigliato agli amanti del thriller e delle serie TV britanniche.