Matthew Robert Smith nasce il 28 ottobre 1982 a Northampton, in Inghilterra, figlio di Lynne e David. Da ragazzo frequenta la Northampton School For Boys ed è un promettente calciatore; gioca nei team giovanili di Northampton Town, Nottingham Forest e Leicester City, ma un serio infortunio alla schiena mette fine alla sua carriera. L'insegnante di teatro prova a reindirizzare i suoi interessi verso la recitazione e Matt, pur essendo all'inizio molto riluttante, finisce per appassionarsi alla materia, per poi unirsi al National Youth Theatre di Londra e studiare Drama and Creative Writing alla University of East Anglia.
Nel 2003 si esibisce in spettacoli come Murder in the Cathedral e The Master and Margarita, che gli permettono di essere scoperto e di recitare a livello professionale, in Fresh Kills, The History Boys, On the Shore of the Wide World, Burn/Chatroom/Citizenship, Swimming with Sharks e That Face, il cui intero cast è nominato nel 2008 ai Laurence Olivier Award per il premio Outstanding Achievement in an Affiliate Theatre e per cui Matt vince il premio Best Newcomer assegnato dall'Evening Standard.
In televisione appare negli adattamenti della BBC dei romanzi di Sally Lockhart The Ruby in the Smoke (2006) e The Shadow in the North (2007), in cui recita insieme a Billie Piper, e nella serie Party Animals (2007). Nel 2009 partecipa al corto Together e, l'anno successivo, al film Womb, con Eva Green.
Partecipa alle audizioni per il ruolo dell'Undicesimo Dottore e, allo stesso tempo, a quelle per John Watson in Sherlock. Se per il secondo ruolo non ha fortuna, essendo reputato troppo eccentrico e più adatto a interpretare Holmes – per cui però era già stato scelto Benedict Cumberbatch – la sua prova come Dottore convince tutti e, nonostante i dubbi dovuti alla sua giovane età e alla scarsa notorietà, nel gennaio del 2009 viene ufficialmente annunciato come successore di David Tennant. A soli ventisei anni, è a oggi l'attore più giovane ad aver interpretato il ruolo.
Pur non essendo un fan della serie TV da bambino (che d'altra parte viene sospesa quando lui ha solo sette anni), la conosce e, in particolare, ammira il lavoro svolto da Patrick Troughton nei panni del Secondo Dottore, tanto da ispirarsi a lui per caratterizzare l'Undicesimo, a partire dall'iconico bowtie. Un altro collegamento con la serie, e con il Secondo Dottore, è la sua agente Wendy Padbury, che negli anni Sessanta aveva interpretato una delle companion di Troughton, Zoe Heriot.
La performance dell'attore nei panni del Dottore ha ricevuto numerosi apprezzamenti e riconoscimenti: nel 2010 Matt viene votato Miglior Attore dai lettori di Doctor Who Magazine e riceve una nomination ai BAFTA, primo caso in assoluto per un interprete del Dottore.
Nel corso dei suoi anni in Doctor Who partecipa anche ad alcune puntate dello spin-off The Sarah Jane Adventures e ad alcuni minisodi, per poi lasciare la serie nel 2013, al termine dello speciale di Natale The Time of the Doctor.
Negli ultimi anni ha recitato a teatro in American Psycho (2013), nel film TV Christopher and His Kind (2011), in Lost River (2014), debutto alla regia di Ryan Gosling, per cui l'attore ha dovuto rasare il suo caratteristico ciuffo di capelli (infatti in The Time of the Doctor indossa una parrucca), Terminator Genisys (2015), Pride and Prejudice and Zombies (2016) e nella serie The Crown (2016), appena uscita su Netflix.
In futuro lo vedremo nel thriller Patient Zero e nei prossimi film della saga di Terminator.
Matt si definisce ateo, sa suonare la chitarra, colleziona dischi ed è un grande fan di Futurama, della squadra di calcio Blackburn Rovers e dei Radiohead. È naturalmente goffo, tanto che sui set nascono vere e proprie scommesse su quanto tempo ci metterà a rompere qualche oggetto di scena. Dal 2015 è impegnato in una relazione con l'attrice Lily James.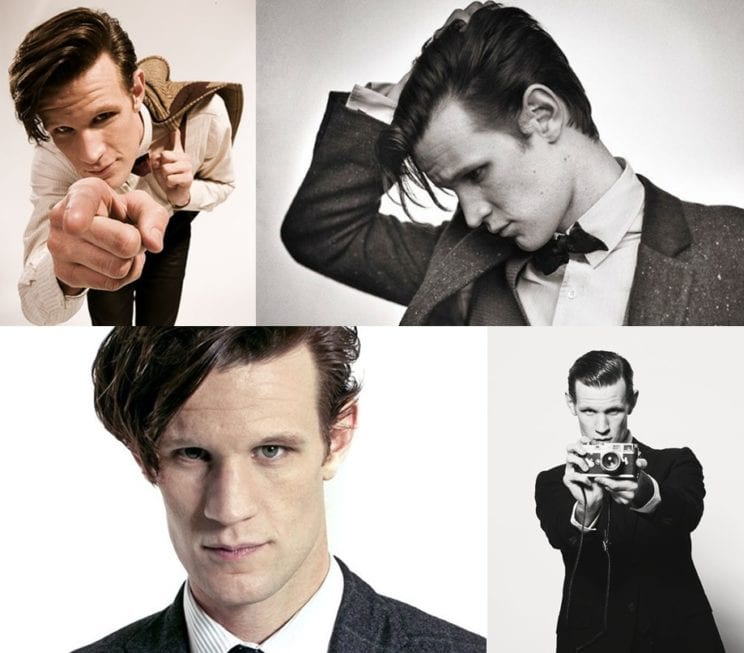 Consigli di visione: The Crown (2016).
Indovinate come ho passato lo scorso weekend? Già. The Crown è stata rilasciata da Netflix appena tre giorni fa, eppure io sono già qui a parlarne perché, davvero, è talmente bella che non sono riuscita a smettere di guardarla. La serie narra dei primi anni di regno della Regina Elisabetta II, il suo matrimonio, l'incoronazione, la collaborazione con Churchill, la difficoltà nel far coesistere la figura pubblica con quella privata, la Regina con la Donna. Se da una parte è vero che tutte le vicende possono essere più o meno note a chiunque conosca vagamente la storia britannica contemporanea, dall'altra è fondamentale sottolineare che uno dei punti cardine della serie non è cosa viene raccontato, ma COME. Vedere The Crown non è come leggere una pagina di Wikipedia (per quanto possa sempre essere utile documentarsi prima di guardare una serie storica), è una totale immersione nell'epoca, nelle usanze, nei costumi, dalla moda anni Cinquanta al complicato protocollo di Corte. Ogni dettaglio è curatissimo e la sceneggiatura e le formidabili interpretazioni attoriali rendono la serie assolutamente imperdibile. Matt Smith interpreta il Principe Philip, marito della Regina, amalgamando abilmente la sua solita espressività e una certa giocosità a una recitazione più misurata. Claire Foy interpreta Elizabeth, Vanessa Kirby sua sorella Margaret e Jared Harris è Re Giorgio VI.
Regista di alcuni degli episodi è Stephen Daldry, già famoso per Billy Elliot (2000), The Hours (2002) e The Reader (2008). Creatore e sceneggiatore della serie è Peter Morgan, che già da tempo si occupa di mettere in scena la storia e la politica britannica degli ultimi anni. È infatti sua la cosiddetta "Blair Trilogy", composta da The Deal (2003), sul rapporto tra Tony Blair e Gordon Brown, da The Queen (2006), sulle reazioni della Famiglia Reale alla morte della Principessa Diana, e da The Special Relationship (2010), sul rapporto tra Tony Blair e Bill Clinton (Blair è sempre interpretato da Michael Sheen). Nelle intenzioni di Morgan, The Crown – già rinnovata per una seconda stagione – dovrebbe durare sei stagioni, per un totale di sessanta episodi, e dovrebbe arrivare fino ai giorni nostri. Per sottolineare il trascorrere del tempo, sarebbe sua intenzione cambiare tutto il cast ogni due stagioni. È decisamente un progetto ambizioso e oltremodo interessante, e spero sinceramente che possa portarlo a termine.