Margaret Constance Williams è nata il 15 aprile del 1997 a Bristol, ed è la più giovane di quattro fratelli. Nonostante il suo vero nome, viene da sempre chiamata da tutti Maisie, come un personaggio del fumetto The Perishers. Cresce a Clutton, dove frequenta la Clutton Primary School, per poi studiare alla Norton Hill School e, successivamente, al Bath Dance College, per seguire il corso di Performing Arts. Maisie sostiene che il suo primo amore non è stata la recitazione, bensì la danza; negli anni ha infatti praticato e studiato vari stili: danza classica, tip tap, ballo nei musical, street e freestyle.
Il suo debutto professionale avviene nel 2011 nella prima stagione di Game of Thrones, nel ruolo della giovane Arya Stark. Grazie a questa parte Maisie ottiene la notorietà a livello mondiale, oltre a numerosi premi, riconoscimenti e nomination: vince l'EWwy Award come Best Supporting Actress in a Drama, il Portal Award per le categorie Best Supporting Actress – Television e Best Young Actor, e il Saturn Award per la Best Performance by a Younger Actor. Nel 2013 vince il Teen Award della BBC Radio 1 come Best British Actor e, nel 2016, riceve una nomination agli Emmy.
Maisie è finora apparsa in tutte e sei le stagioni di Game of Thrones.
Nel 2012 recita nella serie The Secret of Crickley Hall nel ruolo di Loren Caleigh, nel film indipendente Heatstroke e nel corto The Olympic Ticket Scalper. L'anno successivo appare in Gold, Corvidae e Up On The Roof. Nel 2014 interpreta Lydia nel film inglese The Falling, per cui vince il London Film Critics' Circle Award come Young Performer of the Year. Nel 2015 appare nel docudrama Cyberbully su Channel 4.
Negli anni recita anche in diversi video musicali, per artisti come Seafret, The Vamps, Pentatonix e Gardna. Sono in uscita nei prossimi mesi ben tre film con Maisie nel cast: iBoy, A Storm in the Stars e the Devil and the Deep Blue Sea.
A marzo del 2015 la BBC annuncia la presenza dell'attrice in alcuni episodi della nona stagione di Doctor Who. Maisie fa infatti il suo debutto nella quinta puntata, The Girl Who Died, nei panni di Ashildr, una ragazzina vichinga che il Dottore, per cercare di salvarle la vita, rende immortale. Torna in seguito in The Woman Who Lived, Face the Raven e nel finale Hell Bent; pur rimanendo fisicamente sempre uguale, i suoi tantissimi anni la cambiano profondamente, tanto da decidere di rinunciare al suo nome, facendosi chiamare semplicemente Me (Io, nella versione italiana).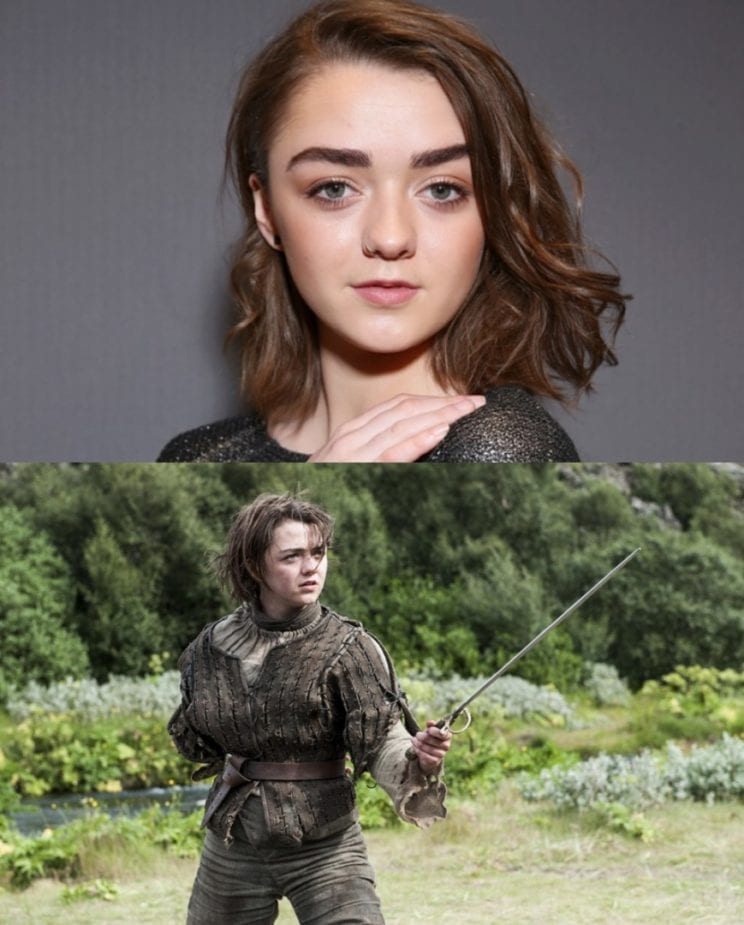 Consigli di visione: Game of Thrones (2011- in corso).
Cosa dire di Game of Thrones che non sia già stato detto? La serie HBO tratta dalla saga di romanzi di George R. R. Martin è celeberrima in tutto il mondo ed è probabilmente il prodotto televisivo più caratteristico di questo decennio. Per narrare la trama come si deve avrei bisogno di molto più spazio – e decisamente molto più tempo – ma mi limiterò ai concetti chiave: in un mondo medievale immaginario, collocato tra i fittizi continenti di Westeros ed Essos, in cui esistono i draghi e le stagioni durano per anni interi, scoppia una guerra tra le varie casate nobili, tutte decise a conquistare il trono e avere il predominio sulla regione occidentale mentre, da nord, si profila una minaccia temibile e spaventosa perché… l'inverno sta arrivando!
Game of Thrones in pochissimo tempo è riuscita a rivoluzionare il concetto di serie televisiva, presentando un prodotto molto spesso pari a quelli cinematografici, se non talvolta addirittura superiore. Vicende, situazioni, frasi e personaggi della saga sono entrati a far parte dell'immaginario e della cultura comune, tanto che ormai è difficile incontrare qualcuno che non sappia chi sia un Lannister, o uno Stark, o che non abbia mai detto "Valar Morghulis", o "You know nothing, Jon Snow!". Che siate appassionati fin dai tempi dei romanzi, fan della prima ora, nuovi seguaci sopraggiunti insieme alla fama della serie, spettatori delusi dalle ultime stagioni, detrattori o tra i pochi che non lo hanno mai visto, Game of Thrones ha comunque indubitabilmente in qualche modo lasciato un segno nel vostro quotidiano.