Karen Sheila Gillan nasce il 28 novembre 1987 in Scozia, a Inverness, figlia unica di Marie e Raymond. A sedici anni si trasferisce a Edimburgo per seguire un corso di recitazione al Telford College e, due anni dopo, si sposta a Londra, per frequentare l'Italia Conti Academy of Theatre Arts. Durante gli studi lavora per un po' come modella ma, per quanto le piaccia, preferisce continuare a porre la recitazione al primo posto.
Il suo primo ruolo è in un episodio della serie Rebus (2006), per poi far parte per due anni del cast della serie comica The Kevin Bishop Show (2008-2009), in cui interpreta numerosi personaggi. Nel 2008 appare nel film TV Stacked e partecipa al progetto horror multimediale The Well, formato da brevi episodi mandati in onda dalla BBC2, da una web series e da un videogioco online. Nel 2010 recita nel film Outcast.
La sua prima apparizione in Doctor Who avviene nel 2008, in un piccolo ruolo nell'episodio The Fires of Pompeii. Successivamente partecipa alle audizioni per diventare la nuova companion anche se, per evitare fughe di notizie, il nome in codice del ruolo è "Panic Moon" (anagramma di "companion"). Nel maggio del 2009 ottiene la parte di Amelia "Amy" Pond, al fianco dell'Undicesimo Dottore Matt Smith e, come prima cosa, lo comunica a sua madre, grande fan della serie. Con i 21 anni di lei e i 26 di lui, Matt e Karen sono in assoluto la coppia Dottore – Companion più giovane di sempre. A interpretare Amelia da bambina è invece Caitlin Blackwood, la cuginetta di Gillan.
L'attrice debutta nel primo episodio della quinta serie, The Eleventh Hour, e rimane nel cast fino a metà della settima serie, nel 2012. Riprende il ruolo per un breve cameo nell'episodio finale di Matt Smith, a Natale 2013. Karen è stata nominata Miglior Attrice dai lettori di Doctor Who Magazine nel 2010. Data la sua statura, decisamente maggiore di quella delle altre companion della serie nuova, la produzione ha dovuto ridisegnare i Dalek per adattarli a lei.
Nel 2011 l'attrice debutta anche a teatro, nell'opera Inadmissible Evidence. In seguito recita nel film We'll Take Manhattan (2012), nella commedia scozzese Not Another Happy Ending (2013), nella terza stagione della serie NTSF:SD:SUV (2013) e nello spettacolo Time to Act (2013), a Broadway.
Nel 2014 partecipa all'horror Oculus, alla serie TV A Touch of Cloth, al film del Marvel Cinematic Universe Guardians of the Galaxy e alla sitcom americana Selfie, purtroppo cancellata a metà della prima stagione.
Karen scrive e dirige il suo primo corto, Coward, che vince il premio Best Independent Short all'Independent Film-makers Showcase al Beverly Hills Film Festival del 2015 e che viene anche proiettato all'Edinburgh Film Festival dello stesso anno. Poco dopo scrive, dirige e recita nel suo secondo corto, Conventional.
Negli ultimi anni recita in The Big Short (2015) e nel western In a Valley of Violence (2016), mentre i suoi numerosi impegni futuri includono i film The Circle, Guardians of the Galaxy Vol. 2, The List e il sequel di Jumanji.
Karen, pur essendo cresciuta in una famiglia cattolica, non è battezzata e afferma di non essere una persona religiosa. Attualmente vive a Los Angeles e, nel tempo libero, ama suonare il piano e fare shopping nei negozi di abbigliamento vintage.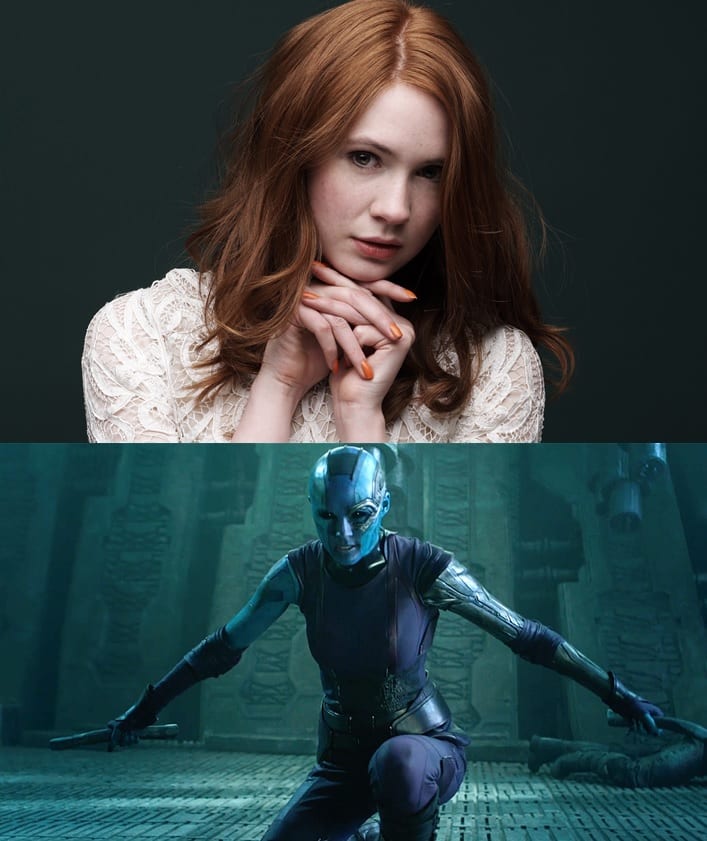 Consigli di visione: Guardians of the Galaxy (2014).
Un gruppo di criminali più o meno pericolosi forma un'alleanza per evadere dal carcere e finisce, quasi per caso, per salvare il mondo da qualcuno più cattivo di loro. Sembra la premessa perfetta per una pellicola western, e invece è il decimo film del Marvel Cinematic Universe, che apre alla saga le porte della fantascienza, andando ad adattare un fumetto forse non famosissimo, ma ricco di spunti narrativi molto interessanti. I personaggi, apparsi per la prima volta in edicola nel 1969, vengono riproposti in chiave cinematografica come una sorta di "Avengers spaziali", leggermente più disfunzionali, e il film, grazie al tono scanzonato, agli effetti visivi straordinari e a una pazzesca colonna sonora di successi (terrestri) degli anni Settanta e Ottanta, è assolutamente imperdibile, sia per il pubblico affezionato del MCU, sia per i neofiti.
Karen Gillan interpreta Nebula, figlia adottiva e alleata del villain Thanos. Per il ruolo, l'attrice ha dovuto rasarsi completamente la testa e sottoporsi a un grande lavoro di make up, dato che il suo personaggio ha la pelle blu.
Purtroppo la mia competenza a livello fumettistico è decisamente inferiore a quella cinematografica perciò, se tra i lettori ci fosse qualche esperto sui Guardiani della Galassia, o sui fumetti Marvel in generale, si senta libero di lasciare un commento o di approfondire il discorso!