Jenna-Louise Coleman nasce il 27 aprile 1986 a Blackpool, in Inghilterra, figlia di Karen e Keith e sorella di Ben. Frequenta la Arnold School ed entra a far parte della compagnia teatrale In Yer Space, con cui si esibisce all'Edinburgh Festival nello spettacolo Crystal Clear, vincendo anche un premio. Nel 2005, mentre affronta diversi provini per scuole di recitazione, ottiene il ruolo di Jasmine Thomas nella soap opera britannica Emmerdale, per cui riceve numerose nomination per svariati premi. Esce dal cast nel 2009 per recitare nella serie Waterloo Road, in cui interpreta un'adolescente ancora in età scolastica, esperienza che l'attrice, all'epoca ventitreenne, definisce "surreale". nel 2011 debutta al cinema in un piccolo ruolo nel film Captain America: The First Avenger e doppia un personaggio del videogioco Xenoblade Chronicles. L'anno successivo lavora nell'adattamento del romanzo di John Braine Room at the Top, trasmesso in due parti, e nella miniserie in quattro puntate Titanic. Nel 2013 appare nella serie Dancing on the Edge e nell'adattamento di Death Comes to Pemberley, trasmesso a Natale.
Sostiene le audizioni per diventare la nuova companion in Doctor Who in totale segreto, fingendo di fare dei provini per "Men on Waves" (anagramma di "Woman Seven", dato che è il casting per la protagonista femminile a partire dalla settima stagione). Viene scelta da Steven Moffat perché lavora molto bene al fianco di Matt Smith e perché riesce a parlare ancora più velocemente di lui. La sua presenza nel cast nei panni di Clara Oswald è annunciata nel marzo del 2012.
Anche se ufficialmente tutti attendono il suo debutto nell'episodio di Natale, a metà stagione, l'attrice appare a sorpresa nel primo episodio, in cui interpreta Oswin Oswald, un personaggio che muore al termine della puntata. In seguito alla sua performance nell'episodio viene votata Best Female Guest Star per la prima parte della stagione dai lettori di Doctor Who Magazine.
Nello speciale natalizio ritorna, come annunciato, ma nel ruolo di Clara Oswin Oswald, una governante vittoriana, e muore nuovamente. Solo negli ultimi minuti appare finalmente nei panni di Clara Oswald, nella Londra dei giorni nostri. Il mistero delle molteplici versioni di Clara viene in seguito svelato, e Jenna rimane nel cast a fianco di Matt Smith nel corso dello speciale per il cinquantenario della serie e in quello di Natale 2013, in cui il Dottore si rigenera.
Insieme a Peter Capaldi, il Dodicesimo Dottore, recita nell'ottava e nella nona stagione, al termine della quale sceglie di lasciare Doctor Who per poter lavorare nella serie ITV Victoria, del 2016.
Sempre nel corso di quest'anno recita in un episodio di Thunderbirds Are Go e nel film Me Before You.
L'attrice, che all'inizio utilizzava a livello professionale il suo nome completo, nel 2013 decide di ridurlo in Jenna Coleman, dato che fan e giornalisti avevano cominciato a rivolgersi a lei chiamandola Jenna-Louise, e le suonava strano, perché nessuno dei suoi conoscenti aveva mai utilizzato il suo nome per esteso.
Nel 2012 comincia una relazione con l'attore Richard Madden.
Jenna è ambasciatrice del One To One Children's Fund, con cui collabora per diffondere informazioni per prevenire e curare l'HIV in Sudafrica.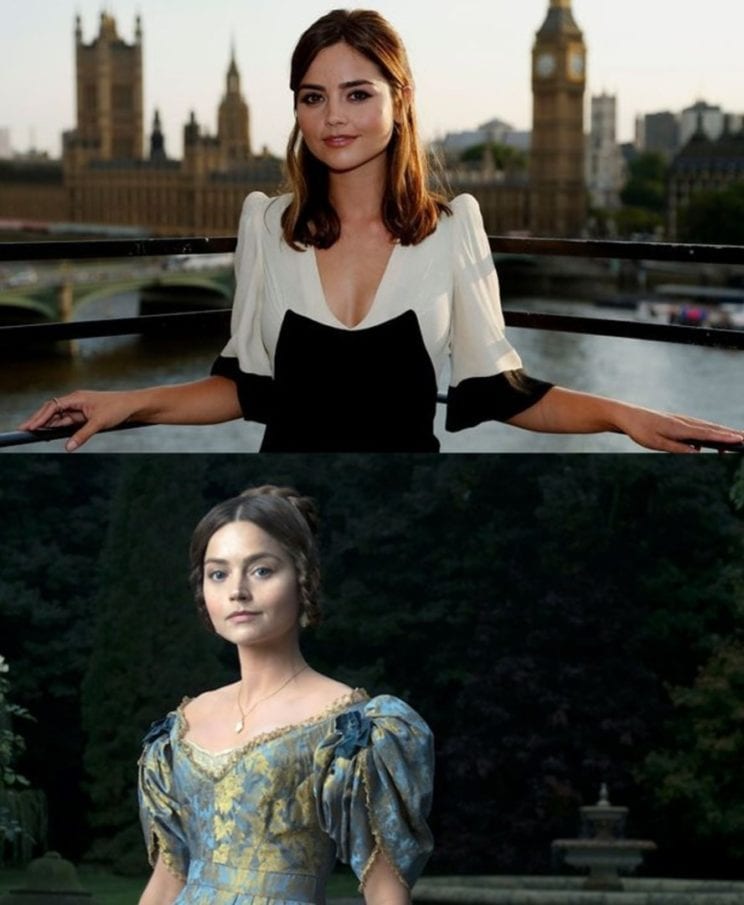 Consigli di visione: Victoria (2016).
È il 1837 e Alexandrina Victoria, appena diciottenne, diventa Regina del Regno Unito. Ancora non lo sa nessuno, ma i suoi 63 anni di regno saranno un periodo di profondo cambiamento e sviluppo per la Gran Bretagna, tanto da essere definiti a posteriori come una vera e propria era, quella Vittoriana, appunto. La serie tuttavia preferisce concentrarsi sui primi anni di governo della Regina: i suoi primi contatti con la politica, il dover imparare a regnare, il passaggio da un'infanzia protetta all'età adulta, l'essere circondata da una serie di nobili, politici e ministri sempre pronti a consigliarla, alcuni effettivamente per il suo bene, altri per cercare di manovrarla. Viene anche mostrato l'innamoramento per Albert, il matrimonio con lui, e le difficoltà di dover coniugare il ruolo di moglie e (futura) madre con quello di sovrana.
Oltre alla vita di Victoria, la serie si concentra anche sulle vicende che coinvolgono chi la circonda, dai famigliari fino ai domestici (tra cui possiamo trovare anche Eve Myles, Gwen Cooper in Torchwood), fornendo un quadro molto ricco e accurato della vita nella Londra dell'Ottocento.
Jenna Coleman interpreta la protagonista Victoria, ruolo per cui ha svolto un minuzioso lavoro di ricerca, affermando in seguito la sua ammirazione per la sovrana. L'attrice ha anche spiegato di aver scelto di interpretarla perché costituisce un totale cambiamento rispetto ai suoi personaggi precedenti, quasi sempre ragazze contemporanee della classe lavoratrice provenienti dal nord dell'Inghilterra.
Victoria ha ottenuto responsi positivi ed è stata rinnovata per una seconda stagione, nel 2017, a cui seguirà anche uno speciale natalizio.