Nel film TV An Adventure in Space and Time (che, ricordo, narra della genesi di Doctor Who), David Bradley interpreta William Hartnell, il Primo Dottore. Bradley non è nuovo alla serie, dato che poco tempo prima era apparso nella puntata Dinosaurs on a Spaceship… ma scopriamo qualcosa in più su di lui!
David John Bradley è nato a York il 17 aprile 1942 e ha frequentato la Catholic St George's Secondary Modern School, facendo anche parte del coro. Ha cominciato a recitare in alcuni musical con un club giovanile, poi nel 1966 si è trasferito a Londra per studiare alla Royal Academy of Dramatic Art. Ha lavorato per la Royal Shakespeare Company e per la National Theatre Company a partire dagli anni Settanta, vincendo anche un Olivier Award nel 1991 come miglior attore non protagonista in una produzione di King Lear.
Ha lavorato molto anche in televisione, ad esempio nelle serie Our Friends in the North (1996), The Way We Live Now (2001), Blackpool (2004, in cui possiamo trovare anche David Tennant e David Morrisey), The Strain (2014- ), anche se molti lo ricorderanno di certo come Walder Frey in Game Of Thrones (2011- ).
Un altro dei suoi ruoli iconici è il custode di Hogwarts Argus Filch (Gazza, nella versione italiana), nei film di Harry Potter. Al cinema è apparso anche in Captain America (2011), Hot Fuzz (2007) e The World's End (2013).
È appassionato di calcio, e tifa per lo York City e l'Aston Villa. È il president del Second Thoughts Drama Group, che si esibisce in Stratford-upon-Avon e dintorni. Nel 2012 è stato premiato con un Honorary Doctorate dall'Università di Warwick.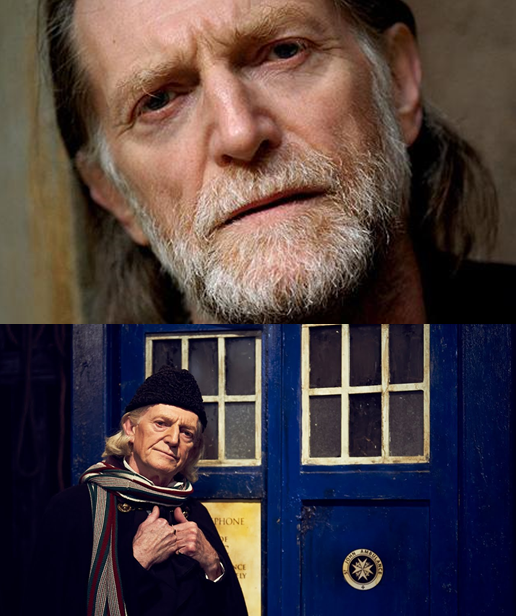 Consigli di visione: Broadchurch (2013- ). In una tranquilla località marittima, di quelle dove tutti conoscono tutti e non succede mai nulla, l'esistenza quotidiana viene scossa dall'omicidio di un ragazzino, Danny Latimer. A indagare sul fatto sono due detective, uno appena arrivato a Broadchurch, l'altra ben inserita nella comunità (la vittima era il migliore amico di suo figlio). È ovvio che l'assassino sia qualcuno che vive in paese e, durante le indagini, la vita di ognuno verrà indagata e stravolta, ogni segreto messo a nudo.
Broadchurch è una serie dura e drammatica, di forte realismo, in cui le indagini sono ben amalgamate con le reazioni della comunità all'omicidio, dalla famiglia della vittima, fino ai semplici conoscenti.
Per ora composta da due serie, è stata rinnovata per una terza, che io personalmente attendo con ansia, perché considero Broadchurch uno dei migliori prodotti televisivi britannici degli ultimi anni.
È una legge universalmente riconosciuta che ogni attore di Doctor Who, prima o poi, finisca in Broadchurch. No, ovviamente non è vero, però la quantità di attori e attrici che hanno recitato in entrambe le serie è piuttosto sorprendente. E non solo! L'autore della serie è Chris Chibnall, sceneggiatore di diverse puntate di Doctor Who e Torchwood. Il protagonista maschile è David Tennant, il "nostro" Decimo Dottore, che qui interpreta il detective Alec Hardy. Olivia Colman è la sua collega Ellie Miller, e i più attenti la potranno ricordare come uno dei volti del Prigioniero Zero. Altri attori sono Arthur Darvill, ovvero Rory Williams e, a partire dalla seconda serie, Eve Myles e Lucy Cohu, rispettivamente Gwen Cooper e Alice Carter in Torchwood. Al nutrito gruppo si aggiunge ovviamente David Bradley, che nella prima serie interpreta Jack Marshall, l'edicolante del paese dal passato misterioso, arrivato a Broadchurch per rifarsi una vita. Per la sua interpretazione, l'attore ha vinto nel 2014 un BAFTA come Miglior Attore Non Protagonista.