Christopher nasce il 16 febbraio 1964 a Salford, nel Lancashire, in una famiglia proletaria formata da Elsie, Ronnie e dai loro figli gemelli Alan e Keith, di otto anni. Eccleston frequenta la Joseph Eastham High School, per poi appassionarsi alla recitazione e proseguire gli studi al Performance Foundation Course e alla Central School of Speech and Drama. Concluso il periodo scolastico, non incomincia subito a recitare, intraprendendo vari lavori. Debutta a 25 anni a teatro in A Streetcar Named Desire.
L'attore comincia a farsi notare in serie TV come Let Him Have It (1991) Friday on my Mind (1992), Cracker (1993–94). Recita in seguito in Hearts and Minds (1995), Our Friends in the North (1996), per cui riceve numerosi riconoscimenti, Clocking Off (2000), Flesh and Blood (2002), per cui gli viene assegnato il premio come Miglior Attore dalla Royal Television Society, Hillsborough (1996), un adattamento in chiave moderna di Othello, in cui interpreta Iago, e The Second Coming (2003).
A teatro partecipa a spettacoli quali Hamlet, Electricity e Miss Julie.
Per il cinema recita in Shallow Grave (1994), Jude (1996), Elizabeth (1998), A Price Above Rubies (1998), eXistenZ (1999), Gone in 60 Seconds (2000), The Others (2001), The Invisible Circus (2001), 24 Hour Party People (2002) e 28 Days Later (2002).
Eccleston è uno degli attori considerati per il ruolo dell'Ottavo Dottore nel film degli anni Novanta, per poi ritrovarsi a interpretare il Nono nel reboot della serie del 2005. È lui stesso a proporsi come possibile protagonista, non tanto per la serie in sé, di cui non è particolarmente fan, bensì per l'ammirazione nei confronti di Russel T. Davies. Al suo annuncio ufficiale come Dottore segue, appena pochi giorni dopo, la notizia che si tratterrà per una sola stagione, per non rimanere incastrato nel personaggio. In interviste successive, l'attore afferma che, pur essendo onorato di aver interpretato il ruolo, le sue esperienze sul set non sono state del tutto positive. In ogni caso, il suo lavoro sul personaggio è ampiamente apprezzato, tanto da portarlo a vincere il premio come Most Popular Actor ai National Television Awards del 2005.
Pur avendo la possibilità di tornare nella serie per lo speciale del 2013, l'attore declina l'offerta e, per sostituirlo, viene creato il personaggio del War Doctor, interpretato da John Hurt. Eccleston appare comunque brevemente nell'episodio tramite immagini di repertorio.
Dopo la sua esperienza in Doctor Who, l'attore continua a lavorare sia per il cinema, che per la televisione, che per il teatro, per cui appare in qualità di narratore in una produzione di Romeo and Juliet, nel 2006, con la compagnia Celebrity Pig, da lui sponsorizzata, formata da attori disabili. Nel 2012 recita in Antigone.
Nel 2006 appare nella serie Perfect Parents e, l'anno successivo, in un episodio di Heroes. Nel 2010 interpreta John Lennon nella miniserie Lennon Naked, insieme a Naoko Mori (Toshiko Sato di Torchwood), nei panni di Yoko Ono, e ad Andrew Scott (Jim Moriarty di Sherlock), in quelli di Paul McCartney. Lo stesso anno è protagonista del primo episodio della serie antologica Accused, per cui vince un Emmy Award. Si possono ricordare altre sue apparizioni in The Shadow Line (2011), Blackout (2012) e The Leftovers (2014).
Nel frattempo, recita anche nei film The Seeker (2007), New Orleans, Mon Amour (2008), G.I. Joe: The Rise of Cobra (2009) e Thor: The Dark World (2013).
Christopher è stato sposato con Mischka dal 2011 al 2015. La coppia ha avuto due figli: Albert ed Esme. L'attore supporta la British Red Cross e molte opere benefiche, in special modo per quanto concerne la ricerca su Alzheimer e altre forme di demenza, dato che suo padre ne ha sofferto.
È tifoso del Manchester United.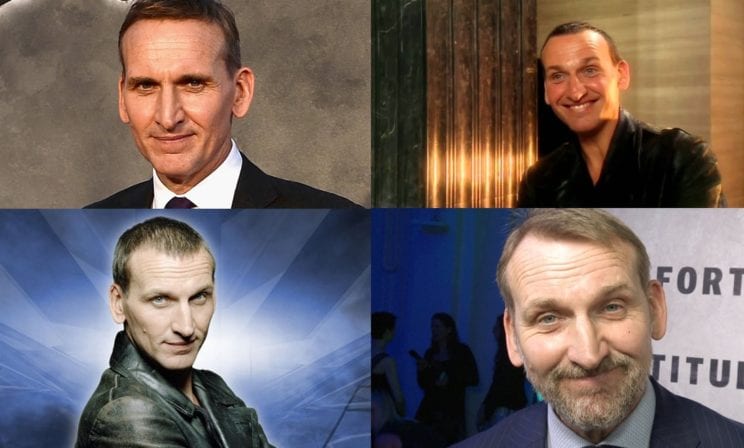 Consigli di visione: 28 Days Later (2002).
Londra è invasa dagli zombie. Ok, già solo questo dovrebbe farvi venir voglia di mollare tutto e correre a vedere il film. Nel caso in cui non vi avessi ancora convinto, aggiungo che il regista è Danny Boyle, e che il cast è formato da attori del calibro di Cillian Murphy, Naomie Harris, Brendan Gleeson e, appunto, il "nostro" Christopher Eccleston. In un'Inghilterra devastata in pochi giorni da un'epidemia che trasforma gli uomini in mostri assassini e rabbiosi, i pochi superstiti devono cercare di sopravvivere come e dove possono, senza rischiare di farsi uccidere, o contagiare. Eccleston interpreta il Maggiore Henry West, ambiguo capo di un gruppo di soldati sopravvissuti. La sua apparizione avviene solo nella seconda metà della pellicola, ma il suo ruolo è piuttosto importante. Il film è decisamente classificabile come un horror, con parecchie scene splatter, per cui consiglio sempre cautela nella visione a chi non si sentisse a proprio agio con questo genere. Detto ciò, i dettagli più truculenti sono comunque affiancati da una trama solida e da un ottimo lavoro registico. Il film ha anche un seguito, 28 Weeks Later, del 2007.