Leian Paul Piper nasce a Swindon, nel Wiltshire, il 22 settembre 1982. Dopo nemmeno un anno, i suoi genitori Paul Victor Piper e Mandy Kane Kent decidono di cambiare legalmente il suo primo nome in Billie. La coppia avrà poi altri tre figli: Charley, Harley ed Elle.
Billie studia alla Sylvia Young Theatre School e alla Bradon Forest School, e comincia la sua carriera nel mondo dello spettacolo quando è ancora molto giovane, nel programma per bambini Scratchy & Co, e poi apparendo in una pubblicità del giornalino Smash Hits. A quindici anni le viene offerto un contratto discografico e il suo primo singolo, Because We Want To, raggiunge presto la prima posizione delle classifiche britanniche. Anche il successivo album, Honey to the B, ha un grande successo, e Billie vince il premio di Princess of Pop e viene nominata per due BRIT Awards. Nel 2000 esce il secondo album, Walk of Life, che però non ha la stessa fortuna del primo.
Non riuscendo a replicare i successi degli esordi, nel 2003 Billie decide di abbandonare la carriera musicale e di dedicarsi alla recitazione. Negli anni successivi appare nei film The Calcium Kid, Things to do Before You're Thirty e Spirit Trap, oltre a un adattamento in chiave moderna della BBC Much Ado About Nothing, in cui interpreta Hero.
Il successo arriva con il ruolo di Rose Tyler, prima companion del reboot del 2005 di Doctor Who, in cui compare prima a fianco di Christopher Eccleston, il Nono Dottore, e poi di David Tennant, il Decimo. Billie vince il premio Most Popular Actress ai National Television Awards per due anni di fila, viene nominata Face of the Year del 2005, vince il Times Breakthrough Award e il premio come Miglior Attrice ai TV Quick e ai TV Choice Awards. L'attrice lascia la serie alla fine della seconda stagione anche se, insieme allo showrunner Russel T. Davies, ha già programmato un suo ritorno. Rose appare infatti in numerosi camei nel corso della quarta stagione, per poi tornare a tutti gli effetti nelle tre puntate finali, Turn Left, The Stolen Earth e Journey's End. Una piccola apparizione di Rose è anche presente nella puntata finale di David Tennant, The End of Time. Sia Billie Piper che Tennant riprendono i loro ruoli per lo speciale del 2013 The Day of The Doctor, in cui appaiono tra i protagonisti.
Dopo aver lasciato la serie come regular, l'attrice interpreta il ruolo di Sally Lockhart in due film tratti dai romanzi di Philip Pullman, The Ruby in the Smoke (2006) e The Shadow in the North (2007), in cui appare anche Matt Smith. Sempre nel 2007 recita in Mansfield Park e comincia a lavorare in una nuova serie che la vede protagonista, Secret Diary of a Call Girl (2007-2011).  Nel 2010 partecipa alla miniserie A Passionate Woman 2010 e, dal 2014 al 2016, è parte del cast di Penny Dreadful.
Negli stessi anni lavora anche molto spesso in teatro, debuttando sul palcoscenico in Treats (2007), a cui seguono Reasons to Be Pretty (2011-2012), The Effect (2012-2013), per cui riceve una nomination come Miglior Attrice agli Olivier Awards, Great Britain (2014) e Yerma (2016).
A soli diciotto anni, Billie sposa a Las Vegas il DJ, presentatore e uomo d'affari britannico Chris Evans, di sedici anni più vecchio. Il matrimonio dura dal 2001 al 2004 e i due divorziano infine nel 2007, pur rimanendo in buoni rapporti. Lo stesso anno l'attrice sposa il collega Laurence Fox, con cui ha due figli, Winston James, nato nel 2008, e Eugene Pip, nato nel 2012. È stato però recentemente annunciato che i due hanno divorziato.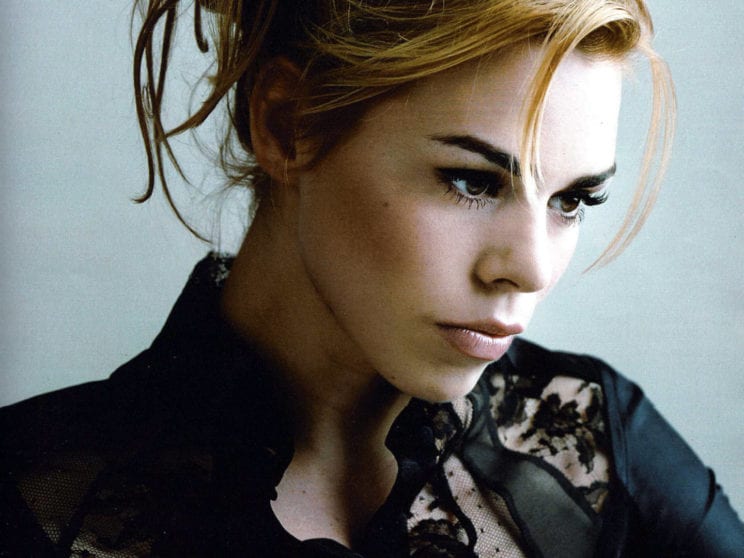 Consigli di visione: Penny Dreadful (2014-2016).
E se i protagonisti dei più famosi romanzi dell'Ottocento fossero reali e vivessero tutti a Londra? Il Dottor Frankenstein e la sua Creatura, Dorian Gray, Dracula… da questa premessa prende vita Penny Dreadful, serie TV composta da tre stagioni, che deve il suo nome alle pubblicazioni periodiche inglesi di racconti e romanzi dell'orrore, e che prova a traslarle in formato televisivo. In Penny Dreadful tutto è esagerato, dagli elementi sovrannaturali, alla violenza, al sesso. Tutto è ridondante, creato per stupire, eppure la serie non si esime da momenti più poetici o riflessivi, in special modo sulla società vittoriana e sulle sue contraddizioni. Le parti visive, come le scenografie, i costumi, la fotografia, sono sempre molto curate, e gli attori – Eva Green, Timothy Dalton, Rory Kinnear, solo per citarne alcuni – sono tutti di altissimo livello. Billie Piper interpreta Brona, una giovane arrivata a Londra in cerca di fortuna, ma che è finita a prostituirsi. Senza svelare alcuni dettagli chiave della serie, posso anticipare che il suo personaggio avrà un'evoluzione imprevista e incredibile.
Per quanto io consigli assolutamente la serie, devo sottolineare che gli elementi horror, splatter e di violenza in generale non mancano, per cui chi non si sente troppo a suo agio con questo genere dovrebbe procedere… con cautela.