THE UNICORN AND THE WASP, DIECI ANNI DOPO
Ecco un episodio di cui mi piace parlare esclusivamente per denigrarlo. La quarta stagione, di cui stiamo celebrando l'anniversario, è sempre stata una delle mie preferite da che sono una Whovian, ma quando si nomina la vespa gigante… parte il mio sproloquio!
Sono rimasta amareggiata quando, guardando l'era del Quinto Dottore, mi sono imbattuta nel serial "Black Orchid" e ho subito gridato al plagio. No, non ci sono insettoni nel serial, ma la vicenda è davvero molto simile, in modo imbarazzante e palese. Più o meno come "Human Nature" con il suo seguito "The Family of Blood" è quasi identico all'omonimo romanzo delle Virgin New Adventures. Ma c'è una differenza: in quel caso l'autore, Paul Cornell, stava adattando il proprio libro. Roba sua, insomma. In secondo luogo, come abbiamo visto nella rubrica #lunedìlibri, le avventure Virgin non sono considerate canon, ma un serial della serie classica lo è eccome. Che dire? In "Time Crash" il Decimo dichiara al Quinto di considerarlo un modello di vita, ma il déjà-vu dev'essere stato comunque molto forte per lui!
Polemiche a parte, "The Unicorn and the Wasp" ci mostra ancora una volta l'incontro con un grande autore letterario. Dopo Wells, Dickens e Shakespeare, troviamo qui la prolifica e brillante Agatha Christie, in un momento delicato della propria vita… il finale, sì, è stato proprio commovente! È ora di riguardare l'episodio per intero!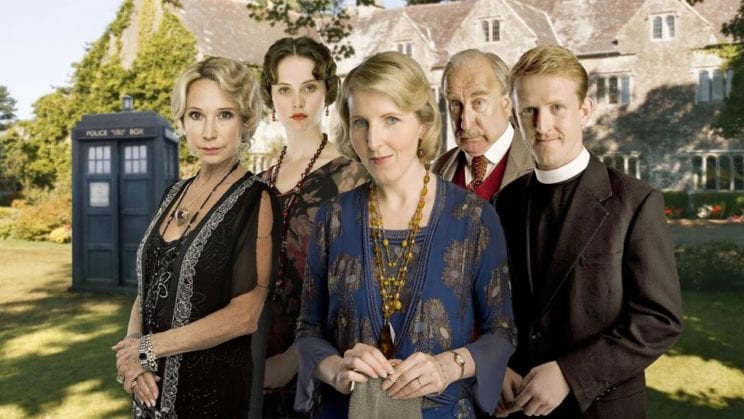 Più tardi…
Bene, ora ve lo posso confessare: non ricordavo più chi fosse la vespa/assassino. Confondendo la trama con quella di "Black Orchid" (non ho cambiato opinione, si somigliano troppo!) ero convinta che il colpevole fosse un altro… e non vi dico chi altrimenti vi spoilererei il serial del Quinto
È stato ancora più bello, quindi, rivivere l'investigazione del trio Dottore-Donna-Agatha come se fosse la prima volta!
Ho amato i flashback durante l'interrogatorio dei sospettati, che mostrano la verità mentre ognuno di loro mente – uno spaccato delle debolezze umane in una società in cui mostrarle è tradizionalmente e severamente vietato.
Mi è venuto un brivido quando il Dottore si mostra entusiasta di investigare insieme ad Agatha, ma lei è orripilata all'idea che qualcuno possa entusiasmarsi quando è appena avvenuto un omicidio. Nonostante il Decimo sia una delle incarnazioni più sensibili ed empatiche del Dottore, lo show ci ricorda che non ragiona come un umano e che a volte avrebbe bisogno di usare dei bigliettini per ricordare le buone maniere. E in ciò ha dei punti in comune non indifferenti con il vespiforme, che ha vissuto sulla Terra per quarant'anni ma non può impedire che la propria vera natura esca allo scoperto.
La figura di Agatha, un'artista piena di talento ma umile e con i piedi ben piantati nella realtà, ci riempie di ammirazione e fa da contrappeso a quella del nostro protagonista, che come Donna rimane per tutto l'episodio nella modalità "fanboy".
Non so voi, ma in questo momento ho voglia di leggermi un suo romanzo…
– Saki