THE FIRES OF POMPEII, DIECI ANNI DOPO
Per questo secondo #throwbackthursday mi sono trovata "Le fiamme di Pompei" tra capo e collo da recensire e mi sono detta "Grandi poteri, grandi responsabilità".
Sì, perché nonostante sia un episodio che non rivedo da secoli, nel frattempo sono stati creati collegamenti sia nel canon che fuori da esso, rendendolo sempre più significativo nel bene e nel male.

Ma andiamo con ordine. Del primo viaggio di Donna Noble come companion ufficiale ricordo per prima cosa il ruolo della matrice di traduzione del TARDIS nel creare situazioni divertenti quando i due usano espressioni latine, e l'accenno al serial "The Romans" in cui il Primo Dottore aveva involontariamente infilato uno zampino nei piani piromani di Nerone.

Ovviamente il finale è ciò che ho tenuto nel cuore, la preghiera di Donna al Dottore perché salvi la famiglia di Caecilius dalla distruzione della città. All'epoca mi sembrava davvero qualcosa di meraviglioso: la ragione per cui il Dottore non dovrebbe mai viaggiare da solo, il "fattore umano" che la presenza di un companion porta con sé, la sublime speranza…

Tutte bubbole, come ci ricordano Russell T. Davies e Steven Moffat; in Torchwood un discendente di Caecilius, John Frobisher, si suicida dopo aver ucciso la sua famiglia. Ecco che il tempo ripara se stesso, il paradosso si richiude. Secoli dopo, quando il Dodicesimo si specchia ritrovando quel volto conosciuto e l'istinto di salvare una giovane vita innocente – quella di Ashildr – la decisione gli si ritorce contro in una sequenza di eventi distruttivi.
Qual è la verità, allora? Come sempre, essa sta nel (giusto) mezzo. Il Dottore è per definizione il salvatore di intere civiltà, il suo TARDIS echeggia di speranza ad ogni suo atterraggio… ma per lui non è sempre facile comprendere i propri limiti, specialmente in questa incarnazione, il cui senso della realtà crollerà definitivamente in "L'acqua di Marte". Come ho detto, la grandezza di questo episodio si percepisce a posteriori, come il minuscolo seme di un albero che un giorno darà ossigeno, ombra, bellissimi fiori e frutti velenosi.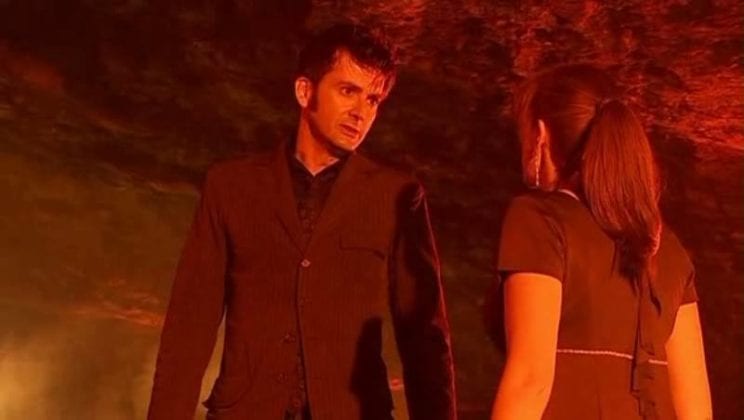 Circa 50 minuti dopo…

È incredibile: credevo di aver dimenticato soltanto la trama principale, il piano dei Pyrovile di convertire la Terra nella loro nuova patria, gli scontri con la sacerdotessa di pietra e Lucius… insomma l'azione vera e propria dell'episodio, che è normalmente difficile mi resti impressa.

Invece mi sono resa conto di aver scordato vere e proprie perle, che quindi mi ha fatto davvero piacere ritrovare.
Innanzitutto, la drammaticità della scena in cui Lucius ed Evelina svelano il passato del Dottore e il futuro di Donna (lo spoiler sull'avere "qualcosa sulla schiena" è fantastico). È davvero una bella sequenza in crescendo.
In secondo luogo, il Dottore che riesce a cambiare in positivo il rapporto fra il giovane Quintus e i suoi genitori, che l'hanno sempre messo in secondo piano rispetto ad Evelina. Incoraggiare i giovani ad esprimere le proprie potenzialità e rassicurarli sulle emozioni che provano è uno dei punti chiave della serie, dopotutto. Decisamente un messaggio ben espresso.

Infine, dopo questo rewatch sento che le tragedie che accadranno, paradossi e profezie e immense sofferenze, arretrano un poco di fronte alla decisione di Donna nel momento decisivo: spingere insieme al Dottore quella leva, condividere la responsabilità – e non la colpa – di un futuro già scritto. È una scena che mi tocca personalmente in questa fase della vita e per un attimo, in quella scena, ho afferrato il segreto del "diventare adulti". Poi l'attimo è passato, non vi preoccupate…

– Saki