SILENCE IN THE LIBRARY/FOREST OF THE DEAD, DIECI ANNI DOPO
31/04/2018
Quando avevo quattro o cinque anni, d'estate andavo in montagna con i nonni, che affittavano un alloggio in un condominio con un cortile enorme, perfetto per giocare. Di sera era illuminato da lampade e lampioni messi in vari punti, per cui qualsiasi cosa e persona aveva almeno due ombre, particolare che all'inizio mi aveva riempita di stupore perché hey, l'ombra non è solo una?
Questo vago ricordo infantile mi viene in mente ogni volta che penso a questo doppio episodio, in cui le ombre che si sdoppiano perdono la meraviglia legata all'infanzia e diventano più cupe, minacciose. L'ho visto per la prima volta nel 2012, e sono sicura di averlo riguardato almeno un'altra volta (se non due), poco tempo dopo, anche se in generale sono passati anni dall'ultima visione, per cui ovviamente ci sono elementi che non ricordo bene.
È forse il primo episodio in cui si crea un collegamento evidente tra "l'era Davis" e "l'era Moffat", nella persona di River Song, qui alla sua primissima apparizione. Trovo che sia stato geniale introdurre un personaggio chiave per le storyline future con una stagione di anticipo, facendolo "uscire di scena" subito in un modo spiazzante, solo per poi farlo ritornare sfruttando in modo ingegnoso le infinite possibilità che uno show sui viaggi nel tempo offre.
In un certo modo, anche Alex Kingston è un richiamo alla mia infanzia, dato che ha recitato per anni in E.R. (anche se forse non l'avevo riconosciuta subito).
Avendo visto l'episodio con quattro anni di ritardo, quando ormai anche la sesta stagione era già uscita, probabilmente sapevo già qualcosa della storia di River Song, ma il suo debutto mi aveva comunque colpita; la sua sicurezza, il suo modo di comportarsi nei confronti del Dottore… è una delle poche volte in cui vediamo un personaggio che si pone come suo pari, in alcuni momenti anche come un superiore e, se da una parte è affascinante vedere il Dottore leggermente in soggezione, dall'altra mi sono sentita in soggezione con lui.
Se ripenso alla trama dell'episodio ho parecchi vuoti e credo, alla fine, che mi siano rimaste in testa più che altro le sensazioni che mi ha suscitato: la bellezza del pianeta biblioteca, l'orrore dei Vashta Nerada, un nemico che non puoi vedere, l'inquietudine del mondo virtuale in cui vengono "salvate" le persone.
Era una storia con un cast piuttosto ampio, con parecchie guest star di una certa importanza tra cui, andando a memoria, ricordo Talulah Riley, Steve Pemberton e Colin Salmon.
Non indugio oltre, e comincio il rewatch!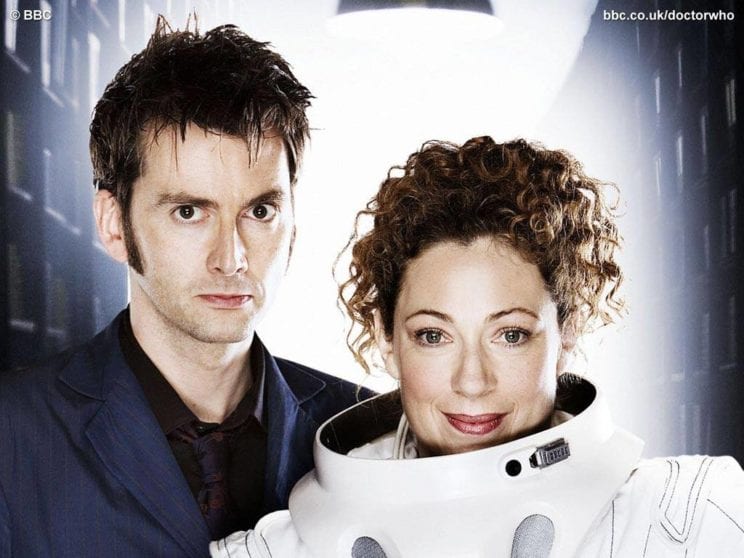 DUE ORE DOPO
WOW. È uno di quei doppi episodi di cui puoi davvero apprezzare la durata perché, se già una "semplice" avventura nella biblioteca più grande dell'universo contro i Vashta Nerada sarebbe una storia emozionante, aggiungendo anche le sottotrame di CAL, la bimba computer, e delle persone "salvate", diventa semplicemente epica.
Il rapporto tra una River del futuro e un Dottore troppo giovane è struggente già così, ma visto a posteriori si carica ancora di più di gravità drammatica (…ho pianto. Ovviamente ho pianto. Anche i Dalek piangono). Pur nel breve tempo insieme, è comunque già visibile un notevole cambiamento del Dottore nei suoi confronti, non solo perché sa già che River sarà in qualche modo importante nel suo futuro, ma anche per ciò che condividono nel suo presente. C'è da dire che la performance di entrambi gli attori è al top, Tennant in particolare regala una delle sue migliori interpretazioni nella serie.
Anche Catherine Tate è bravissima, specialmente nel secondo episodio, in cui ha modo di brillare. Le scene in cui fa di tutto per tenere vicini i suoi bambini – nonostante sappia che sono fittizi – per poi vederli sparire, sono strazianti (e il concetto di base viene poi ripreso, in modo ancora peggiore, in A Good Man Goes to War). In generale, sono moltissimi i rimandi a episodi di serie successive… e sarebbe curioso sapere effettivamente quanto Moffat avesse già in mente della storia di River, e quanto abbia inventato in seguito.
È comunque incredibile vedere quanti elementi introdotti in questa puntata siano poi diventati dei "classici" della serie: il momento incredibilmente epico del Dottore che per la prima volta apre il Tardis schioccando le dita, tutti gli "Spoilers", "Hello Sweetie", "Hey, who turned off the lights"… e così via.
È un episodio che non solo ha resistito al passare del tempo, ma è anche invecchiato benissimo! Di certo è uno dei miei preferiti dell'era Tennant.
E allora… buon decimo compleanno, River Song. E buon compleanno Biblioteca.
-Dalek Oba-