PARTNERS IN CRIME, 10 ANNI DOPO!
05/04/2018
Partners in Crime, in Italia Adipose Industries, è il primo episodio della quarta stagione di Doctor Who, e vede l'ingresso di Donna Noble come companion "a tempo pieno". L'ho visto per la prima volta nel 2012, e sinceramente non ricordo di averlo mai riguardato… escluse forse un paio di scene quanto era ancora su Netflix.
Le cose che mi ricordo non sono moltissime… grazie all'internet ho ovviamente ben impressa la scena in cui Donna e Ten comunicano in silenzio da due finestre, e quella in cui gli Adipose salutano mentre salgono verso un'astronave. Almeno, CREDO che fosse un'astronave. A proposito, questo è l'unico episodio con gli Adipose (escluso il cameo in The End of Time), che però sono diventati famosissimi!
Ricordo bene che c'era una "cattiva" alla base della creazione degli Adipose dal grasso delle persone… ma non ho idea di quale fosse il suo piano malvagio. E la scena della donna che si "scioglie" in tanti Adipose mi aveva fatto un po' impressione…
Infine, mi ricordo ovviamente del ritorno di Wilfred Mott… e di quello di Rose Tyler!!! E che Donna ha portato TANTISSIME valige nel Tardis.
Ecco, direi che è tutto. Otto anni fa l'episodio mi era piaciuto molto, vediamo quali saranno le mie impressioni dopo averlo riguardato!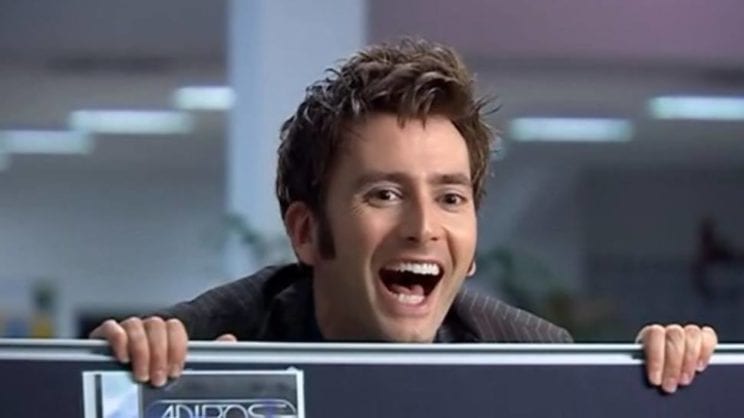 …50 minuti circa più tardi…
Beh, che dire, wow! Probabilmente mi è piaciuto di più adesso, visto con calma, che a una prima visione, fatta con l'ansia del binge watching.
È un episodio che mette al centro Donna, e al personaggio fa certamente bene il passaggio da guest star a coprotagonista, le dà più respiro e più tempo per esprimersi al meglio. Non mi ricordavo però che apparisse subito anche il Dottore, e che i due facessero sostanzialmente le stesse cose negli stessi posti, senza però mai incrociarsi per mezzo episodio. I tempi comici sono ottimi e la gag ricorrente di loro due che continuano a mancarsi per una questione di secondi non stanca… anche perché si dà in ogni caso per scontato che prima o poi si incontreranno.
Partners in Crime ha una struttura quasi da serie tv poliziesca, visto che in fondo narra di un'indagine, e Donna, che arriva praticamente alle stesse conclusioni del Dottore senza i suoi mezzi e la sua esperienza, armata solo di internet e di un vecchio badge, è davvero brillante!
Un altro particolare che non ricordavo, ma che forse col senno di poi ho notato subito, è come siano da subito gettate le basi di quella che sarà la trama orizzontale della stagione: oltre alla già citata Rose, si parla di api e pianeti che spariscono, e del Proclama Ombra.
Gli Adipose… beh, sono sempre adorabili. E, come dice il Dottore, non è colpa loro come sono nati. Certo, a livello puramente teorico liberare le persone dal grasso in eccesso per dare la vita a dei piccoli alieni è un piano che mette d'accordo tutti… peccato che la "tata malvagia" decida di sterminare ogni testimone.
In sintesi, l'episodio ha tutto ciò che si può chiedere a un inizio di stagione: introduce bene i personaggi principali (che in questo caso erano già tutti apparsi in precedenti puntate), getta le basi per la trama orizzontale, ha una storia brillante e leggermente inusuale per gli standard di Doctor Who e, soprattutto, non dà subito tutte le risposte.
La mia analisi è terminata! Giovedì prossimo viaggeremo fino a Pompei, ma attenzione: è il giorno del vulcano!
-Dalek Oba-