THE WOMAN WHO FELL TO EARTH, recensione di Dalek Oba
Non aspettavo così tanto un episodio di Doctor Who dai tempi del cinquantesimo anniversario. Perfino i miei genitori erano in attesa. Non li vedevo così presi dal Dottore da… no, ok, non erano mai stati COSI' presi dal Dottore.
L'episodio ha soddisfatto le aspettative? Sì. È piaciuto ai miei genitori? Assolutamente sì! È piaciuto a me? TANTISSIMO.
La trama è oggettivamente semplice, ma va bene così. Intendiamoci, sono una delle maggiori estimatrici dei "Timey Wimey" moffattiani ma, con Chris Chibnall, mi aspettavo – e volevo – qualcosa di completamente diverso. E non sono stata delusa. È la prima volta che conosco già bene i lavori di uno showrunner prima di vederlo all'opera con Doctor Who (di Moffat e Davies avevo visto qualcosa, ma ben poco), per cui avevo delle vaghe idee su come avrebbe potuto sviluppare la storia. Qualcosa l'ho indovinato… molto altro mi ha lasciata sorpresa, cosa di cui sono felice.
Una trama senza orpelli comunque permette di sviluppare altri elementi, in questo caso i personaggi. So che è già stato detto in altre recensioni, ma voglio ribadirlo: Chibnall è letteralmente magico nel costruire i suoi personaggi. Già a una seconda visione mi sono sentita affezionata a tutti… TUTTI, perfino colui che l'internet ha soprannominato "Salad Guy" e che ha circa 30 secondi di screentime.
Credo che parlerò diffusamente dei protagonisti in recensioni future, qui mi limito a dire quanto mi sia piaciuto vederli interagire tra loro. Se la puntata fosse stata composta semplicemente da un'ora di loro chiacchiere davanti a una tazza di tè, mi sarei divertita un sacco lo stesso.
…sono al quarto capoverso e non ho ancora parlato di Jodie Whittaker. Rimedio subito. Non mi era mai successo di entrare in sintonia con il nuovo Dottore così in fretta. Ci ho messo letteralmente cinque secondi. Da quanto atterra nel treno a quando pronuncia la prima battuta (non so se siano esattamente cinque, non li ho contati). Jodie Whittaker è talmente "dottoresca" che non riesco nemmeno a paragonarla a qualche rigenerazione del passato: è qualcosa di totalmente nuovo, eppure si capisce subito che è il solito vecchio Dottore, che dopo aver cambiato faccia dovrebbe mettersi a letto tranquillo… e invece trova subito qualche torto da raddrizzare.
Benvenuta Jodie, benvenuti tutti quanti. Non vedo l'ora che sia di nuovo domenica.
NOTE SPARSE:
– Quando vado a fare shopping con le amiche, di solito io sono quella che sta fuori dal camerino, dà consigli e aiuta a cercare altre taglie, altri colori, altri modelli… per cui, Yaz, ti capisco e sono con te.
– Restando sul tema abbigliamento, mia madre ha lo stesso cappotto di Grace.
– Salad Guy, sei stato breve ma intenso. Sappi che sei già un meme.
– Ehm… Tardis, dove sei???
– Il trailer finale con i nomi delle future guest star mi ha esaltata tantissimo!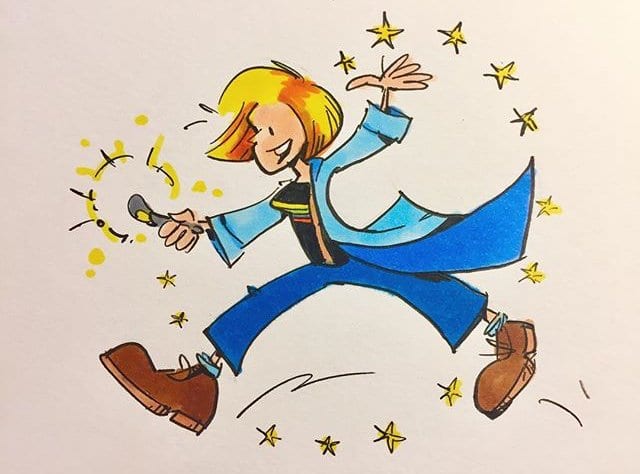 disegno di Russell T Davies