ROSA, recensione di Dalek Oba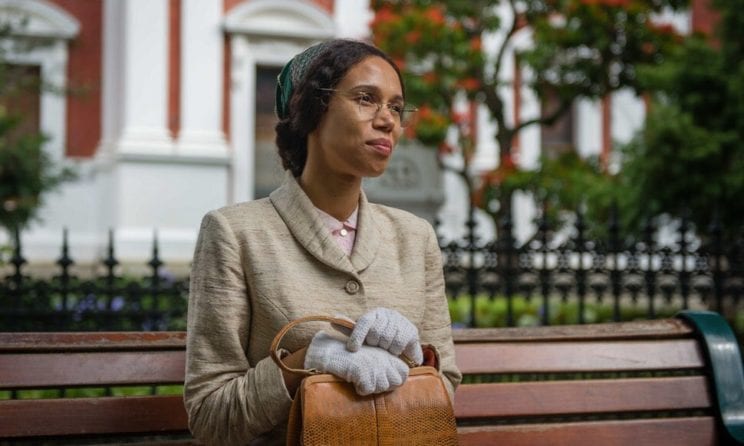 C'è questa scena, alla fine dell'episodio. Anzi, c'è LA scena, quella che abbiamo atteso per 40 minuti. Rosa Parks viene portata via dagli agenti… e sorride. Ha l'espressione serena di una persona che sa di essere nel giusto, non importa ciò che dice la legge. Non importa quello che pensano gli altri. Rosa cammina a testa alta.
Nel frattempo, il Dottore è sull'autobus, immobile, e prova vergogna. Perché la donna che ripara i torti e "ristabilisce il fair play nell'universo" nulla ha potuto fare contro le crudeli leggi del Tempo. Per far sì che il passato non cambiasse, è dovuta venir meno ai suoi stessi principi, a ciò che era giusto fare, obbligando i suoi nuovi amici a fare lo stesso. Il Dottore compie le scelte impossibili quando nessun altro può farlo, e viaggiare con lei comporta anche questo.
Nelle opere di fantascienza spesso siamo di fronte a una qualche società del futuro – o di un presente alternativo – con caratteristiche palesemente distopiche, mostrate apposta per metterci i brividi. In Rosa la sensazione era la stessa, però non si trattava di un'invenzione. Quel passato orribile è esistito davvero, e l'orrore viene amplificato da chi vorrebbe vederlo tornare, come il villain dell'episodio, Krasko, che viene dal futuro ma è umano.
E non è un caso che lo scontro finale sia tra lui e Ryan, umano contro umano, mentre il Dottore si limita monitorare che la Storia venga rispettata, e a parlare con Krasko in due scene che, per movenze e inquadrature, non possono non ricordare i duelli western, con il buon cavaliere nomade dal cappotto svolazzante che affronta il cattivo senza possibilità di redenzione.
Le leggi razziali sono rappresentate senza filtri, in tutta la loro stupidità, esemplificata dal caso di Yaz: a quanto pare ha la pelle troppo scura per mangiare al ristorante, ma abbastanza chiara per sedersi davanti sul bus. E nessuna dubita mai del fatto che sia… messicana.
Rosa è Doctor Who al suo meglio, un amalgama perfetto di intrattenimento, storia, poesia e insegnamento. È una miscela in cui tutto è bilanciato e funziona, anche se un particolare plauso va alla sceneggiatrice Malorie Blackman e a Vinette Robinson, che interpreta una Rosa Parks semplicemente splendida.
È uno di quegli episodi che andrebbero visti a prescindere, che si segua o meno la serie, perché è necessario conoscere gli errori del passato, per non ripeterli.
Per questo mi sembra giusto proporre, a chi volesse approfondire la propria conoscenza sul periodo storico, una breve filmografia. Sono tutti titoli piuttosto recenti, nonché interessanti.
The Help (2011), una storia fittizia ma ambientata in un contesto storico decisamente realistico, mostra le vicende di alcune domestiche afroamericane assunte nelle case dei bianchi.
Hidden Figures (2016) è invece la storia vera, seppur leggermente romanzata, delle matematiche e scienziate di colore che lavoravano alla NASA durante la corsa allo spazio.
Loving (2016), sulla legge che proibiva i matrimoni tra le coppie interrazziali.
Mudbound (2017), sul rapporto tra due famiglie, una bianca e una nera, nel secondo dopoguerra. Particolarmente realistico, ma anche estremamente crudo.
Blackkklansman (2018), la storia vera di un poliziotto afroamericano che, negli anni '70, riuscì a infiltrarsi nel Ku Klux Klan. In Italia è uscito circa un mese fa, per cui si può ancora trovare al cinema.
Infine, se siete interessati allo stesso periodo storico, ma in UK, vi consiglio la serie The Hour (2011-2012).
P.S. Credo che la canzone che si è sentita verso la fine dell'episodio fosse qualcosa di speciale, per cui la metto qui.