CLASS S01E01, FOR TONIGHT WE MIGHT DIE / S01E02, THE COACH WITH THE DRAGON TATTOO.
24/10/2016
Whovians in astinenza dal Dottore dallo scorso Natale, so che il prossimo 25 dicembre è ancora lontano ma, forse, posso proporvi una soluzione temporanea: Class.
Come penso sappiate tutti, è il nuovo spin-off di Doctor Who ed è cominciato lo scorso sabato, con le prime due puntate su otto totali. Per quanto io mi sia avvicinata alla serie con un cauto ottimismo, supportato dal trailer e dalle prime anticipazioni, ciò che ho visto ha di gran lunga superato le mie aspettative. Per farla breve: le prime due puntate mi sono piaciute in modo pazzesco.
Quindi, tutto quello che scriverò qui sotto sarà per provare a convincervi a guardare Class. Chi non lo avesse ancora visto non si preoccupi: NON CI SARANNO SPOILER DETTAGLIATI su trama, personaggi o altro, al massimo qualche vago accenno. Detto ciò, comincio con la recensione vera e propria.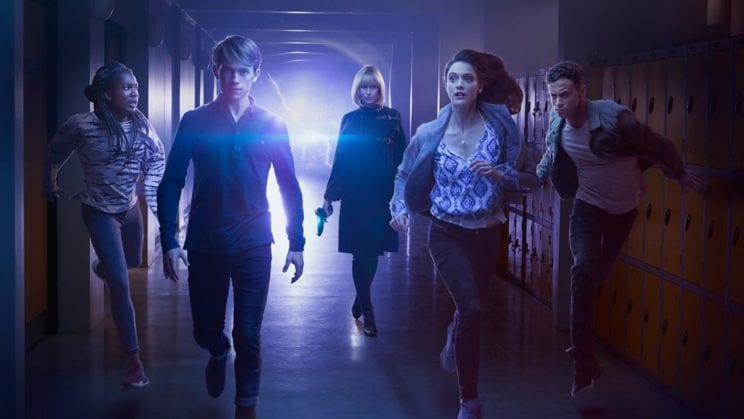 Class è ambientato alla Coal Hill Academy, luogo già noto in Doctor Who fin dalla prima puntata della serie classica: ci studiava Susan, la nipote del Primo Dottore, e vi insegnavano Barbara e Ian, i suoi primi companion. In tempi più recenti anche Clara è diventata una professoressa della scuola, che abbiamo visto quindi apparire in diversi episodi, soprattutto in The Caretaker, in cui il Dottore si improvvisa bidello. In Class ci si concentra meno sui professori e più sugli studenti, in particolare su quelli dell'ultimo anno delle superiori. L'età media dei protagonisti non determina però a mio parere un'equivalente età media degli spettatori: guardando i primi due episodi, Class mi è sembrato un prodotto maturo e adatto alla visione da una fascia d'età adolescenziale in su. La trama è solida, i personaggi ben delineati ma non stereotipati, gli effetti speciali usati con parsimonia ma davvero buoni e c'è un livello di violenza addirittura superiore a quello della serie madre: c'è del sangue, e ce n'è un bel po'.
Rendendo la trama all'osso, si potrebbe semplicemente dire che un gruppo di studenti, più la professoressa Quill, viene incaricato di proteggere la Terra impedendo a creature malefiche di utilizzare la scuola come passaggio verso il nostro pianeta. A me di primo acchito ricorda un po' la trama alla base di Torchwood, trasposta in un altro contesto, ma aspetterò fino alla fine per trarre conclusioni in merito.
La serie sembra essere per ora orientata verso una struttura verticale, con "l'alieno della settimana", non dissimile da quella di Doctor Who. Ci sono comunque già accenni di trame orizzontali che si preannunciano interessanti.
Sui ragazzi protagonisti il mio giudizio temporaneo (due episodi sono oggettivamente pochi) è per ora positivo: al contrario di molte serie ambientate al liceo in cui gli attori sono visibilmente più vecchi dei personaggi interpretati, in questo caso il gap tra l'età reale e quella finta non mi è parso così ampio. Positivi anche caratterizzazione e dialoghi: parlano e si comportano come farebbero dei "ragazzi veri", con ampi riferimenti alla cultura pop (vengono citati Downtown Abbey, Idris Elba, Sailor Moon, Instagram…).
Sono poi interessanti i dettagli che riguardano l'ambientazione, probabilmente scontati per uno spettatore britannico, ma non per noi: Coal Hill è nel quartiere multietnico londinese di Shoreditch, e non credo sia un caso che i quattro protagonisti principali siano originari di quattro paesi diversi, e solo una di loro sia inglese. Impariamo inoltre che gli studenti dell'ultimo anno possono non mettere la divisa, altra pratica comune in alcune scuole d'oltremanica.
La colonna sonora per ora prende molto in prestito da quella di Doctor Who, per cui aspetterò le prossime puntate per un commento in merito. Da segnalare la sigla, davvero psichedelica, che non ha un tema originale, ma utilizza la canzone Up All Night di Alex Clare. E, lo ammetto, mi è rimasta in testa.
…Non posso dirvi altro senza fare spoiler, per cui mi fermo qui! Spero di avervi convinto a guardare i primi episodi e che il vostro parere sia positivo quanto il mio. E per quelli ancora indecisi… l'ho già detto che nella prima puntata c'è anche il Dottore?
-Dalek Oba-